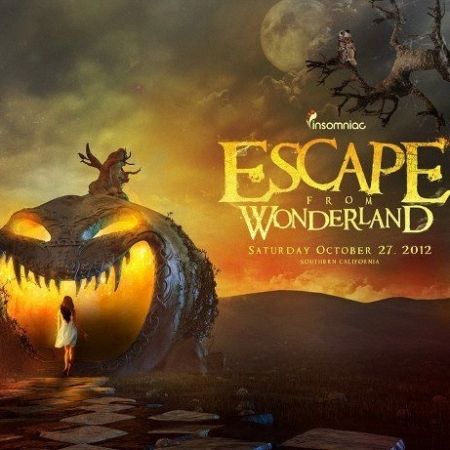 With a new haunted vibe to Insomniac, the Nos Events Center has become an exclusively transformed Wonderland! The gates have opened and Escape awaited YOU as opening performers took the stages, avenging Alice back from the dead. Thanks to over 40 different DJs from all around the world, Escape has been revolutionized into one wicked Wonderland landscape.
I watched all of these miraculous spinners, along with their dynamic and highly-spirited fans, rejoice on an illustrious adventure. Alice's twisted world rose as our 5 breathtaking stages transported YOU into a monstrous and never-ending moment while you danced the night away! The haunting experience only continued from our last magical adventure with Nocturnal, as our creative fans arrive with artistic costumes… and the ghouls relive to glorify their existence.
With 10 straight hours of non-stopped electronic dance music and compiled with some of DJ Mag's top DJs, Wonderland is another wonder to experience. In fact, Armin van Burren had recently been announced as DJ Mag's #1 DJ and was added to Escape! It was a never-ending moment as I let my emotions pour onto the dance floor and remembered the night as a phenomenal ESCAPE from reality!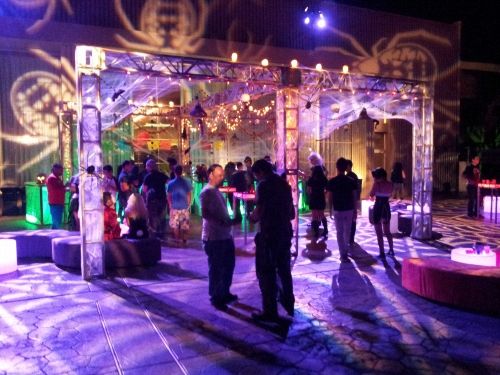 What's an extraordinary night like without chill drinks to keep the fiends away? For those 21+, fully stocked bars will be stationed throughout the event to supply refreshing cold beer and cocktails. Escape constructed an even more enjoyable night for older folks with full cash bars, located on stage view VIP decks and lounge areas!
I walked through Escape's adventurous tour and got a feel for what it would be like to dance the night away, or drink the night away if I wished! Once again, the Halloween sprits never left my side no matter where I decided to go. The area was well-decorated with contrasting hues and lustrous lights; it was a beautiful sight to catch. This festival is ultimately themed with amazing ornaments and some of the sickest remixes of all time!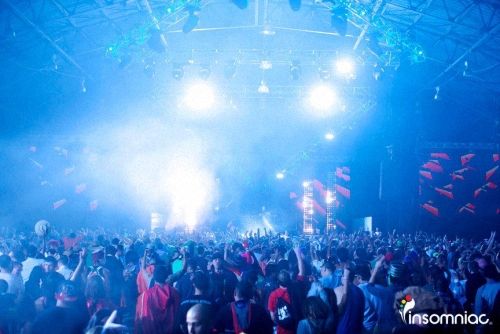 Those crazy fanatics could fear the walking dead, but they wouldn't fear starving or being dehydrated! Walking vendors, food, snacks and water stands, are all available throughout the center with many different options to choose from. Refillable water stations are also available for water beverages purchased at the event, for FREE. So, stay healthy and hydrated as you roam with insidious monsters and dance with costume-clad performers!
For 2012, Escape has definitely put a great amount of work and effort into designing these Halloween monuments. With staggering lightings and high-tech construction, Insomniac has offered a state-of-the-art production that other wonderland journeys haven't been able to match yet. I was very aroused by their conceptive ideas and ingenuity! Every piece of architecture was admiring to view, and the uniqueness of their creativity will forever leave me SCARRED.
With the final touch of Escape's NEWEST genesis, Wonderland is proud to invite you all to its dwelling and most gruesome custom-built haunted mazes ever! The haunts have returned from 2011 but with more horror than before; see if you can stay on your toes as the spirits lurk behind those corners, and the dead inhabit Wonderland's home..
I remember entering the gates of Wonderland in hopes of making it out with boldness and audacity, little did I know Escape's LATEST haunting mazes instilled me the most haunting experiences ever! My night wasn't going to end anytime soon as I roamed through the Slaughter House, Ghoul's Graveyard, and Chopping Block with devilish wenches aside me. Insomniac's incredible Halloween celebration was filled with lighting and pyro, and it has to be seen to be believed. Wonderland's twisted sister transformed all of my nightmares into reality. Every piece of figure was so realistic; it wasn't just a musical rave, but an inaugural Halloween show as well! The journey was unforgettable as I discovered the sinister side of Wonderland. Escape is a must-see event, as I have gained the best succession of Insomniac's most chilling vibes and the foremost DJs' EDM tunes of all times! The dead are really alive this time…in Wonderland's world, where wonders never end.