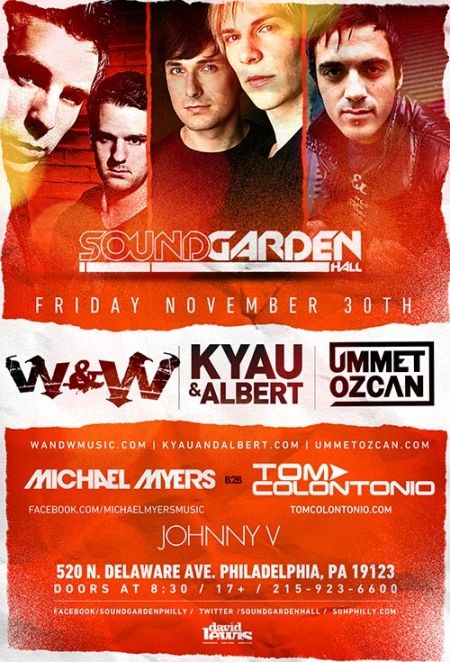 Located along the riverside of Philadelphia, Soundgarden Hall is providing Tri-State music lovers with an extra chance to experience Trancegiving. The team behind Soundgarden has been bringing big names to EDM including Paul Van Dyk, Cosmic Gate, & Tritonal. With an extremely stacked lineup, this Friday is no different, bringing familiar names like W&W, Kyau & Albert, and Ummet Ozcan. Be sure to read below to see more details on purchasing your ticket, as you wont want to miss this one time deal that you wont find anywhere else.
November 30th at 8:30 PM until December 1st at 2:00 AM
Venue: Soundgarden Hall (520 N. Delaware Ave, Philadelphia, PA, 19123)
General Admission: 17+ // BYOB: 21+
Purchase Tickets Online (Special Cyber Monday Pricing) at WantTickets.com
Not one.. Nor two.. Not even three, but four massive Trance producers. For an extremely limited time, Soundgarden Hall is hosting a Cyber Monday special sale, where you can buy one ticket and receive one free. Already priced at a reasonable rate, you can now get two tickets for the price of one. Be sure to purchase your tickets HERE to this epic Trance-infused night before the promotion ends.
In 2010 Dutch powerhouse Armin van Buuren quoted "W&W are truly the rising stars of trance. If I have to put my money on somebody, I put it on W&W." Hailing from the Netherlands, Willem van Hanegem and Wardt van der Harst met unexpectedly during Trance Energy in 2007. Masterminds behind the track Invasion, their song was used as the official 'A State of Trance 550' theme song by Armin van Buuren. Now signed to the all-powerful Armada music label, W&W have come a long way. Expect to hear some of their most massive tracks this Friday evening including Invasion, Moscow, and their recent hot track, Lift Off.
Trance duo Kyau & Albert, individually known as Ralph Kyau & Steven Albert are two talented producers and DJ's from Germany, whom are responsible for popular songs such as A Night Like This, This Love, and the popular remix of Jaytech's Stranger. What other trance duo is capable of creating the uplifting vocals for their own songs? Their tracks have been featured in numerous 'Trance Around The World' podcasts, receiving much support from Anjunabeats and Above & Beyond.
While Ummet Ozcan is a less frequent name in the United States compared to popular artists like Above & Beyond, Armin van Buuren, and Dash Berlin, Ummet Ozcan's productions are simply phenomenal. Thinking out of The Box, Ummet Ozcan has a unique dark "Trancey" feel in his productions including some of his major hits such as Timewave Zero, The Box, and (my personal favorite) his remix of Cardboard Box.
EDMtunes is looking forward to seeing you there this Friday at Soundgarden Hall #trancefamily. Feel free to say Hello and request for a picture of you & your friends! 🙂