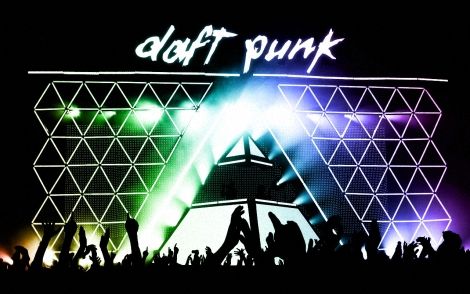 What do you guys want for the Holidays of 2013? What do I want for Christmas? Many things.. how about some festival tickets?.. maybe a picture with Armin van Buuren? Sure.. those things would be great, but within the last few days, great interest arose in the Coachella 2013 rumor that quickly spread like wildfire across Twitter, Facebook & other social media sites..We've got some information compiled together regarding the possibility of YOU seeing Daft Punk in 2013.
Songkick is a site developed around the idea of notifying subscribed user's when their favorite artists, performers, and bands come to town.. So when a new event comes up, an automated email is sent out to those are subscribed to any information pertaining to those artists.. With so much love for the duo, many users accidently received the following email, a hint at the possibility that Daft Punk, The Rolling Stones, and Yeah Yeah Yeah's will be headlining Coachella 2013 in sunny California.
Why you should think about celebrating:
The official "The Rolling Stones" application accidentally leaked that they are going to be performing a concert for April 12, 2013, one of the days that happens to fall during the first weekend of Coachella 2013. The bands "Phoenix and Yeah Yeah Yeahs" also happen to have their release of their new albums set for Spring 2013, which bolster's the possibility and potential for them to perform at Coachella.

Why you shouldn't celebrate just yet:
Songkick is unique, in the sense that it allows registered users to upload events so all events, from the smallest ones to major events like huge festivals all onto the site, gaining exposure for even small performances in your local neighborhood. It's a feasible explanation that someone created this event & has accidentally been leaked virally.
As quoted by Songkick: "Unfortunately, this is not confirmed — the lineup has been removed [and] locked down until the official announcement," adding, "Regarding Daft Punk at Coachella: this was added by mistake. There has been no official announcement. Apologies for any confusion/excitement."
Rumors are Rumors.. As excited as we are for Daft Punk's return, they have not released an OFFICIAL statement regarding Coachella 2013. We will hope to see their name's on the roster when lineups are announced sometime during January 2013.
Some Good News: Yelle are tight with Daft Punk as most French artists are (AIR, Justice, Phoenix, Busy P). Being on a close personal level with Daft Punk… they posted this image on Twitter not too long ago, an image that brings a smile to all of our faces.
Some More Good News: A brief Facebook conversation with Professional Photographer: Oliver James L'eroe.
With all of this being said.. I wish us all 'Bonne Chance' at the possibility of seeing the legendary Daft Punk on tour next year. What do you guys make of all this? What are your opinions & hopes? Will we be seeing you at the infamous Pyramid Stages with Daft Punk in 2013?