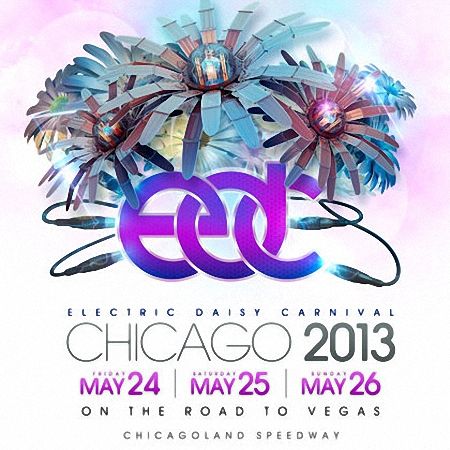 Entertainment juggernaut and producer of North America's largest music festival, Insomniac, has invaded major cities like Los Angeles, New York City, Dallas, and Orlando with their unforgettable productions and unique festival experiences.  Now, the Electric Daisy Carnival will be making its debut in the Midwest May 24 – 26 at the Chicagoland Speedway in Joliet, Illinois.  The ever expanding EDC brand will tout yet another three day experience in its long lineup of upcoming festivals.  It may also be another dusk til dawn massive since it's outside of the Chicago city limits.  This will also be the first ever EDC with a camping option!
The versatility and flexibility of the Las Vegas Speedway for a festival setting has proven quite effective and successful.  So, it's no surprise and a smart move that Insomniac has chosen Chicagoland Speedway as the venue.  Do you think it will be equally as massive as EDC Las Vegas?  Well, there is no lineup or operation times announced yet.  But, tickets do go on sale January 23rd at 12:00 PM Central.  According to the EDC Chicago Twitter, ticket prices are:
– 3 Day Pass $175 
– 3 Day Pass with Camping $295
– 3 Day VIP $299
– 3 Day VIP with Camping $419 
Who do you guys want to see on the lineup?  Voice your opinions here on EDMTunes and tell Pasquale what you, the headliner, wants in your EDC experience!