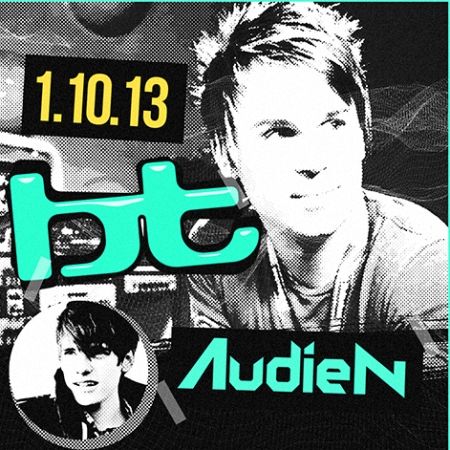 Bravo, Philadelphia. For trance and progressive house, Philadelphia has become a conduit. In recent months, the city has established itself as a destination for dance musicians, particularly trance/prog-house artists. Interestingly enough, trance, a genre often labeled "dead" or "dying" here in the States, has been reenergized in the City of Brotherly Love.
With that said, I introduce a special show coming to the trance family in Philadelphia. On Thursday, January 10th, BT and Audien will be playing at Lit UltraBar. Doors open at 10:00pm, and the event is 18+. You can purchase tickets online here ($20.00).
21-year-old Audien, a native of Mystic, Connecticut, has proven to be one of the trance talents of the future. After being discovered by trance legend Ferry Corsten, Audien has seen his name rise rapidly within the global trance community. His tracks have been featured on nearly every major trance and progressive-house broadcast, most notably Armin van Buuren's A State of Trance and Above & Beyond's Group Therapy Radio (fmr. Trance Around the World). Given the trajectory of this young trance maestro, Thursday's show will be one of those shows after which those who attended will look back on years later and say, "I was there." I have attached Audien's upcoming release, "Wayfarer" (Anjunabeats).
BT, or Brian Transeau, is simply one of the most influential American musicians of the late 20th/early 21st century. A classically trained music-prodigy, BT has innovated music in a number of genres, both technologically and theoretically. His many collaborations in music range from David Bowie to NSync to The Roots, and, more relevant in this context, he's produced with major trance artists such as Arty, Paul van Dyk and Armin van Buuren. In addition, his technological prowess has aided in the development of many music-based software innovations of his own conception. And, on top of all of this, BT has composed film scores for many major motion pictures, most notably the Oscar-nominated Monster. I've included a recent favorite of mine: BT, Arty and Nadia Ali's release, "Must Be The Love" (Armind).
This show is a must-see for any and all fans of electronic dance music.