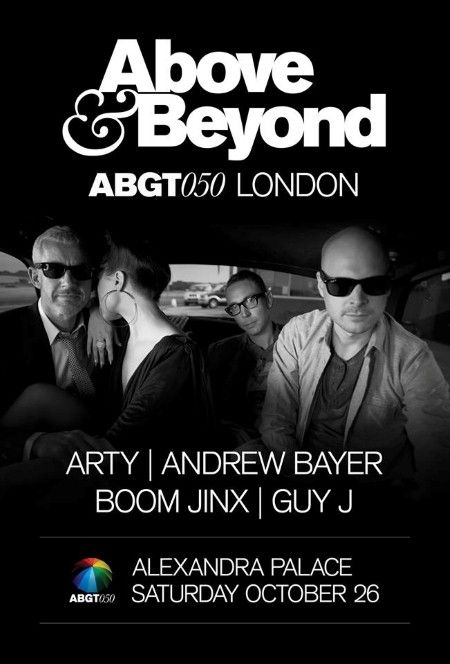 Above & Beyond. Group Therapy. Live. London.  What more really needs to be said about the mighty Above & Beyond? In this writer's opinion, nothing, however, if more information is necessary, here you go.   On their coveted weekly radio show this past Friday, Above & Beyond finally released details regarding what will be one of the biggest events of the year in the electronic world, Group Therapy 050, live from Alexandra Palace in London, England.  Unlike a normal Group Therapy radio show where the boys of Above & Beyond play, release, and preview tracks from around the electronic world, Group Therapy 050 will be a live set.   We will be celebrating not only the 50th episode of Group Therapy, but also the 500th radio show in Above & Beyond's career, dating back ten years to the first episode of Trance Around the World.  The format promises to be similar to Group Therapy 001 (or TATW 450), which was played live from Bangalore, India (link can be found below).  Joining and opening for Above & Beyond's live set performance on October 26, 2013 will be none other than Arty, Andrew Bayer, Boom Jinx, and Guy J.
If Above & Beyond performing live in their home town wasn't enough, these incredible talents should seal the deal.   Arty is having a massive year already with the release his massive track "Together We Are", along with the anticipated release of "Grand Finale".   Andrew Bayer just released his Album of the Year – worthy sophomore effort, If It Were You, We'd Never Leave.  Boom Jinx has been a staple in the Anjunabeats family for years, and is more or less a permanent fixture on Group Therapy and Anjunabeats compilations year in, year out.  Last but certainly not least, Guy J is an up and coming producer who has been making waves this year in the deep house scene.  He has had the good fortune of being invited to do a Group Therapy Guest mix (episode 004), and his latest track, "Echomen 'Perpetual' [Guy J Remix]" was premiered last Friday on Group Therapy 033.
ABGT050 promises to be one of the best and most sought after events of 2013. It honestly appears as if every year is Above & Beyond's year, with 2011 seeing them release their historic Group Therapy album, and then saying hello to a new era of their radio show with the debut of Group Therapy Radio in 2012. This year so far has seen their mega-label, Anjunabeats, reach lofty heights by releasing massive track after massive track. Make sure you buy your tickets soon, and head on over across the pond to witness one of the greatest, most influential, and absolutely magnificent electronic acts of our generation, Above & Beyond.