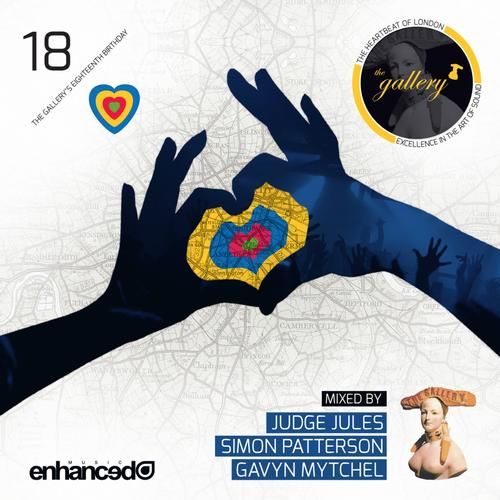 What started off at Turnmills – for a one-off gathering of just fifty people, has grown to what can legitimately be considered the biggest Friday night in the land. Now based at the iconic Ministry of Sound, The Gallery continues to dictate the pace of London clubbing. We curate three CDs which not only reflect The Gallery's immortal legacy, but its pivotal role in shaping the future of electronic music. Sounds of Gallery nostalgia and the new, both in equal measures…
Residents Judge Jules and Gavyn Mytchel, plus favourite Simon Patterson, have lovingly re-created their peak time party experience. Incorporating tracks which really do hold sentimental value, in terms of them rocking The Gallery to its core. A personal DJ snapshot of the laser led madness, derived directly from their show stopping Gallery performances. We were lucky enough to have the chance to speak with Simon Patterson regarding his work in 'The Gallery – 18 Years", here's an exclusive interview EDMtunes had with Simon Patterson!

Edwin: Being a highly-respected Trance producer and DJ in your hometown London.. then off to provide your own sound to The Ministry of Sounds 'The Gallery – 18 years', how does it feel to be one of three prestigious names on that CD, including the likes of the infamous Judge Jules.
Simon Patterson: Feels really good to be part of the Gallery. I have been part of them since the early days and it feels good to continue this by doing something so prestigious as the compilation.
Edwin: When choosing the tracks for this mix compilation, I mean you can include ANY track in the world you wanted in your mix.. What were you hoping to achieve or show by including some of these tunes? (perhaps such as a cohesive thought running through them)
Simon Patterson: Well i spent about 24 hours doing the mix. Collectively we wanted to push the future. We got together a key group of artists that we felt did this so worked on making them the at the forefront of the CD.
Edwin: Remixing your classic tune 'Thump', the 2013 re-work of your tune was just released yesterday which was certainly a fresh new update to the track.. Any big plans for fresh new tracks and collaborations with others?
Simon Patterson: Massive collaborations coming up. Blazer, Astrix, Beatman & Ludmilla, Under This, Lucy Pullin, Sarah Howells. Got a massive array of tracks to come. Too many to mention but rest assured the best is yet to come!
Edwin: Psy-trance and the like havent exactly been the biggest hit with the explosion of dance music, yet the devoted fans that do follow the subgenre are some of the most loyal fans ever. Is there anything you'd like to say to your fans from all over the world?
Simon Patterson: I am glad my fans gave it a chance, i have been playing it and incorporating in my tracks since day one so its nothing new for me. Everyone seems to have jumped on the band wagon which is funny. I just hope it doesn't dilute the market which is what i think happened to trance for a while.
Edwin: On August 9th, lots of fans including myself are excited to see you here at Santos Party House in New York! Thank you so much for your time and take care! Safe travels.
Simon Patterson: Cant WAIT to return!
Thanks for reading! Safe travels to you all who are venturing to EDC Vegas!