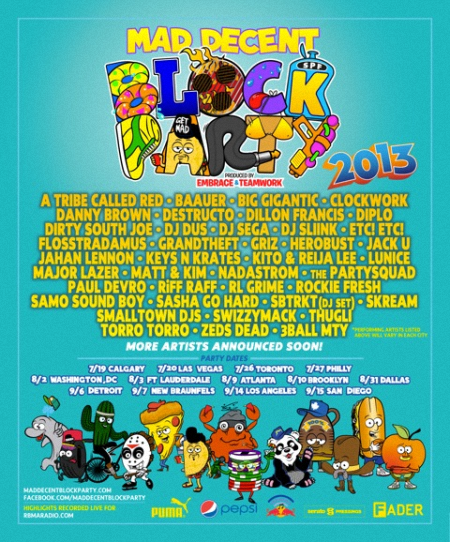 Diplo and friends return in less than a week after a successful 2012 run to present a brand new Mad Decent Block Party tour this summer. Rolling through 13 cities, Diplo's record label Mad Decent will kick off their largest festival undertaking to date July 19th in Calgary, the 20th in Las Vegas, the 26th in Toronto, and the 27th in Philadelphia. Then in August the tour will begin on the 2nd in Washington DC, the 3rd at Fort Lauderdale, the 9th in Atlanta, the 10th in Brooklyn, and then the 31st in Dallas. The tour will end in September with the finals dates being the 6th in Detroit, the 7th in New Braunfels, the 14th in Los Angeles, and the 15th in San Diego. Each show will come with their own line up which can be seen throughout the Mad Decent Block Party page. Mad Decent will be the tour of the summer since it will not only showcase the talented Mad Decent record label but will also feature some of their most savory artists. While there are so many locations and different line ups to consider, I've decided to make the decision easier by showcasing the five artists who are sure to take this summer by storm for those who are ready to party.

1. Flosstradamus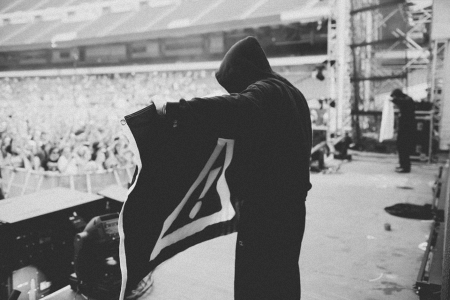 This Chicago-based duo consisting of members J2K and Autobot are bringing the traptastic heat this summer out to Mad Decent.  The DJs got together in 2006 and have built their way up to a crazy 2013. They are the innovators to the trap genre and have gained great notoriety throughout this year playing their elusive  hip-hop and urban-esque sets. Their urban tracks such as "Rollup" and "Test Me" have been remixed by the likes of Baauer and ƱZ. Flosstradamus offers an urban twist to their tracks with slow bobbing basslines and choppy sound bites, mix that in with hype influence they bring and their tunes turn in to trap anthems. The "Original Don" remix by these hoodie boyz is a perfect example of the energy they will be bringing to their set. Check them out at Mad Decent: Calgary, Philadelphia, Washington, Fort Lauderdale Atlanta, Brooklyn, Dallas, and New Braunfels. 
2. Dillon Francis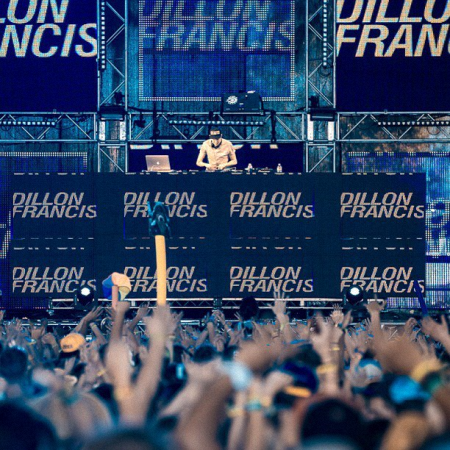 Pioneer moombahcore genius Dillon Francis has had a great 2013 so far attending music events like Coachella, Ultra Music Festival, and EDC Las Vegas, but his appearances in this tour will be sure to expose the best of his abilities, especially since he has so many dates! Dillon Francis is a mastermind at mixing peaceful melodic sounds with hard basslines to create eccentric tracks. My personal favorite by the catman himself is "I.D.G.A.F.O.S." which offers a euphoric build up that leads to an insane hardcore bassline. See Dillon Francis at Mad Decent: Calgary, Las Vegas, Philadelphia, Atlanta, Brooklyn, Dallas, Detroit, and New Braunsfel.
3. The Partysquad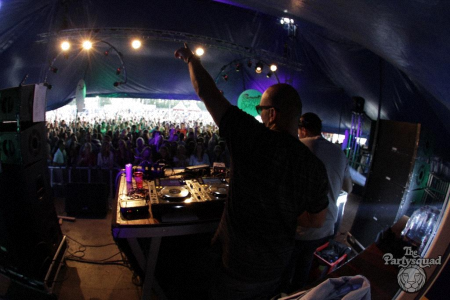 A powerhouse dutch group with a Calypso flair, their name was brough to attention with their release of "A Msterdamn" done with infamous electro house pioneer Afrojack. The  Partysquad later on became most notable for their feature collaboration in "Original Don" with Major Lazer that end up being a huge sensation taking command of dancefloors all over. Their track "Lion" features unique island-influenced sounds infused with enchanting bassline that is sure to stir up any crowd. They've recently started their own record label Rebel Yard, under Spinnin Rec and are always ready to experiment with other artists to take their island, dutch, and dub music to a new level. Catch them at Mad Decent: Detroit, New Braunsfels, Los Angeles, and San Diego.
4. Zeds Dead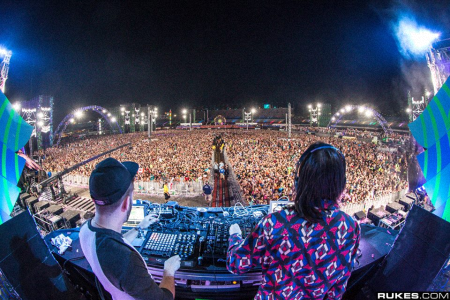 Coming from their mainstage appearance at EDC Las Vegas, Zed Dead offers to the tour a special style of dubstep unheard of by any other artist in the industry. Zeds Dead gives their audience captivating dubstep and drum and bass tracks that can be compared to the calm before a storm. Their remix of "Eyes On Fire" offers the scintillating mix of vocals with heavy electro ambient beats. Zeds Dead will not only bewitch you with their enchanting music, but they will also bring great showmanship due to the great reception they received at EDC Las Vegas. Great ready for a set that will take you on a journey at Mad Decent: Calgary,Las Vegas, Toronto, Washington,Fort Lauderdale, and San Diego.
5. Jack U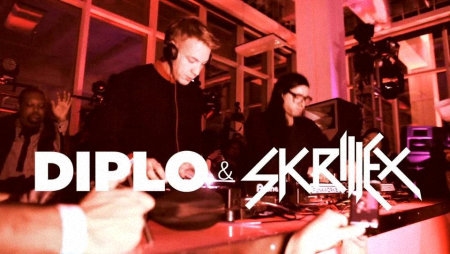 This highly anticipated duo of electronic producer Skrillex and Mad Decent owner Diplo will be premiering at the final stop of the Mad Decent Tour. Although their haven't been any releases, Skrillex and Diplo are no strangers to each other and collaborations. Skrillex is continuously working on his celebrated collaborate group Dog Blood with Boys Noize and Diplo is always making music with his huge hit reggae influenced side project Major Lazer. The two have also worked together on monster track "Amplifier" and a audio and video network POTATO with producer A-Trak. Your ticket to the first Jack U show will be at Mad Decent: San Diego.