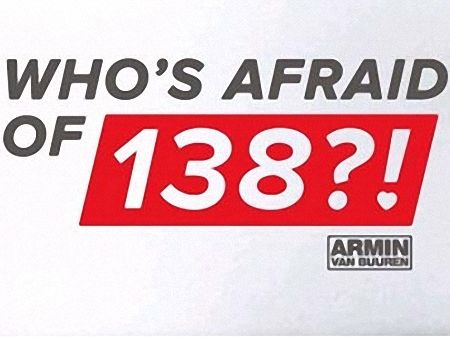 What initially started as a joke on Armin's "A State Of Trance" PODcasts in response to the seemingly-ever lowering of beats-per-minute in some mainstream trance (trouse?) tracks, has since created quite the stir in the social media world and has prompted an official announcement from Armin himself in regards to a future formulation of an all uplifting trance record label.

As mentioned, "Who's Afraid Of 138?!" refers to the thumping bass and faster, more euphoric and emotionally-uplifting side of the spectrum of trance. In regards to his own personal feelings (and feelings of fans), Armin states that he "really love(s) this sound. And not just me. There's so many true fans of uplifting out there. The 'Who's Afraid of 138?!' area of ASOT600 in Den Bosch was absolutely packed, and social media bursts with 138 fans. I can't wait to see what goodies the record label will bring."
Fittingly, the label will kick off with its inaugural release being the Photographer remix (another up and comer making massive waves in the trance world) of Armin's track "Who's Afraid Of 138?!". Future planned releases include additional tracks from Photographer, Andrew Rayel, Alexandre Bergheau and the legend John O'Callaghan.