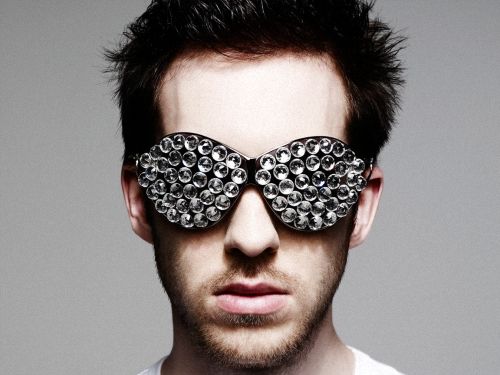 We all grew up dreaming of what our celebrity life would be like.  'If I had a million dollars, I'd buy a huge house, with a pool, a dog, an amazing car and have a tiger!' Ok well maybe all of you didn't have those wishes in mind but I sure as hell did.  It's almost an assumption too that in those childhood dreams you'd have all your money and wishes by your mid-20's.  I can for one say I'm still working on mine, but Scottish DJ Calvin Harris seems to have figured out the formula for his millions as this week he was named number four on Forbes richest celebrities under 30 list with an estimated $46 million in the bank.  The only stars ahead of him on the list were Lady Gaga, Justin Beiber, and Taylor Swift.

The news of just how wealthy Calvin is comes just about a month after he purchased a new home in Los Angeles worth $7 million dollars.  While no tigers roam his grounds, his home does overlook the city, have an infinity pool, floor to ceiling windows in every room, and a rather lavish home theater.  The success of Calvin's 2010 album 18 Months has surely helped his wealth.  Now on it's eighth single, the album has produced nothing but chart toppers for the Scottish producer who once was leery of singing on his own songs.  Such success has lead to lucrative contracts such as his 70 show deal with MGM Grand's Hakkasan and Wet Republic clubs in Las Vegas only furthering Calvin's already towering pile of cash.
So what's on the plate for Calvin's future? After winning Songwriter of the Year at the UK's Ivor Novello awards, he told the media "I'm doing more dance music that probably won't get into the charts. I just want to make good music."  While he himself may not believe the music he creates now will make it onto the charts, simply attaching the name Calvin Harris to a track may be enough to break into the charts.  But for now, kick back and lay by the infinity pool, you've earned it buddy.
1. Lady Gaga – $80 million
2. Justin Bieber – $58 million
3. Taylor Swift – $55 million
4. Calvin Harris – $46 million
5. Rihanna – $43 million
6. Katy Perry – $39 million
7. Adele – $25 million
8. Jennifer Lawrence – $26 million
9. Kristen Stewart – $22 million
10. Taylor Lautner – $22 million
via – Forbes