2013 has most definitely been the biggest year in EDM in almost every measurable qualification.  Festival attendance, the amount of producers on the scene, increases in electronic concerts around the world, or percentage of market share in the music scene as a whole, all these categories have seen significant growth.  However you break it down, it is a great time to be a fan of the electronic music genre, and as a journalist, I think now is as good a time as any to reflect on the state of the scene halfway through its biggest year (let's be honest, any time is a good time to write about EDM!).  So, sit back with me, and let's take a journey through the EDM scene, and reflect on what has occurred, what we can expect from it in future, and what can be better.

There are few ways to measure the growth of EDM that are better than the explosion of festival attendance. 2013 was a massive year for the largest festivals in the world. Ultra Music Festival expanded to two weekends in 2013, and EDC added stops in Chicago and London on top of its New York and Las Vegas locations. Furthermore, Insomniac, the company behind EDC, reportedly spent in excess of $35 million on the flagship Las Vegas event!  Let's not forget about Tomorrowland, the flagship festival of Europe, finally brought an iteration of itself to U.S shores; its first year debuts in Atlanta, Georgia on September 27th.  Ten stages and over one hundred acts show that TomorrowWorld means business on this side of the pond.  It will definitely be giving EDC Las Vegas a run for its 35 million bucks.
If you just attended Pasquale Rotella's $35 million dollar baby, then you most likely noticed the overwhelming power of one specific genre in present day EDM: electro/ progressive house.  No matter what festival you are going to be attending in 2013 (yes, I realize there are exceptions to this, I'm talking about the "primary" category of festivals, similar to the ones mentioned above)  it is impossible to not hear that sweet, sweet electro house sound. DJs like Hardwell, Dyro, Dannic, the individual efforts of the Swedish House Mafia cast, the new version of Tiesto, Martin Garrix, Porter Robinson, Zedd, Nicky Romero, W&W, Nervo, Chuckie, Dada Life, Thomas Gold,  Calvin Harris, and "insert ten million other possible mentions here" (okay, okay, I'm cutting this list off right here, for everyones sake) are currently taking over/ already firmly at the top, some of them helping form a "New Guard" in our little music scene.  Snapshotting todays Beatport top 10, eight of the tracks are either Electro or Progressive House. Earlier in the year, I would have definitely predicted that Trap would be the one to take over, however, it has become abundantly clear that Electro House is what the people want, and it's what they are getting in spades.  The Kinetic Field at EDC Vegas 2013, the proverbial "runway" of EDM,  was absolutely owned by Electro House and the new iteration of "Progressive" House music.
Understandably, another trend that has reached an apex in 2013 has been the evolution of trance towards a more House-esque sound. Everything from duration, track formula, synth usage, and chord progression have made trance similar enough to House that a new genre, "Trouse" has gained a lot of recognition in 2013.  Now, this is far from a 2013 event; this has been the case in more mainstream trance for quite a while now. One cannot even say that it is because of the rise in popularity of house music that this transformation occurred in the trance world, this would be an incorrect causation. Rather, I think it is simply the need to make  more interesting, catchy, unique, and soulful music, while at the same time not catering to the calls and pressures of needing to crack the Beatport top 10/100, while still making music that appeals to a wide audience. In my opinion, some of the best and most unique tracks in 2013 are coming out of mega labels such as Anjunabeats and Armada; labels that are deeply rooted in the trance genre. Newer artists like Andrew Rayel (another member of the new guard, as voted by you, the reader), Ilan Bluestone, Mat Zo,  Audien, along with the old guard behemoths such as Armin Van Buuren, Ferry Corsten, Cosmic Gate, and the mighty Above & Beyond have all had massive years, and have accounted for a large chunk of the success and profit in EDM's current calendar year. Most importantly, they have done this in a different (read: more unique) way when compared to the heavy hitters in electro house.  This premise brings me to my next point, and perhaps the only potentially negative one, in this editorial.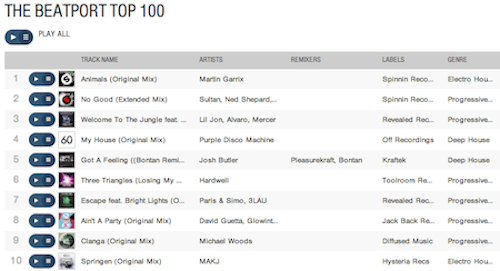 Creativity, originality, and the Beatport top 10.  This combination of words have been thrown around quite a bit this year in the world of electronic music.  Let's take a look at the Beatport top 10 as of today.  "Animals" still reigns supreme. Following Martin Garrix' electro house smash is Sultan and Ned Shephard's "No Good",  followed by Alvaro and Mercer's "Welcome to the Jungle". Then there are two fantastic deep house tracks, followed by FIVE more electro house tunes (yes, yes, Escape is technically progressive house, but let's not get started on the bastardization of the term "progressive" house by Beatport). So eight out of the top ten tracks on Beatport are more or less electro house tracks that follow the exact same formula of build up, drop, breakdown, drop, etc. More importantly, the drops on six of them can all be described as tribal/percussive synth over a four by four beat. The fact that I can use that sentence to describe more than half of the Beatport top 10 is a little disturbing, to say the least.
Now, don't get me wrong. All of these songs are great.
There is a reason why they are in the top 10. DJs are downloading them and using them in their sets, and the fans are downloading them for listening pleasure. They are all high quality productions, that do in fact take a hell of a lot of skill to produce; a level of skill that the majority  of people in the industry do not possess. If you do not agree with this qualification, you are delusional. However, what does this homogeneity in electronic music's top tracks mean for the industry? Now and in the future? Why is this happening in electro house in particular? Why is electro house 80% of the Beatport top 10? Well…
First, I think it is key to qualify that going hard in the paint on the Kinetic Field to "Animals" is fucking awesome. This needs to be said, because it is very true and it is a very strong force behind the EDM phenomenon. At the end of the day, this is dance music. Party music.  And raging to electro house in Las Vegas "under the electric sky" with all of your closest friends is 10/10 fun.  This is the point that a lot of the electronica purists and critics out there (myself included until I sat down and put all these thoughts down on paper) seem to forget when arguing about the death of electronica and apparently how terrible mainstream electro is. Not only does it sell really well, and to a much wider variety of people than, say,  more niche genres like tech house, deep house (even though deep house is most definitely seeing a huge resurgence lately; a renaissance period for deep house is on the horizon, but more on that later), ambient music, or glitch, but electro/ progressive house is also flat out more interesting and exciting for the average listener of electronic music.  In other words, it is a gateway genre that is very approachable to your average fan. 
We, as a generation of listeners of electronic music on this side of the pond, are very young! 
Everyone starts listening to the mainstream tunes of a genre before diving deeper into what that genre has to offer, whether it's rock, punk, rap, or electronic music.  The fact of the matter is that a genre as a whole is quite new in what is now its biggest market, the U.S.  Of course big time producers and DJs who produce massive, upbeat, party and dance-centric tracks are going to get all of the attention in a society that is driven by advertising and social networking! Anyone who doesn't think that should be the case is out of their minds. This is how every industry in the world works. As people become more familiar with the genre, they will explore it more and more. Not everyone is a blogger/ critic/ DJ that spends hours upon hours everyday listening to every subgenre in existence; this exploration takes time! Over time, however, more people will begin to know, listen, and enjoy older DJs like Richie Hawtin, John Digweed, or Loco Dice; they'll appreciate the acts that destroy Ibiza and Europe every summer such as Tube & Berger, Guy Gerber, Jamie Jones, Seth Troxler, or the Dirtybird gang (who are all, thankfully and deservedly, getting a lot of exposure in the states the past few months, which is awesome).  There are hundreds of fantastic producers and DJs out there; it simply takes time for new generations of fans to get to know all of them.
However, until that time, DJs are giving the people what they want, and what they want are the massive drops and tribal basslines that we find riddling the Beatport top 10.  Until the audience grows out of it and chooses to explore the incredibly vast library of electronica, the DJs can't do as much as we'd like to think. At the end of the day, just like anything else, music is a business and the artists are employees who would like to maximize their earnings potential.  Everyone wants to play the big festivals, and if the people that attend those festivals aren't going to want to listen to your set, you're not going to get invited to play. It's that simple.
On the other hand, I think we can all agree that top DJs could be a little more innovative in their sets. I don't want to touch on this point too much because I think it has been talked about to death in the past couple of months. So, here are just a few thoughts on it.  Yes, we all know (and to an extent agree) that while it is awesome to hear songs we all know and love at the major festivals that we just just took out a loan in order to afford, it can get boring after you've just heard the same version of "Alive" for the fifth time in 48 hours. A little more diversity, whether it is in the form of mashups, bootlegs, or lesser known remixes would be fantastic. I legitimately think that we will see such diversity in the next year or so because all of us, from the bloggers to the fans, have commented on it extensively.  As I wrote earlier in this article, this is a massive driving force in a society so dominated by social media and marketing.  Everyone is aware of this problem.  In order for the EDM scene to keep up with its fans, it will change to accomodate one of the most voiced complaints of 2013.  This time next year, I would like to hesitantly guarantee that diversity within mainstream electronica will be double what it is today. There will be more equal representation of sub genres than ever before.  I have a dream that a deep house track will sit atop the Beatport throne at some point in the next twelve months and everyone will love it (Let's go Anjunadeep family, I know you can do it!) Screw the EDM bubble and screw the idea of the mainstream.  No other genre of music boasts the interconnectedness of everyone involved quite like electronic music. If it's good music it will be heard, and I think the electronic genre as a whole (and all of its subsequent subgenres) is a fantastic place for that ideal to grow and eventually ring true.
And speaking of the bubble…
The bubble is without a doubt the most overblown and silly idea of 2013. The EDM bubble is a long way away from bursting. We need to stop using such frivolous and blogohipster (yea, I just invented a word. Blogohipster: A person that uses coined terms like "bubble" to describe something as arbitrary as musical genres and tastes) concepts like "bubble", "mainstream", and "electro house". If anything, I don't think there will be a burst of some bubble, but rather a movement away from the current set of popular genres, to a new set of genres.  So what if the Beatport top 10 is mostly electro house as of today? There are plenty of other genres where innovation is everywhere and is very noticeable in the melodies, synth usage, and track progression.  And they are slowly but surely getting noticed!  Trance, trouse, and deep house are all up and coming genres in the U.S that most definitely churn out unique, high quality productions on a weekly basis.  Take a listen to Above & Beyond's Group Therapy, Myon & Shane 54's International Departures, Pete Tong's Essential Selection, Skream and Benga's weekly radio show (if you enjoy dubstep and don't know about Skream and Benga you need to check yourself), John Digweed's Transitions, Tube & Berger's Kittball Radio Show, or a new favorite of mine, Defected Record's In The House Radio. All of these radio shows offer hundreds of new tracks in any given month from not only established producers, but also the up and comers in the industry. There is a lot of innovation and boundary-pushing production if one just digs a little deeper. What I just listed is still only the above-water portion of a very large iceberg. Just like everything in life, it takes some effort to find anything worthwhile; this is especially true for music, where everyone's tastes are immensely different.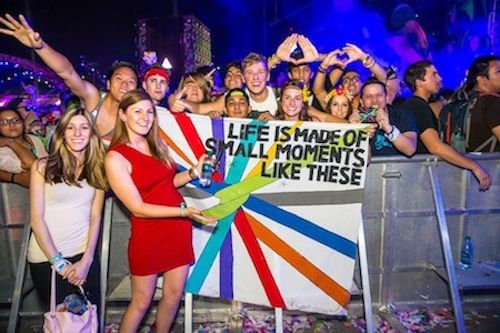 To wrap up an article that is already entirely too long, 2013 has been an amazing year for electronic music. The genre has seen a mass expansion and commercialization.  On the one hand, yes, this has lead to  bland charts, cheesy drops, and an over-saturation of a once small and tight knit scene. On the other hand, the massive upswing in popularity has seeped down to every facet of the genre.  From the heavy hitters like Hardwell, Zedd, or Tiesto,  the old mainstays like Digweed and Hawtin, powerhouse Euro DJs like Troxler, MJC, or Jones, trance Gods like Armin, Pavo, Tony, and Jono, newcomers like Rayel, Disclosure, Garrix, the mainstage of Ultra to the underground DJs playing in small, poorly lit English clubs, electro house to tech house, and from us the bloggers to you, the fans,  everyone has reeped the benefits of this EDM explosion. It is an exciting time to be a part of electronica. Whether you've been listening since the Chicago House movement, or got started when Skrillex came on the scene, everyone is welcome, and everyone needs to just enjoy the music.  Ultimately, that is the sole point of it all: our enjoyment.