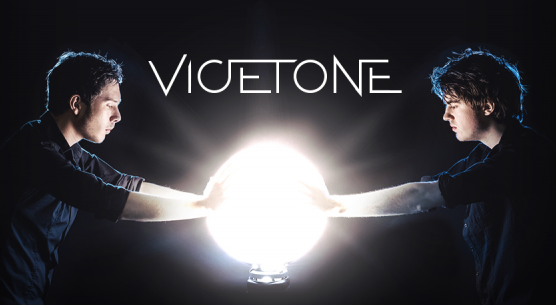 To continue our interview series with the "New Guard of the Next Generation of Electronic Music Producers", I caught up with Dutch producer Vicetone in New York City before their debut at Lavo Nightclub last weekend. I met with member Victor Pool and manager Alex at Lavo's restaurant before their set for the evening. An unfortunate incident occurred prior in the day, however…Vicetone's other member Ruben den Boer was sent home by their doctor because he also contracted the now infamous "Dutch DJ Disease." Can you imagine getting sent home because of illness 3 stops into your first world tour?! My thoughts go out to Ruben and I hope he gets well soon. Thankfully, I still had the opportunity to speak with half of the duo that has released bombs such as their remix of Nervo's "Hold On" and original productions "Stars" and "Heartbeat", and one of the members of the "New Guard".

I was pleased to realize a few sentences into our interview that Victor was a conversationalist, and expounded greatly on many of the questions that I posed to him. Some of the responses I received from him weren't from a direct question that I asked, but as a segue way from musings on a prior question. So without further ado, here are Victor's thoughts on: carving a niche in the industry, Vicetone's musical ear and production style, life on tour, and his opinions on the "New Guard" of electronic music producers (and fans).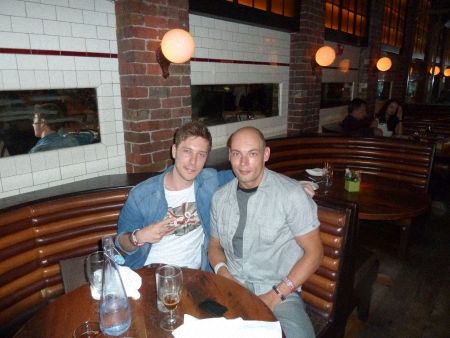 Welcome to New York City and your first world tour! The EDMTunes family, as well as our readers, are absolute fans of your productions as of late. With the success of your recent remix of Nervo's "Hold On", has mixing such an established group in electronic music opened any additional doors for you?
Absolutely, producers utilize remixes to build connections in the genre. We have received much support from Nervo's fan base, and as you connect with other producers and their fan bases, it grows your own at the same time. A video featuring our remix was also featured Gizmodo's "Here's The Craziest Video You'll Watch All Day" which was really cool as well.
How did you become interested in electronic music initially?
Well we grew up with dance music all over the place in Europe. We would hear tracks on the radio and we would think to ourselves "I would like to learn how to create that drop or how to recreate that specific element from this track" and the process continued to progress to creating full tracks via learning from YouTube videos, online resources and such.
Where did the name Vicetone come from?
Mainly, Ruben and I wanted a simplistic sounding name that wasn't associated with anyone else except for us. We started with like 10 names before ending up on Vicetone. All our original choices were either companies in China or in use in one way or another elsewhere in the world. While brainstorming, Ruben really liked the word "Vice" (drawing inspiration from the 80's TV show Miami Vice – an upbeat energetic show) and I really liked the word "Tone" being indicative of music culture.
And Vicetone was born. Alright 3 part question here: Whats your favorite Vicetone remix, favorite recent electronic music release, and favorite mainstream radio release?
Personally I have 2 favorite remixes, "Let's Go" because of its emotional impact being our first production release on Youtube, and that we spent so much time on its creation. "Sparks" secondly because it was the first airplay we received on Nicky Romero's Protocol Radio…we were so excited when we found out he was going to be supporting the track on his show. We were working on remixing the track and I just had the vocals in a window over a window of a completely different tracks melody…and we just overlaid the 2 with a few adjustments and it just worked perfectly. As far as recent electronic music, I really like Pryda's releases, however I don't listen to much other electronic music…I like to be inspired from everywhere, such as movie scores, etc. A lot of mainstream songs are too cheesy to name. However Katy Perry doesn't reek of cheese like most of the mainstream, she has so much emotion. Also the Daft Punk album is great and I feel that it inspired many artists with that singular release.
How did you come to work with vocalists Collin McLoughlin and Johnny Rose?
Collin's agent contacted us directly. He was actually on the TV show "The Voice." He heard one of our productions and just reached out over the internet initially. We are actually currently working on a follow-up track with him. Johnny actually had the "Stars" vocal lying around from a prior project that he chose not to release. He sent us the vocal and we created the track around his vocal. We are also producing a follow-up with Johnny too, entitled "Pure". It's cool to start off working with vocals, because you can get an instant vibe from the vocal style. Sometimes, we take popular vocals, build a track off that vocal…and scrap the popular vocal so we are left with the beat that it inspired.
(This line of questioning led to discussions of how the information age is effecting electronic music production…)
Technology is changing the production game, making collaborations much easier while at the same time enabling the scene to grow like crazy. Everything is done over the internet…Skype is a main contact for producers and vocalists looking to collab with each other. (Victor's manager Alex chimes in) Producers can also be grown grassroots style now in regards to the internet as well, by releasing free tracks in order to garner their own fan bases. The importance of the internet in the growth of the industry cannot be underestimated…
Alright, so what's it like physically being on tour versus actual production?
Live shows are more energetic! Meeting fans face-to-face for the first time is awesome! In the studio you don't get to see real time crowd reactions. It helps us to gauge crowd reaction, allows us to see what they are feeling. Also, it allows us to realize what types of cuts and edits need to be done for club remixes, based on the live crowds' reactions. Additionally, getting to meet your fans is incredible. We just finished playing Nashville, TN and Bloomington, IN…and one fan gave me a Vicetone bracelet! (I informed Victor that here in the US, we call that "kandi." I expressed to Victor how impressed I was with the rave culture in Indiana…) Yeah, there might be a smaller dance scene in those areas for now, but it will continue to grow with time.
Which upcoming shows on your world tour are you most amped for?
I am absolutely looking forward to Electric Love in Austria…also Electric Zoo in NYC and Ibiza with Nervo in a couple weeks. Man we just started touring so we are looking forward to everything! We are just living in the moment and enjoying all the experiences that come with touring.
What would be your dream festival to spin at?
Ultra. The crowd is huge and it's the first massive of the year, the moment when artists premiere their new tracks to the massive worldwide crowd. It's a huge moment for all producers, the opportunity to drop a premiere of your forthcoming tracks at the beginning of the year on such a grand scale.
What's it like being on a world tour?
Everything is go-go-go! You try to enjoy each city as much as possible, but it's difficult because tour schedules are so tight. It's also difficult to say because we are only 3 tour dates into ours.
That is totally understandable. Here's an easier question: name an essential item on your guys' backstage riders.
*Laughing from both Victor and Alex* We try to eat healthy to keep up our energy levels. We don't drink during shows either, because we feel that we owe it to the crowd to perform sober – to give it our all for our fans. So as far as our rider, we mainly like to have fruits and vegetables like bananas and strawberries.
In regards to EDMTunes' prior article "10 Members Of The New Guard Of Electronic Music Producers", what are your opinions of the next generations' creativity and the future of electronic dance music?
Artists create a sound that defines them, that they can call their own and be associated with. However our specific process is to try to stay true to that initial sound while morphing that sound into something different. Basically retaining the sense of your original style while being creative with the production style you have. This keep fans interested. We prefer to produce melodic tracks – they are more emotional. The hard electro tracks on top of the Beatport charts don't really grab you emotionally. As far as the future of EDM…it's impossible to say what it holds. Its keeps evolving, one year ago it was totally different than it is today, which is exciting.
Thank you so much for your time in speaking with me tonight. I know you have a banger of a set of gear up for, so I just have one final question in regards to dance music in the U.S.: Do you have any advice to new EDM fans (ones who may only know of Guetta & Skrillex and the like)?
A lot of music is free out there. Sooo much great free music floating out there and tons of producers releasing free tracks working to build their fan bases with free downloads. It's not all about the Beatport Top 10 or iTunes top charts, they should explore using YouTube channels and producers SoundCloud pages. Those new fans should work to discover music on their own, as opposed to relying specifically on sales based websites. That way, the scene stays creative and continues to grow and evolve.
We shook hands, snapped a quick picture and I departed for the nightclub portion of Lavo to catch my first Vicetone show (a show that I have been waiting for quite some time to see). A killer 2 hour set that featured some of the upcoming new releases mentioned above in addition to some new spins on some old Vicetone classics…and the crowd was wild for Victor. Its just a shame that Ruben wasn't able to experience the feeling of a New York City debut this time. It's OK Ruben, NYC (and I) will be geared up for your premiere at Electric Zoo next month (or if you aren't in the Northeast, check out Vicetone's other upcoming tour dates here)!