Welcome to the fourth installment of EDMTunes' continuing editorial series. This week's inductee to the 'EDM Hall of Fame' is the one and only Kaskade! Straight from the good 'ol US of A, Kaskade takes on the electronic music world ruled by European artists and certainly gives all of them a run for their money. Hailing from the suburbs of Chicago, the American born Ryan Raddon drew inspiration from the rising underground Chicago house movement. He began by learning to spin vinyl records in his college dorm room. In 2001, Kaskade began regularly producing music during his time working for electronic house label OM Records which was supported by the emerging deep house movement in San Francisco. Although it's been a slow rise to fame, Kaskade has always had a loyal fan base and the necessary skills that keep him up there as a legend. The past couple years have held some big milestones for Kaskade–claiming "America's Best DJ 2011" in a DJ Times Poll, setting the standard last year for electronic dance music tours with his Freaks Of Nature tour and receiving a Grammy nomination for best dance/electronica album (Fire & Ice).

From spinning with vinyl records and producing melodic deep house tracks to playing big festivals and creating beautiful big room tracks, Kaskade can do it all and like a pro. Kaskade proves himself as one of the few electronic artists who continuously produces full artist albums. He carefully writes his own lyrics and then finds the best vocalists who can convey the message of his songs. Over the years Kaskade's sound has evolved along with the ever changing soundscape of electronic music, yet each track remains true to the essence of Kaskade. His album 'Fire & Ice' (2011) pays homage to his different styles, with Fire representing big room house and Ice, a creative outlet for his deep house roots. His versatile production skills and on going creativity keeps even his older tracks current by mixing, mashing and re-editing them into new masterpieces. His live sets consist of 70-100% of his own original music, which is now a rare occurrence in the electronic dance music world.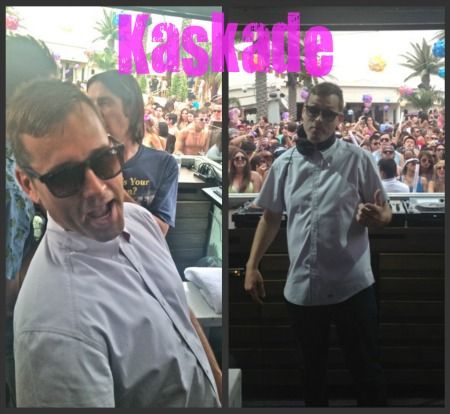 Kaskade's music says something about life and love, it has the power to  evoke strong emotions from the audience and you can tell each song has a story and means something personal to Kaskade. The meaningful well written lyrics combined with the beautifully crafted melodies and gorgeous harmonies give you that floating feeling. Kaskade's talents lie in lyric writing, producing, performing and singing. He is a quirky down to earth guy with a love for his fans and remains humbled by his experiences. Driven by his love for music Kaskade continuously creates. His hope is that when he puts his creations out there someone will relate to it. I think we can all relate to at least one Kaskade track, if not more. So come take a ride with me through Kaskade's atmosphere and discover/rediscover some of Kaskade's beloved and classic tracks.
It's You, It's Me
2003 was a momentous year for Kaskade. Located in San Francisco with his wife and working for OM Records, Kaskade played and produced music under the label. However, during this time things were desperate for the Raddon's and Kaskade knew that if he didn't make it soon he would have to give up his musical dream in order to support his family. After pouring his heart and soul into the album 'It's You, It's Me', Kaskade sent it off to a few deep house club managers in the UK with high hopes. The stars aligned, it was a success. The single 'It's You, It's Me' launched Kaskade's career. His first big gig was at the Winter Music Conference in 2003 and from there on out the rest is history. This year Kaskade celebrated the 10 year anniversary of these moments with his It's You, It's Me Redux tour. This soulful deep house track remains a reminder of why you should always make music that is true to yourself. 'It's You, It's Me' will forever remain a classic in everyone's hearts.
Steppin Out
Emotion, emotion, emotion. This notable track conveys it, invokes it and creates it. The lyrics speak about love in a way that we can all find some relation to. The melodies and riffs convey a sweet sadness and the hauntingly beautiful vocals pierce the soul. 'Steppin Out' (2004) off of the album 'In The Moment' became Kaskade's first top 10 single, giving his career quite a boost. It landed at No. 5 on Billboard Magazine's Hot Dance Club Play and No. 6 on Dance Radio Airplay. I believe 'Steppin Out' set a standard for all future Kaskade hits regarding his production style and sound. We all know it when we hear it and I bet most of us know the lyrics. There is no denying it's a favorite.
Stars Align
This track is a personal favorite of mine, but that is not the sole reason I am including it here. 'Stars Align' saw the top of Billboard Magazine's Hot Dance Club Play Chart along with single 'Be Still'. Both tracks are part of Kaskade's album 'Love Mysterious' (2006). As the first track on 'Love Mysterious', 'Stars Align' hooks you with its percussive dance beat and groovy standup bass riffs. The vocals drive the emotion of the lyrics home to where "you can almost touch it and taste it in the air". Recently, Kaskade revamped 'Stars Align' into 'Stars Troll' (2012) with the Swedish duo Qulinez. If you put the two tracks side by side and the only similarity you will find are the lyrics, again demonstrating Kaskade's creativity and versatility.
4 AM
How do I even begin to describe '4 AM'? I'm sure we can all remember a time when we were headed back home from a memorable night of dancing and felt the need to play this track at 4 am and watch the sunrise. If you haven't done it, I suggest you try it some time. I guarantee you absolute bliss. Now is a good time to bring up the fact that Kaskade is part of a little side project called Late Night Alumni. The chill downtempo-house group consists of Ryan Raddon (Kaskade), Becky Jean Williams, Finn Bjarnson and John Hancock and are responsible for hits such as 'Empty Streets'. Becky Jean Williams' vocals are featured on several of Kaskade's tracks. Ok, what does Late Night Alumni have to do with '4 AM' you may ask? Well, '4 AM' is featured on 'Love Mysterious' under Kaskade's name, but it was a group effort by the members of Late Night Alumni, which can be seen in the video below. If you listen and watch closely you can hear Kaskade sing back up and harmonizing vocals! This mellow ballad brings about nostalgia of all those euphoric moments of sleepless gliding on the dance floor.
Angel on My Shoulder
We all know it, we all love it and we all sing along to it. 'Angel on My Shoulder' (2008) became Kaskade's first No. 1 single and was a crossover hit in Canada and the UK. Today, it remains one of Kaskade's most recognizable tracks. The catchy and empowering lyrics describe the love that we know is no good for us, but some how the one we always go back to. This track bridges musical genres and reaches out to those that may not be into electronic music. 'Angel on My Shoulder' pretty much speaks for itself, so check it out and sing along….I know you want to!
Dynasty
'Dynasty' brings back memories of my first year at EDC (when it was still in Los Angeles) and my first time seeing Kaskade. It's a memory that will forever linger in my mind and the song 'Dynasty' triggers a rush of emotions. 2010 was another milestone year for Kaskade and came with the release of his album 'Dynasty'. This same year Kaskade went on a full tour for the album (at this point such a thing was uncommon for electronic artists) and he released his compilation album 'Dance.Love'. The single 'Dynasty' shot up to No 1 on Billboard's Hot Dance Airplay Chart and with that created a much broader visibility for Kaskade. The track features Haley's airy vocals that juxtapose the dance beat and pulsing synths. The combination creates a beautifully crafted track that lingers in your mind long after it is over. I believe this is the track that brought Kaskade to his full global fame. This is dynasty.
Bonus Track: Atmosphere
This track is notable because it brings Kaskade to us in a different way: his voice! The sexy male vocals are done by Kaskade himself. A fun fact: Kaskade records himself singing the lyrics for most of his songs so that his vocalists can hear exactly how he wants it to sound. However, we have never heard a track released with his vocals until now. 'Atmosphere' shows us another talented side of Kaskade and makes the song even more personal. Hopefully he decides to challenge himself and we get to hear him sing live on his Atmosphere Tour.
Editor's Choice Live Set: It's You It's Me Redux Tour – San Diego
I have seen Kaskade live more times than I have fingers and every performance is epic, but the live set from his San Diego stop on the It's You It's Me Redux Tour just gets me. I don't know if it's because I wasn't actually able to attend any of the Redux shows or simply because his deep house is excellent. It's probably the latter as most true and fast Kaskade fans would agree. There is something magical that happens when Kaskade gets behind those decks, he gets in the zone and you can see that he truly enjoys what he is doing and that he believes in the music he is spinning. That energy permeates the crowd with no need to yell into the mic or clap his hands. Redux brings you back to the basics, grooves and feels welcome.
Well there it is, but how can I do Kaskade and his music justice by simply writing an article, as the great man once shouted to thousands of people, "Let The Music Speak!"