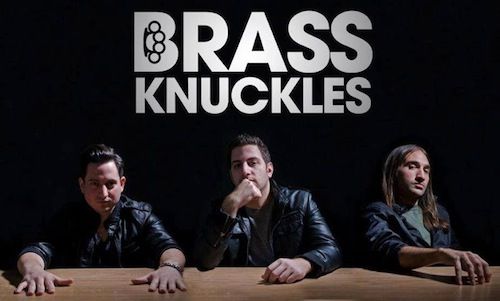 When I was younger I never thought of Brass Knuckles as anything more than something I never wanted to encounter in a fight. This all changed when my friend sent me the link to the song 'Bad Habits' last year. I suppose you could say I was hit with Brass Knuckles for the first time in my life, and I was instantly hooked on the feeling. Brass Knuckles is a musical  trio from Miami composed of Danny D'Brito, Tony Livadas, and Anthony Pisano.  While they are known to the world as a DJ group, D'Brito says the three look at themselves as a band.  Regardless of how you want to title them, there is no doubting the enormous stir the group has created in the dance music world since first coming together in 2010. Combining a variety of styles into their productions ranging from traditional house to rock, this trio's sound is like no one else's.  Their first track together titled, 'Lie to You' was released in 2011 and caught the attention of major labels around the world. This ultimately led to their signing with Ultra Records in 2012 under which they released their widely popular single 'Bad Habits'. Following their recent performance at Ultra Europe the three embarked on their second global tour and is set to release their debut EP this week on Ultra Records. Also, check out their latest release at the bottom of this interview!

Let me start out by first congratulating you on your performance at Ultra Europe this year.
Thank you! We really appreciate that! It was one of the best experiences we've had as a group thus far!
Now you three are no strangers to world travel as this festival kicked off phase two of your Global Tour. Any new surprises playing in Europe this time around?
We were surprised to find out that we had to take a speedboat to get to the island of Hvar where day 3 of Ultra Europe was being held. We speed through the Adriatic Sea during Yacht Week to get to the gig. It was definitely a first for us.
Do you feel the crowd responded to your set the way you hoped they would?
They were definitely really into our set. It was a lot of fun for us. There was something special about this event because when every song dropped, the crowd would make it rain with the pool water. It was definitely something different from your typical festival.
How does performing in Europe compare to performing in the US? Do you prefer one over the other?
 Generally, every show is a new experience for us. Being Americans- of course coming to Europe is always a great and new adventure. The one thing that remains the same is that everyone is there to escape their reality and most importantly live in the music.
Over the next month you three will be doing shows throughout Europe and Asia. If I were someone attending a Brass Knuckles show for the first time, what is one thing you would want me to know about you guys?
We are not your conventional DJ group. Our sets are a little more organic than a normal DJ set. We incorporate live guitar, and use ableton the fullest creating live remixes/bootlegs within our set. We keep our sets high energy at all times and like to incorporate a mix of different styles that will suite any crowd.
This past Friday your music video for your new track 'As Long As I'm Alive' was released. Can you tell me a little bit about the concept behind this video?
We wanted to give the viewer a taste of Miami. Miami has a certain ambiance about it. We wanted to convey the nightlife, fashion, women and general lifestyle that IS Miami. The video is more abstract than concrete. We wanted to take the viewer on more of a visual journey rather than actually portray a story like our "Bad Habits" video.
I recall your music video for  'Bad Habits' facing some criticism for its contents. How do you think people will react towards this one?  
There is a lot less "conspiracy" in this video. 'Bad Habits' had an unfiltered story line that was inspired by the subject title. 'As Long As I'm Alive' is more of a free spirited video where the most controversial scenes may be the opening scene of the models exposed left butt cheek and overall sex appeal.
So I've seen the tweets and Facebook statuses about a potential college tour in the fall. Any information you can divulge to me about that?
We are finalizing the routing right now and should be making an announcement in the near future!
Last question: If you could each describe Brass Knuckles in one word what would it be?
 FUSION