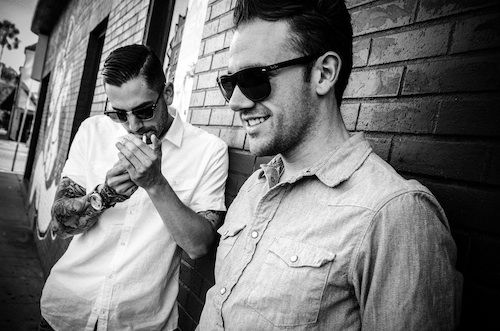 It's a random Friday in Denver. String Cheese Incident is playing Red Rocks this weekend, drawing droves of people to the legendary venue. However, I am much happier where I am, in a small nightclub inside of a renovated church, getting ready to speak with the young guns of the Anjunabeats family, Norin & Rad.  If you haven't heard of Norin & Rad, you are missing out on some amazing home grown talent; so amazing in fact, that even the all powerful Above & Beyond have taken notice of their accomplishments.  The musical range of Bruce Karlsson and Nick Sember is astronomical;  from the trancey vibes of "Aldo" or "The Gift", to the unique mixture of sounds found in "Bird Is The Word", Norin & Rad dismiss the notion of sticking to a genre, and simply strive to make unique and interesting tracks. This characteristic transfers over to their sets, in which they play such a wide array of tracks that there is never a dull or bland moment (off the top of my head, I remember going nuts for their "Easy" remix, some edit of "Animals", obviously the unique vibes of "Bird Is The Word",  along with some definite dubstep/trap-esque tracks or edits later on in the mix).  Norin and Rad (named after silver surfer comic book character, Norrin Radd) are excited to get out in front of this Denver crowd. But first, they have the monotonous task of having to talk to me. For all the cool vibes a renovated church has, what it lacks is a quiet place to converse.  We resorted to hunching over in a back corner of the club, and begin discussing the brilliant, young career of Norin & Rad:

It's your first time in Colorado, how do you like it thus far?
It's super awesome. We got to see the downtown area for a little bit. It was sweet, now we get to see what the fans are all about.
I know that you two are both basically from Orange County, where exactly do you reside?
Nick: I'm from Huntington Beach

Bruce: I'm down south in San Diego
 Can you guys take me through the thought process behind your latest single, Bird is the Word?
 It definitely has some Mat Zo influence in it. We also definitely tried to put our own twist on it by going in a different direction away from the norms of things and staying away from that "top 10" track kind of feel. Y'know, just something new and different from the regular stuff.
You guys have mentioned that Mat Zo was one of the inspirations that fueled you guys from the get-go. What are some other inspirations that got you two to where you guys are today?
Honestly, a lot of our bigger inspirations aren't from the dance scene, such as Flying Lotus and Bonobo. But from the dance genre, we're heavily obsessed with Kill Paris, we love all of his releases. Also, M-Machine ,who are our good friends, and are absolutely killing it right now, they're a huge inspiration to us.
 How does it feel to be a part of such a beloved and legendary label such as Anjunabeats? Who are some of your favorite guys on the label right now?
We gotta give it to Andrew Bayer, he's released the best album so far this year. Absolutely one of the best albums we've ever heard. We actually have a few tracks with Andrew in the works that we've collaborated on and are putting the finishing touches on. We'll be in London next month should be able to wrap it up with him and perhaps start another track.
 Do you guys have any plans for a full-length album?
 Yes, it's definitely something we really want to put together. But our main goal right now is to finish up the 5-6 tracks that we've been working on as of late. Our main priority for those tracks is to make it unique and different, even more than The Bird is the Word. We really want to have them all on the back burner to be ready to push out next year so while we're working on our album, we could have less to worry about. Hopefully by September or October, we'll be able to solely focus on the album.
We can't talk about Anjunabeats without mentioning Above & Beyond. How is it working with them?
 They're simply amazing. It's very interesting because they each of them have their own set personalities, yet when they're working together side by side, their personalities flow seamlessly as one. Working with them is so fun because they are very accepting of the "weird" style that we bring to the table. They always welcome our weird style with open arms and help us push it to the next level.
Have you guys given the Anjunadeep 05 album a listen yet? What are your thoughts?
We thought it was fucking amazing. There's a reason why it's beating out David Guetta, Zedd and Krewella on iTunes. It's the #1 album right now simply because they were able to put it together phenomenally well. Jody is insanely creative and I appreciate everything that he does. A lot of people are putting a such good music in the deep house realm, and to have somebody like Andrew Bayer and Matt Lange focusing on one compilation…of course it's bound to turn out great, but it ended up turning out way better than what I expected.
You guys played at Trance Around the World 450 in Bangalore last year, how was that experience?
Incredible. The whole country and culture experience was unbelieveably incredible. It blew our minds as soon as we got there. Seeing that many fans on the other side of the world coming out to support you. I mean, you know they're there because of the Above & Beyond name, but once you hit the stage and drop your own tracks, you can tell from the crowd reaction that they know who you are and appreciate your work. That feeling when you're on the complete opposite side of the planet and still have that many people enjoy your music, it's unimaginable. We couldn't have asked for any more out of the experience.
 Norin & Rad are currently on a North American tour with label-partner Maor Levi. Don't miss out on the tour dates: LINK