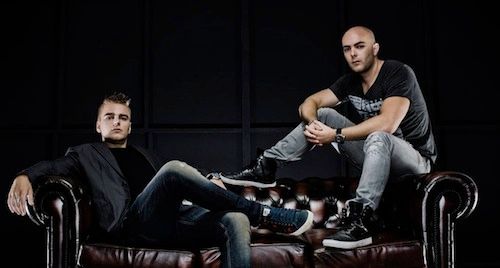 Dutch Duo Showtek, consisting of brothers Sjoerd and Wouter Janssen, have been blowing up on the EDM scene as of late.  Pumping out hits like Cannonball and Get Loose, Showtek is quickly climbing the ladder and joining the EDM elite.  We had a quick chat with the duo on what made them who they are as musicians, what's next, and what's more to come.

In the past year you've released some of the biggest hits in the EDM world as part of your crazy collabs series, whats crazy collabs all about and what's your favorite tune produced for it thus far?
Our Crazy Collabs concept was a way for us to get our name out there by working with different artists in EDM. We came from a harder genre and we really wanted to change our sound. Not totally change, but we wanted to reach a bigger and different crowd as well. We worked several years behind the scenes with big artists like Tiësto, so in the scene everybody knew what we were capable of. If we were to tell fans that we were changing our sound , it would have been harsh towards our fan-base, which we built over the years. So by doing Crazy Collabs we had a good reason to try out a new sound, so we could slightly move towards a bigger stream in EDM. And it worked out really well! The tracks did great and the name Showtek was settled pretty fast within a year. We only collaborated with artists who we felt connected with or who we had clicked with. Guys like Bassjackers are really nice and talented and we had a lot of fun during WMC in Miami in 2012. That's how we got to know each other. Overall, "Cannonball" (which we produced together with Justin Prime) was our biggest track so far. That track took us to another level in EDM.
How does producing and performing with your brother affect you?
Well thats how we started. It's the foundation of our success. It makes us as one! We are always on the road together and since we share the same passion, humor, and all that, it's super fun. Some brothers can kill each other, but we found a way to work together. We always hung out together when we were younger, playing basketball and having the same friends, so we've been together since our childhood. We aren't the same at all though. Wouter is a studio beast and Sjoerd loves to travel. But we both love doing both so we have found a healthy balance! We see each other 7 days a week, so to be honest, sometimes it's not bad to not hangout and see each other though.. haha.
Who came up with the idea for baldy and cresty? Any hints to when we'll see another episode?
That's just an little cartoon expression that we created at our office. I think it was our manager back then who came up with it. A funny way to tell our story! We can't be too serious all the time. We are done with Baldy and Cresty now. It cost us shit loads of money to create that so… We might come up with something else in the future!
You recently produced a song for Chris brown, is that something you're looking to do more of, I.e. produce music across different genres?
Yeah, we can't be DJ's for the rest of our lives. We would love to have a family as well, so this crazy life will end some day. Doesn't mean that we will stop anytime soon, but producing music is work for the long term. We are investing in producing different kinds of music. The Chris Brown track, which is on his upcoming album, is a dance track as well. We see ourselves producing big pop and/or dance tracks for artists in the future like Rihanna, Beyonce, or Coldplay or something. We travel a lot to LA to work in studios and it's amazing as well.
You guys have played at some huge venues with wild crowds. Do you have a show in particular that strikes you more than others for any reason?
Hard to mention one, but we have to say we had crazy good shows last few months. Last week we played at Boonstock in Edmonton (Canada). That show went crazy! Think that was one of the best shows we ever did. Think (if we speak for ourselves) we had a really strong performance and the crowd went absolutely bananas! Also the Spring Awakening Festival in Chicago kicked ass, check out how crazy we went on "Cannonball"!
What kind of music did you listen to as kids? Does it/can you see its influence in your music today?
We both of listened to hip-hop, especially Wouter who was a huge fan of Wu-Tang, Tupac, and Biggy.  They were our heroes. We also went to techno raves (that's why the TEK is our name ShowTEK) and we also loved acts like Tiësto, Faithless, Marco V. Dance music has been on national radio in The Netherlands since the  90's, so it's part of our culture. As you can see we have a very diverse taste of music.
Showtek is currently campaigning for the DJ Mag Top 100 beginning July 15th. If you're a fan of Showtek, like most of us here at EDMTunes, I'd highly recommend heading over to DJ Mag and casting your vote for them.