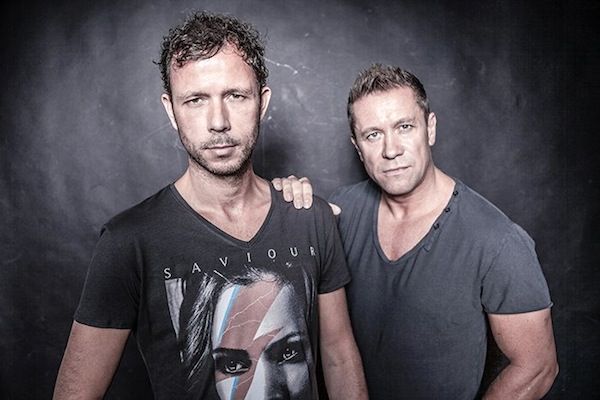 Exclusive Interview W/ Cosmic Gate (Wavefront Music Festival 7-5-13)
Chicago, IL welcomed some of the world's best DJs to beautiful Montrose Beach this past weekend for Wavefront Music Festival. Near the top of this list, was trance music legends Cosmic Gate. The German duo Nic Chagall and Bossi have been destroying stages with their incredibly unique style since 1999. The music scene has changed, trance music has transitioned, but Cosmic Gate remains as popular as ever now 14 years later. The duo are an integral part of the ASOT tour. I had the honor and pleasure of sitting down with the talented duo before they played their set on Friday. Here's our exclusive interview…

This is your first time performing here at Wavefront. What do you think of this beachy venue? Do you prefer festivals over smaller clubs? What's your absolute favorite venue to perform at?
We have played beach venues. Some of them festivals, but not too many. It looks amazing so far. We have only seen our stage, but it's right by the water. It looks beautiful. We can't wait to go on. We like the big festivals, but we love all venues. There's definitely a difference in a performance at a large festival and a smaller venue. Later tonight at Castle, we have a few more waves and a little more ups and downs. We like both because they're different. There's a lot of amazing venues we've played at. We always say Zouk in Singapore, but we can mention so many. Every country and every continent has incredible places to play. EDM is a worldwide thing.
Talk to us about ASOT600KL and how glorifying it felt to be on that stage looking over the immense amount of fans.
That was incredible. I mean when you see it, even on the stream, it already looks amazing. But when you were there, we enjoyed it so much.
You guys started your careers towards the turn of the century in 1999, how do you feel about the other rising stars in the Trance community such as Norin & Rad, Andrew Rayel, Khoma? You guys have obviously been in the scene for quite some time, do you think these up and coming Djs have as much exposure as you guys did when you two were first introduced, if not more?
Well, it's hard to say. Times are simply different. You can't compare 2013 to 1999. There's always people saying the music was better then, but if the music were the same now people would be so bored with it. There's a lot of progression. There's a lot of interesting artists around. Styles are getting mixed up and there's a lot of interesting music now. It's about making the right thing. We're very comfortable with what's going on, and we do our own thing. We stay true to what we are. We play a wider range now and it's different, but it will always have our special kind of vibe in it.
Electronic dance music has definitely transitioned into a much larger genre and all electronic components are now being blended into one. Do you think trance still plays as prominent role in the electronic dance realm as it did when this genre first took off? How big of an influence do you think trance has had on these other DJs who claim that they aren't trance artists? Do you think the trance "glory" days will ever make a comeback?
Trance plays a huge role. But I mean, it's because there is more artists. There are more festivals now then there used to be. I don't expect trance to go back to how it was when we started. There is a big big difference between the modern and classic style. Trance though is not about speed or beats. It's about a feeling you experience with the music. For us, a trance song could be a 140 bpm song. But also, other people could call that a house track. If we feel a certain vibe, it's a kind of trancy feeling. I would say back then it didn't exist as much as it does now. Ten years ago, it was more like this is trance this is house. Now everything has kind of blended together.
I understand that you guys are against "the drop" and how it has become such a fundamental and basic occurrence in this music industry today. What are your thoughts on how the scene is shifting? Do you think the music being produced are all starting to sound too similar and 1-dimensional?
We're not against it, but it's all about the drop these days. It's one siren to the next (makes siren noises). We play it sometimes. But for most artists, it's always one to the next. There is no middle part. We play the drop too. But it needs time to develop. That is what we really don't like about it. We love new tracks, but we can't play two hours like that. You need time to feel the music. You need to breathe. When you just play like people do now you can't feel it anymore. A good story takes time to get told and to develop. A good track needs a sequence that takes time to get into your brain. In music these days, in 4 minutes, you can't tell a good story.
Would you guys ever consider exploring space with Armin Van Buuren?
I think it's a cool thing. Of course, I'm open to it. If Armin is doing it, we're in (laughs).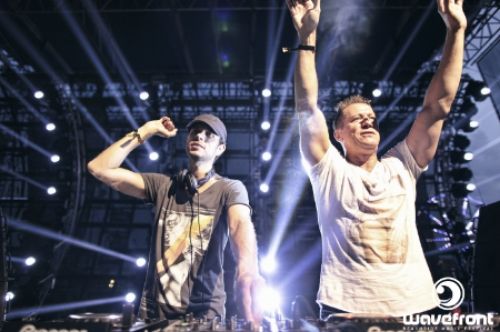 Photo credit: Daniel Boczarski for Wavefrontmusicfestival.com