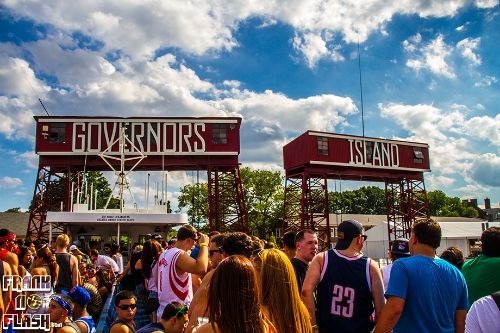 IndepenDANCE Day Weekend celebrations at Governors Island Beach Club in New York City this past weekend was absolutely pure insanity. If you are not of the New York area, you may not be aware of this awesomely-situated venue in the middle of NYC's Upper Bay area, situated right between Wall Street and Brooklyn. The island is a 176-acre former military outpost, initially off limits to the public for 200 years. But now, it's a ravers paradise. With breathtaking views of the New York City skyline backdropping a venue with imported sand, faux palm trees, tiki like bars/concessions and a massive stage area – you would think that the 10 minute ferry ride took you to the gates of heaven.

The ferry to heaven departs from the Battery Maritime Building on South Street off the southern tip of Manhattan. With the outrageous heat this past weekend, the short ferry ride was a nice breeze-inducer, and allowed show-goers to interact with and hype each other up while waiting to arrive at the island. Accompanied by awesome views of Manhattan on the water and great feels from everyone around on each day of the celebrations, at the start of each ferry ride you just knew you were in for a sweet time for the rest of the day.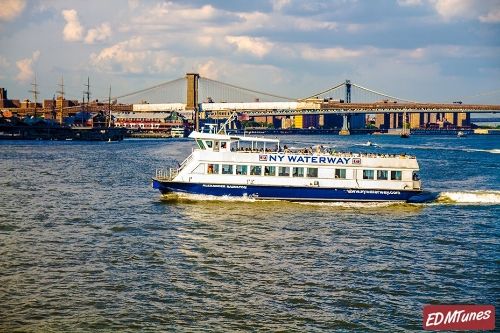 The vibe of the New York electronic music crowd is one of my favorite throughout the whole country. Genuine PLUR vibes hovered over Governor's island all 4 days of the extravaganza weekend. Meeting new friends (family?), connecting with other kindred spirits all around you in an almost festival-type atmosphere is quite nice…especially with the magnitude of events and different EDM sub genres that Governor's Beach Club draws in. Given that its not a total festival atmosphere (complete with a small proportion of people who come for just the bar/party scene) the majority are there for the music and the sense of community that us electronic music fans know and love. Everyone looked out for each other in the outrageous heat throughout the dancefests each day with suprisrise water showers, water runs for thirsty-looking neighbors, giving each other face baths with ice cubes…and topping those off with kandi exchanges.
Great feels surrounded Governor's Beach Club all weekend, accompanied by an amazing view of the NYC skyline and supported by the thumping bass and pumping sound system present within the large canopy-covered dancefloor/stage area. The intense lightshows, mind-bending laser machines and special surprises each day just added the icing on top of the epicly-named extravaganza weekend presented by RPM Dance Music Marketing.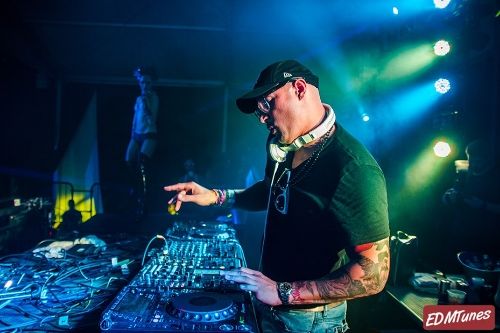 The weekend extravaganza started off on our Nations' Birthday, July 4th at Dirty Dutch with DJ Chuckie, Gregori Klosman & VeniVici. Kicking off with Klosman's set with Bill Pullman's speech from "Independence Day" was perfect for the celebration of the day, with the entire island chanting "USA," it was quite the scene to behold. Klosman rocked the stage for 2 hours after which he jumped head first into the crowd. After crowdsurfing on the eager fans for a while, he returned to the stage to make way for dirty Dutch superstar Chuckie for a 2.5 hour set. Along the same themed idea as Klosman, Chuckie kicked off his set with a remix of Springsteen's "Born In The USA" thus turning Governor's Beach Club into a massive Bouncey Castle. If you could avert your eyes from the lightshow going on in front of you, you could also be treated to NYC's fireworks happening directly behind you at the same time. Amazing setting, amazing day.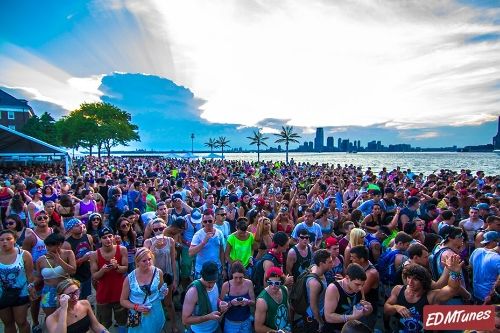 Next up on the bill for Day 2 on July 5th was Victor Calderone, Chus & Ceballos, Sian, Arjun Vagale and Mike Frade. Big room tribal-house rhythms took over the island on this day. A slightly-different crowd than the prior day, but with the same good vibes and happy-go-lucky approaches to life were again present everywhere you looked (or danced).
Saturday, July 6th offered up the event that I was personally looking forward to most: Gareth Emery's redux party with Christina Novelli, Blake Jarrell, Ben Gold & Michael Woods – which he streamed again this year on his Youtube. Last year was crazy, this year was sheer madness. The first surprise of the day was seeing Christina Novelli kicking off the party on the decks. I had no idea she DJ'd, so it was cool seeing a female up there, warming up the incoming crowd for Blake Jarrell. Blake put together quite the solid set, progressing nicely up to the energetic and hit producing Ben Gold. Coupled with the lights, stage dancers and (again) supported by a top notch light show, Ben revved the crowd up like no other in anticipation of the man, Gareth Emery, taking the stage. Dropping a 2.5 hour set compelte with ethereal trance, banging progressive house, and even a little bit of trap and electro, Gareth made sure to leave no genre stone unturned for his fans (both in person and online). The laser machine was purely AWESOME and I found myself lost amongst its beams multiple times. In addition to the music and lights, an acrobat also performed on a pink piece of fabric suspended from the ceiling of the canopy…creating quite the circus like atmosphere. To top off all that entertainment overload, a massive drop of balloons accompanied the finale of Gareth's set (unfortunately the netting didn't totally come undone and some of the balloons stuck at the top – but we cant have all logistics be perfect all the time!) Wrapping up the set with a pretty hard banging electro set, Michael Woods took the crowd up and down, back up again and dropping them right back down onto the ferry back to the mainland. Day 3 complete.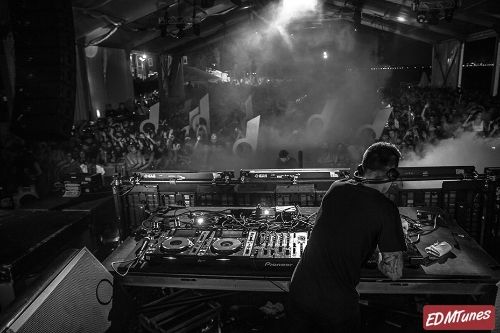 What better way to end a weekend of partying than with progressive superstar Dirty South? Yeah, I couldn't think of any other way either. Popping off a set at Governor's Beach Club for his "Speed Of Life" tour, Dragan always brings a set to remember with him to the Big Apple, and this day was no exception. Often choosing to showcase such past hit tracks as "Walking Alone", "City Of Dreams" & "Rift" among a plethora of other incredibly mixed and times progress bangers, the crowd was wild for D.S. So wild in fact, that you could say the crowd had Dirty South's "D"s in their hands. Whoa get your mind out of the gutter…fans were handed giant orange letter 'D's in a showing of solidarity for the acclaimed producer and mixmaster of the last party of IndepenDANCE Day Weekend at Governor's Beach Club.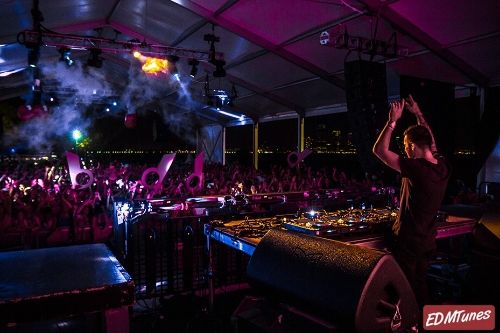 After all of that, I am exhausted…I don't know about you. But in all honesty, Governor's Beach Club is one of my favorite venue settings in the city, complete with awesome production capabilities (live stream + lasers, hello?) and a killer sound system topped off with an incredible vibe. So if you've never been, it's time to get there. Envious of missing out of the fun this time? Stay tuned to upcoming event postings here.