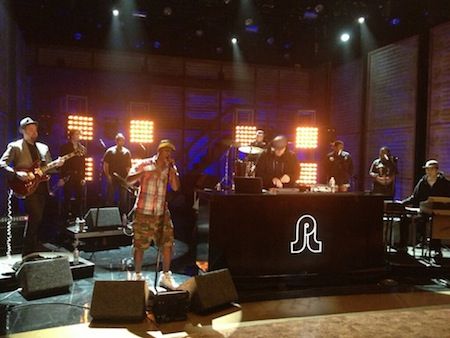 On Wednesday night, Pretty Lights performed "Around the Block" from A Color Map of the Sun featuring Talib Kweli and a live band on Conan O'Brien. Pretty Lights, aka Derek Vincent Smith, released A Color Map of the Sun on July 2nd. Pretty Lights has been a headliner at a handful of the summer's biggest festivals this year, playing at Coachella and Ultra to name a few. Pretty Lights recently released dates for a fall 2013 tour, and confirmed he will be bringing a live band on tour. This video of Pretty Lights on Conan gives us a tiny taste of what one might begin to expect at one of his fall shows.

"Around the Block" is the first single off of A Color Map of the Sun. The live instruments ranging from horns, lead and backup vocals, and guitar allow for the song to truly come to life. Pretty Lights is altering his live performances, and we'll see once the tour starts how fans react to the change.
Check out Pretty Lights live performance on Conan below and let us know if you are excited for his fall tour and what you think about his live band!