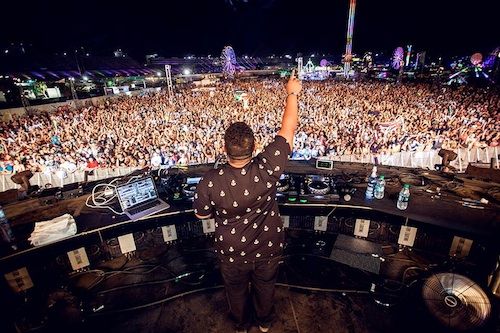 It's July in the Rocky Mountains.  The forests are in full bloom, flowers are rustling in the muggy, yet crisp Colorado wind. The Red Rocks peak out at you over the Flatirons.  Nestled somewhere amidst the jutted peaks is a stage.  Not just any stage, mind you. The Beatles have graced this stage, the echoes of that now legendary performance still hover in the air across the ten thousand seat ampi-theatre, caressing the ancient rocks with unforgettable memories.  But the Beatles themselves are long gone. What that remains is an empty, yet serene stage, literally carved out of the surrounding red-tinged rocks, just days away from being filled with ten thousand eager fans, for one of the most unique and beautiful electronic music festivals in the country: Global Dance Festival. And one man is oh so ready to take the heralded venue and its denizens by the balls, and destroy them with his massive vision of what festival sound is all about. I am talking about the one, the only, Carnage.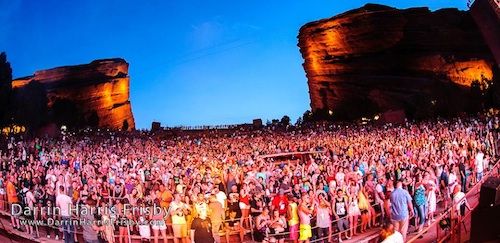 Festival Trap. Carnage. The two go hand in hand, and everyone  is noticing.  Fresh off an absolutely mind blowing EDC Las Vegas performance that everyone is still talking about, Carnage is ready to rock the Rocks with his signature Festival Trap sound.  You've definitely heard the tracks and remixes. "Incredible", a collaboration with dubstep killer and maestro, Borgore. "Bang", "Big Spender", "Katie" and who can forget his ridiculous re-touch of Hardwell's "Spaceman" (I've included the track in this article, it's easily one of the best remixes of an already classic Hardwell track, it takes it to a new level of fun and in-your-face trap grime).
You've probably seen him at a festival, too.  2013's fastest climber has already graced the decks at Coachella, Ultra, Spring Awakening, and will continue to do so at Tomorrowworld, Electric Zoo, and of course, this weekend's Global Dance Festival.  Carnage's sound is perfect for festivals.  He is a master of starting a party and keeping it going; it is very much impossible to not enjoy yourself when Carnage is doing his thing. The man is hitting his stride at the perfect time.  His festival performances are always top notch, and his releases are equally solid every time he comes up to bat.   He is about to drop another massive track titled "Michael Jordan".  It obviously releases on the 23rd (duh) of this month on Dim Mak Records. You can find the EDMTunes preview article for that and the corresponding tour right here:  Six Rings Tour. Below you will find a preview of the track. "Michael Jordan" is an exciting, energy filled banger, and a foray into the ever popular Electro House genre that is dominating festivals this year. No one does a festival performance better than Carnage, and this track is most definitely an ode to that fact.
It is the perfect time for this man to take the stage at the legendary Red Rocks Ampitheatre and show the EDM world that he has truly arrived in a big way. Carnage's set is guaranteed to obliterate the ancient rocks surrounding him, and I absolutely cannot wait to see him do it in person. The range he shows in his performances are particularly interesting. Listening to his EDC Las Vegas set, you'll be pleasantly surprised to hear Armin Van Buuren's beautiful "This Is What It Feels Like" played alongside Martin Garrix' "Animals", along with just pure running the Trap. It's a unique experience, and one that you do not want to miss if you are anywhere near Colorado this weekend. Global Dance Festival kicks off on Friday, July 19th, and concludes Sunday, July 21st. Carnage is set to take the stage on Saturday. EDMTunes also gets the pleasure of sitting down with the man during the festival and pick his brain about his music, touring, and whatever else comes up!  Stay tuned for the interview, plus an overview of his set some time next week. In the mean time, be sure to purchase your tickets for Global Dance Festival 2013. You can do that here: Global Dance Festival. Definitely check out the video of GDF 2012, which was the 10th year anniversary of the festival.