Dominic Lalli and Jeremy Salken, the duo that makes up Big Gigantic, are back out on the road today as they kick of their Sky High Tour at Electric Zoo.  As is apparent from the above calendar, Big G is whirl-winding around more or less the entire country. No matter where in 'Murica you reside, this funk-fueled, jazz-infused tour will definitely be near you, playing everywhere from Fargo, North Dakota, to the Big Easy.  Joining Big Gigantic on the tour (on specific dates) will be Ill-Esha, Minnesota, and Opiuo (and if you are lucky enough to be living in Colorado, you'll get to see Adventure Club tear down Red Rocks Ampitheatre, along with Big G, in the second annual Rowdytown event).
For those not too familiar with Big Gigantic, this tour will be a fantastic way to get acquainted. A unique act in the electronic music community, Dominic and Jeremy are much more than your typical DJ act. They incorporate live instruments into their sets, and have been doing so from the get-go, with Dominic playing the saxophone and Jeremy on the drums. Their influences range from dubstep to jazz to hip-hop, and their live performances are truly a pleasure to witness, visually and aurally. On top of that, one still gets the full EDM experience by way of a full scale light show production, visuals, and of course, that big bass-fueled sound that the pair are more than capable of bringing. It's without a doubt one of the more unique shows out there, and an ode to creativity which can be, at times, lacking in modern day electronic music.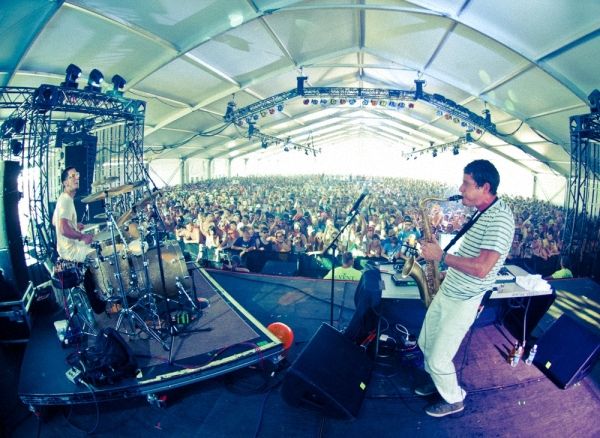 You can purchase tickets to all stops on Big Gigantic's website. If for some reason you need even more reason to attend this already must-see  tour, an added bonus is that a portion of proceeds will be going to 'Art That Feeds', a non profit organization committed to hunger relief and youth empowerment. Furthermore, anyone who buys an advance ticket online for any date of the tour (excluding festivals of course) will be automatically entered to win a pre-show Meet & Greet and a Big Gigantic VIP Experience pass – which includes a sound check viewing, the meet and greet, an ABGF(A Big Gigantic Family) pin, sunglasses and an autographed poster. What are you waiting for? Go buy your ticket now, check out Big Gigantic's website, check out their Soundcloud page, and we'll see you out on the tour!