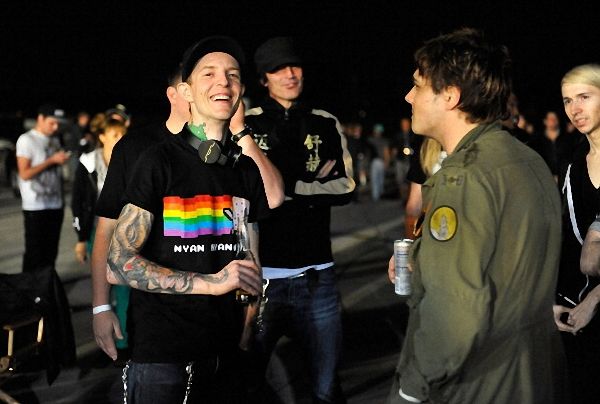 Earlier today, Deadmau5, Live Nation Merchandise Inc., and DHX Media, the company who owns the rights to the Space Invaders game, have reached a licencing agreement that according to the media report "have teamed up to create a lifestyle brand crossing a myriad of categories launching in the high-end and specialty markets." One can only imagine what type of products the partnership will inspire for the winter 2013 launch."Deadmau5 is the most popular electronic music artist and Space Invaders are the most recognized video game characters. Bringing them together is more than a collaboration, it is a revolution in popular culture," said Janet Dwoskin, Vice President of Licensing for Live Nation Merchandise. The ever opinionated Deadmau5, who has a classic Space Invader tattooed on his neck,  has not commented on what the partnership will entail. The press release tried to outline the vision by explaining that "The Space Invaders brand is similarly pervasive in popular culture, with the characters debuting in an arcade game in the late 70s and being referenced continually in the pop culture which cultivated artists like deadmau5. Fusing the first sci-fi-esque symbols of the computer-lead revolution that deadmau5 now represents 40 years later; the co-brand is a perfect synthesis for the digital age."  However, as an artist on the forefront of the battle against conformity and commercialization, it is surprising to see the man in the mouse head agree to a commercial licencing deal.
The companies Deadmau5 has chosen to work with are no small indie shops, either. DHX Media is a publicly traded company that, according to their website, is a "leader in the creation, production and licensing of family entertainment rights." Currently worth over $590 million dollars, it focuses mainly on children's products and brands, such as Yo Gabba Gabba!  Live Nation Merchandising focuses on music industry merchandise, selling products representing over 500 artists including Alicia Keys, Lady Gaga, and the Rolling Stones.
It is unclear what will come of this new partnership, but here is to hoping that he always values the originality of his brand in the same way he values the originality of his music.