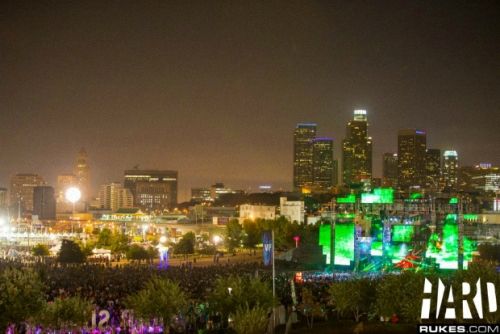 Los Angeles Historic Park embraced thousands of festival goers on Saturday and Sunday at what is one of the biggest events of the year for electronic dance music in LA. Unfortunately reports have come in stating there was a death in the midst of festivities. At 10:30 Saturday evening paramedics responded to a call about a young man who went into cardiac arrest and was then subsequently rushed to a nearby hospital. The incident occurred in front of attendees at the Harder stage before Flyting Lotus was set to perform. His name has obviously not been released to protect his privacy. Meanwhile, Live Nation which promotes Hard released the following statement:
During Saturday evening's event held at Los Angeles State Historic Park, a patron experienced cardiac distress and sadly passed away at the hospital. Our thoughts and prayers go out to his family and friends.
Our guests' safety and well being is of paramount importance at every Live Nation event. We have skilled EMT's, police, and security staff deployed on site to respond to any emergency situation and last night members of this emergency team were with this patron and administering CPR within two minutes of notification. We work closely with local health and safety authorities to plan for emergencies and set the appropriate staffing levels for each event.
This is the only death that has been reported at this time, and our thoughts go out to the young man's friends and family.