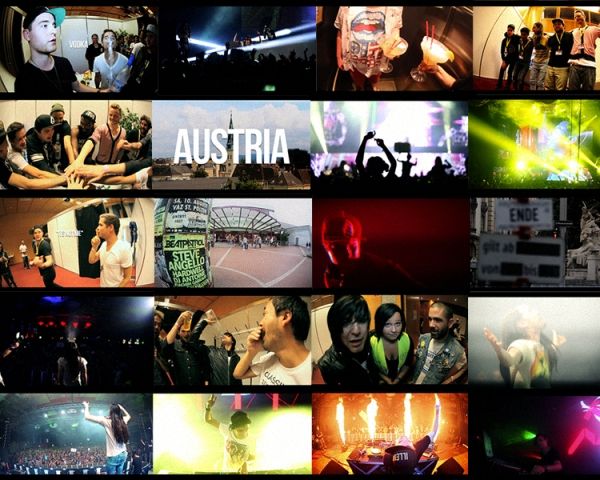 Dim Mak has just announced the launch of their "Up All Night" video series, aimed at showcasing the Dim Mak experience to the general public and fans alike via an ongoing series featuring on-the-ground, firsthand footage of experiences within the label's everyday life. Steve Aoki's Dim Mak was founded in 1996 with an initial (and ongoing) goal of preserving a boundless, forward-thinking music community. Spanning many musical genres throughout the years, it has also featured many top artists including Bloc Party, The Bloody Beetroots, MSTRKRFT, Felix Cartal, Datsik and many more.

Dim Mak stems from Steve Aoki's "do it yourself" ethos and continues to morph and adapt with the industry's ever-changing tides. "Up All Night" will aim to serve as a voice in today's electronic music community while documenting monumental Dim Mak-related moments, curating future taste-maker music, and showcasing official video releases and live performance footage. The series is filmed in mini-documentary format and captured in the "DIY" style that the label exudes. "Up All Night" will visualize the lives of renowned Dim Mak artists on stage and beyond while additionally featuring new, exclusive and unreleased music.
"My vision of Dim Mak has always had a futuristic outlook, and we've remained a force within the independent music community since day one," says founder Steve Aoki. "Our voice is still heard and respected to this day, after more than 15 years of non-stop music and new noise. Up All Night takes these elements and puts them on video for the world to see. Our Up All Night videos and branded stages tell the story of Dim Mak, from beginning till today, and will continue to introduce the future leaders of music right to your eyes and ears."
In combination with this launch announcement, Dim Mak will also be hosting stages at the upcoming festivals Electric Zoo and TomorrowWorld. Scope out the stage lineups below and tune in and catch up with the Dim Mak family here!