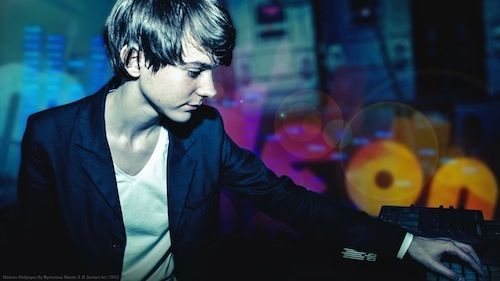 Pure, raw, unadulterated talent is something that should always be appreciated. It is however easily overshadowed by pure, raw, unadulterated YOUNG talent. We see young producers making a name for themselves left and right now a days, Julian Jordan, SirensCeol, Martin Garrix, just to name a few. These artists are riding the coattails of one of the first producers to get started at a super young age. Not only was he good for his age, but he has been on the same level as several big name acts in the game since shortly after his discovery. His style and creative mind were, and still are to this day monumental. I'm speaking of course of the electro prodigy, Hugo Pierre Leclercq, or better known by millions as Madeon.
Hugo was born in Nantes, France, on the 30th of May 1994. A mere 11 years later he started composing. At the start of his musical career, he went under the name DJ Deamon and produced trance, then moved to creating eurodance music as 'Wayne Mont'.  It was only after he decided to aim for a glitchy disco sound that he started making music with the vibe we're now used to from him. The change in style warranted a new ailius, so he decided to just use an anagram of a prior stage name, thus Madeon was born.  After seeing his own potential, he quit school to focus entirely on music (but has made it clear that his story should NOT be an example for young producers to follow.) Knowing his life was now either music or bust, he took it upon himself to do everything he could to become a self-made international pop-star. The process started by teaching himself to read, write and speak English. Obviously all his hard work paid off as last year he played several American festivals including the Electric Daisy Carnival in New York, Ultra Music Festival, Lollapalooza, and even Coachella, along with many festivals in the UK.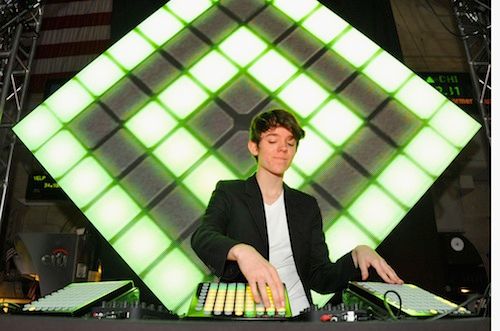 Now that we have some insight on how the French young-blood worked his way to the top, lets take a look at the songs that dubbed him an EDM prodigy, and eventually brought him to be the entertainer, performer, and artist we know today.
1. Shuriken
This little gem was one of his first singles under the name Madeon. Though not as popular as most of his releases now, this was one of 2 tracks (For You being the other) that really gave the public a solid idea of what he was about: showing beauty in both simplicity and complexity. Almost elementary chords and melodies made with just the right sound bring out the happiest emotions. The groovy bass and underlying twerks and glitchy sounds underly it all to add an element of funk. Here's hoping this article brings this awesome track into some well deserved light.
2. Pop Culture
On July 11th, 2011, a video hit youtube of someone using a Novation Launchpad to fuse 39 pop songs together to create one of the most popular music related videos on youtube, reaching views in the millions in a matter of days. This one 3 1/2 minute masterpiece was called Pop Culture. This was one of, if not the soul contributor to Madeon's early discovery. Using only samples from songs, ranging from a 16 beat loop to a clip a fraction of a second long, this track is not just a great dance song, but also an epic journey through generations of pop music. Vocal samples strung together seamlessly to create percussive harmonies, a single synth lead edited into a gorgeous solo, this mash-up had everything you would never expect. To this day you can still hear this song in some form in most of Madeons live sets.
3. Raise Your Weapon (Madeon Remix)
If you went to any EDM event from fall 2011 to sumer of 2012, you have without a doubt heard this mix played in a djs set. With Deadmau5 and his album  '4×4=12' gaining so much popularity still, people were willing to listen to anything related to the music the man was making. When Raise Your Weapon came out as a single, there were 2 remixes included; one by Noisia, the other by the one and only. This was a time where Hugo was more known for his work and not recognized by his stage name, but this remix was what changed that. Turning what were probably the most popular lyrics in the electronic scene at the time into an electro house anthem everyone would dance to was no easy task, but  Madeon took on the task and succeeded in flying colours. Many even consider this rendition to be better than the original. Whether you agree with that last statement or not, its easy to see how this track dominated dance floors around the world.
4. Icarus
This song… THIS SONG!! This is the sound that comes to the mind of most when they think Madeon. Icarus was without a doubt his true breakthrough song that really put his name on the map. There are no gimmicks, no lyrics, nothing that doesn't scream 'dance music perfection'. From the get go, you instantly know the sound you're about to hear is going to be big, and sure enough the drop is a massive, organized cacophony of magical sounds that force you to move your feet. The first of 3 tracks to be released off of his EP 'The City', this song made it all the way to #5 on the UK Dance Chart, which is quite an impressive feat for a kid who was only 17 at the time.
5. Technicolor
You knew it had to end with this. Technicolor: Madeon's latest release and said to be the sequel to Icarus. Another amazing example of the wondrous sound and almost mystic vibe that has become a staple of the young superstar. Technicolor gets you dancing one minute, then makes you cry tears of joyous euphoria the next, and ends off with a half time jam with a chord progression leaving feeling whole. He has really perfected the art of writing a story through sound with this one.
Choice Set – Madeon Live Triple J Mix
This live mix recorded for Triple J in April is one of the most impressive sets out there in all aspects. The mixing and transitions are flawless. The track selection is diverse and divine. Everything in this span of 33 minutes is put together so perfectly it starts impromptu half hour dance parties whenever its played. While being a recorded mix, its also quite similar to what you should expect from a live performance at a show or festival.
In case it wasn't made apparent by the rest of this article by now, Madeon is the epitome of artistic genius. from the music he creates to everything attached to it, artwork (did we mention he does his own artwork? Well he does.) the music videos, the hidden messages…
AH yes, the hidden messages. It has recently been discovered that Madeon is planning something big and has been for a long time. He has left several clues as to what it is in previews, music videos, artwork, anywhere he could. If you check out the details its all just more evidence to is apparent genius. Needless to say what ever he has in store for us in the future is going to be great. After all is said and done, its should be obvious as to why this prodigy is the newest addition to our Hall of Fame, and we couldn't be happier to have him.