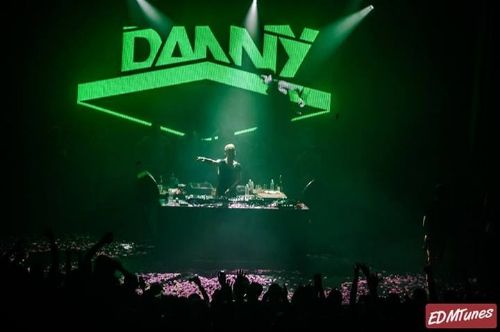 Traversing the streets of Hollywood is no easy feat regardless of the fact that it is only Thursday. It is always crowded here. Tourists, club goers, and Hollywood Blvd residents alike crowd the sidewalks. I was on my way to the LOEWS Hotel in Hollywood's epicenter to chat with young Spanish DJ Danny Avila before his show at the nightclub, Lure. Danny Avila may be only 18 and have hair that gives Justin Bieber a run for his money, but don't let that fool you. This young Spanish super-talent is a hard working, energetic, mature, and accomplished guy.  He started to hone his craft before his 13th birthday, moved out on his own by the age of 15 in order to get into the music scene, and since then has locked down several residencies in Ibiza and Las Vegas, as well as receiving the support from super stars such as Tiesto and Fedde Le Grand. Danny absolutely slays it behind the decks. His energetic, high voltage performances show true mastery over DJing. He certainly is not your typical eighteen year old. Check out what he has to say about his path to success, his age, and Tiesto.

EDMTunes: Welcome to Hollywood! It's a bit of a mess, but thank you for taking time out of your busy schedule to chat with us. Did you just fly in from Madrid?
(Chuckles)No problem, I basically just stepped off the plane. It took forever to get here.
EDMTunes: It says on your facebook fan page that you you left your friends and family at 14 to move to Madrid, so you could expose yourself more to the music scene. What was that like for you at such a young age? 
I was already DJing for 2 years when I made that decision. The thing is in Marbella the music scene isn't that big, so either I move some where else or it was not possible to reach a higher step, you know, that was the thing. I was 15 and I was playing at some underage parties and I was also promoting my own parties. I needed to do something bigger some how and try to make it happen. That's why I moved by myself to Madrid. The goal was to try to find a team to work with and to also try to find people to make music with.
EDMTunes: That's amazing at such a young age! What got you interested in DJing in the first place? 
Well for me, honestly DJing was like one more instrument. I was already playing piano, guitar and violin. I this video online of Tiesto and also actually from this scratching DJ called DJ Kleber and I was so impressed, I was like "I need to try this out." So I bought a real basic and simple controller, it must have been like 40 0r 50 bucks and then I was just trying to learn and play at some friend's birthday parties for fun. That's how I started.
EDMTunes: By 16, you were named Vicious Magazine's "Best Newcomer DJ." At this point, you were still only DJing. You hadn't start producing yet.  Is that when you realized a possible dream of yours was becoming a reality? 
Actually, I was already making music. I started DJing when I was 11 or 12 and I started making music when I was 14. I basically started making music because there were some tracks that I really liked, but didn't fit in my set, so I made some edits and some mashups and stuff. That's how I started out making my own music.
EDMTunes: You met Fedde le Grand around 16. Tell me about your relationship with him. Was he sort of like your mentor?
Well he's a great guy. For me he was one of the first DJ's I saw when I started Djing. So it was really impressive to see how a DJ could just drop the dance floor. I hadn't see that before, so I was really impressed and he was my role model. I had the chance to meet him and exchange music with him, as well as production tips and stuff. He's a really cool guy and we played a lot of shows together. He's definitely a guy to watch.
EDMTunes: In 2012, you were able to lock down three residencies in Ibiza. This is such a rare feat. How did this all come about? 
I played my first show in Ibiza in 2011 and I played 2 to 3 shows at Blue Marlin, which is a really cool beach club. It's really nice. They liked my set and I signed my first residency there with 15 shows. After that Tiesto invited me to play one show for him at Pacha, basically opening for him. Wow, that was really cool! I took to him and we got in contact more and more. I played more shows with him…I think I played a total of 8 shows with him. I also played Space Ibiza once and they liked it so I ended up playing more shows for them. I got to play the closing Fiesta in Ibiza, which is one of the most important parties in Ibiza, it was just like a dream come true.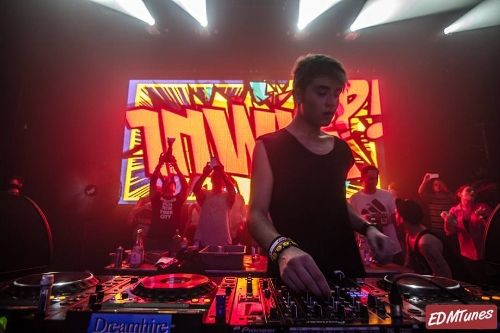 EDMTunes: You mentioned Tiesto a lot, when did you first meet him? What was it like meeting the person who inspired you to start DJing?
I met him at the Disc Club in Marbella. I was actually going to the lights section that was a bit hidden next to the booth and I was just going there and learning from all the DJs, so when I went there I met Tijs, Tiesto. He was really really cool and I was really impressed by his set. Then I saw him in Ibiza again and we were just in contact more and more.
EDMTunes: I hear that you're really into board sports, specifically Wakeboarding. I hear you hold a few awards and titles in that area. How much off time do you have to do fun things like this?
(laughs and smiles) That is a bit tricky! It's touring 24/7….which is great, but I think it's also really important to take a break once in a while and do something different like sports and just chill a bit. That's one of the reasons that I like wakeboarding a lot, it's a way to free your mind. For example, when I go to Miami I try to wakeboard there. There is a cool lake in Madrid as well, so I try to go there once in a while. But I don't really get enough time to take it seriously.
EDMTunes: Your debut single "Breaking Your Fall" was released by Big Beat under Atlantic Records. Pretty impressive for someone who started out as a DJ. Did you feel you were under a lot of pressure when making this track?
Not really. I had done several tracks before that, but a lot of the hadn't really come out because I wasn't really sure if I wanted to release them. But I released an EP plus a remix from a guy from Spain. I guess I consider 'Breaking Your Fall' as my first real big release, I was working with a bigger team behind me and obviously I was with a really good label. Big Beat has a lot of good tracks out, so for me it was a great opportunity to release 'Breaking Your Fall'  with them.
EDMTunes: You've accomplished a lot being only 18 years old. What's the next step for you?
I have a new track coming out called 'Tronco' on Tiesto's label Musical Freedom. It comes out August 26th and I am really excited about this one. But as you mentioned before about my age, it's cool when you are young, because some people get suprised "oh he's really young, that's awesome", but on the other side age is just a number, because when you are 18 it's not going to be easier for you to make it than a some 30 year old DJ. It's the same for everyone and you have to work just as hard as anyone else.