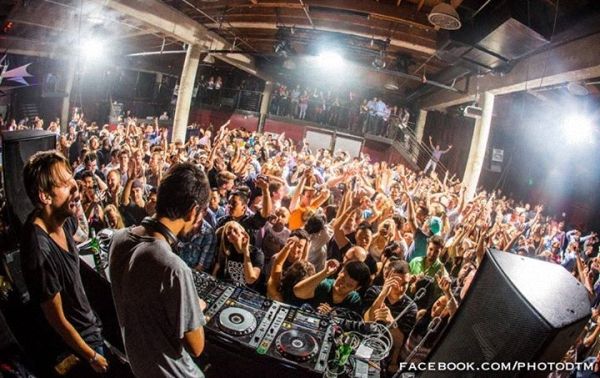 Jeremy Olander and Jonas Fehr aka Fehrplay have accomplished something few artists have or ever will. They have managed to capture the approval of one of the most gifted, versatile, and respected DJs in the world, Eric Prydz. It takes more than Soundcloud listens to join the exclusive and tight knit label Pryda Friends. It require a unique and complex sound. Sure, massive appeal is great, but Olander and Fehrplay demand more than this out of themselves. The music they release is of amazing quality. Their live performances are a true spectacle. We tip our hat to these two up and comers that are truly skilled musicians and will soon be watching their careers blow up. It really was a pleasure sitting down with these gentlemen in Chicago. They made the trip after a serious scare just two days before. A dangerous electrical fire that led to a smoke filled plane and an emergency landing caused the pair to miss their previous show in Orlando. But, the troopers that they are, they picked themselves up and jetted to Chicago and sat down with myself for an interview. Here it is…

You both possess a very unique sound. What do you think of the scene right now in the US?
Jeremy: At first, we were a little bit worried about coming over here. I had heard that people play a lot more accessible here. But, I've been surprised. We've been doing our thing and it's been really well received. I see the true passion in the fans here. It's incredible to play for that type of crowd.

Fehrplay: Things have changed in the last year. I've noticed a big change from when I was last year. People are starting to get more into the underground music.
Branching off that, do you think music is here is starting to transition away from the repetitive mainstream electro house style and back to what I label as "good music?"
Fehrplay: It always starts there. As you become more familiar with the genre, you get more educated. Your ear starts to hear a softer sound. It will get better. When I'm talking to people, it seems that way. People tell me 'I'm so sick of the same EDM.' I love that and it's really cool.

Jeremy: I think so. We saw this in Europe as well. It goes in cycles.
Pryda Friends is a very respected but tight knit label. Eric Prydz is very particular about who he signs. What was it about you both that caught his attention and how did both your relationships with him start?
Jeremy: He started off with me when I was just scratching the surface of house music. I really liked what he was about. He was intelligent and really well produced. He became a big inspiration to me. We had some mutual friends that kept sending my stuff to him. Eventually, he thought it was good enough to bring me on board.

Fehrplay: Eric had some game changing tracks, but I didn't actually know until later who Pryda was. It was after a year, when I was 18, that I finally looked it up online and found out [that they were the same person]. I was mind blown. From that point on, I was incredibly intrigued by originality. He was constantly renewing his sound. I really respected it. He never really went commercial. He could have easily done that, but he didn't. I moved to London because I knew his headquarters was there, and I gave it 100%. It worked out.

Jeremy: I think  also that he could hear a little bit of himself in our work. It wasn't in a copycat kind of a way but kind of an inspiring way. Like he listened to our music, and though he would make a track similar to that.
Being a part of Pryda friends helps you, but you guys are definitely doing your own thing now. Eric supports you, but it's you guys that are selling out all these venues on tour together. You have both played at Amnesia in Ibiza. It is considered by many to be the best dance club in the world. How was your experience there?
Jeremy: The whole island has just a really special vibe. You can't describe it. It's one of my favorite venues. I remember closing, and you can just play whatever you want. They are so passionate there. They just go nuts, and you can take them wherever you want.

Fehrplay: People have come all this way just for the music. They're not there because they're going on a holiday with their family. They're going there for the music and the experience. You play almost anything as long as it's good music.
Let me wrap up by asking, what are you both working on right now?
Jeremy: I'm working on a bit of a more accessible track. It's called Petroleum. It started off as a rework of a rock band in Sweden. They really liked it, and I'm really happy we could work out a release on Pryda.

Fehrplay: This is just the start of our fall tour. We wanted people to know that. We told them there would be more dates, but no one really read that. They were like 'WHY AREN'T YOU COMING TO NEW YORK.' Of course, we're coming to New York. There's a lot more dates to come [in North America]. We'll be doing a few with Eric on the Pryda 2.0 tour.
Jeremy Olander – Petroleum (Original Mix) Download on Beatport

Follow @TylerEDMT