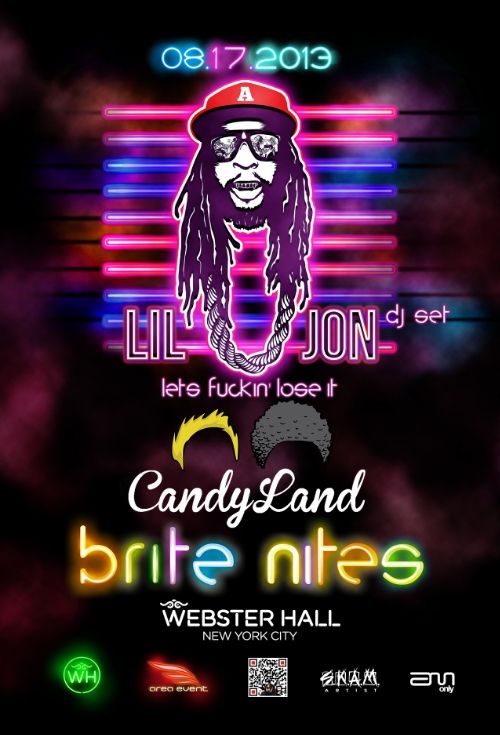 PURCHASE | General Admission Tix | VIP Tix
This could potentially be the event of the summer. If you are in New York City on Saturday, August 17th, you will not want to miss out on what will undoubtedly be an incredible and memorable night. Webster Hall's 'brite nites' consistently provides the crowd with an incredible party experience featuring the hottest DJs in the EDM industry. Expect CO2 cannons, aerial dancers, fire twirlers, confetti precipitating from the ceiling and more. The co-ed electronic group
Candyland
, who has been churning out some filthy tracks and gaining insane worldwide exposure, will be performing. Oh, and so will
LIL JON
. I've never seen Lil Jon spin before, but if there's one thing that we can all agree on is that he knows how to amp up a crowd and put on a show. Trust me, you don't want to miss out on this epic night.
The rapper looks good in a pair of headphones.
Let's not take Candyland out of the equation though. This duo has been taking the EDM world by storm lately with some incredible original productions and remixes that have received enormous support for house heavyweights around the world.
Like I said, this is a MUST-SEE performance. Candyland will seriously blow you away and Lil Jon will bring you into his wild world and make sure you rage like never before. This is going to be a hot ticket so make sure you get yours before the event sells out.
PURCHASE | General Admission Tix | VIP Tix