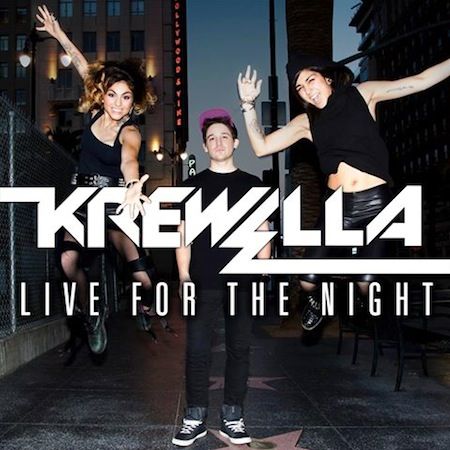 The Chicago trio Krewella released their anticipated music video for their recent release "Live For The Night", the first single off of their new album set to drop in late September. This is the second official music video the Krew has released, with "Alive" being the first. The track has been receiving radio airplay and has been well received by fans of the trio.
The video begins by showing a man and woman with glazed and fuzzy eyes glued to a mini television screen. It then switches to a girl and a boy at dinner immersed in technology with glazed and fuzzy eyes. And lastly, we are shown another girl with glazed and fuzzy eyes staring intently at a screen.  The scene switches to two police officers watching a power plant in the distance. Kris, Jahan and Yasmine break into the power plant and begin destroying wires. Because really, what would a Krewella video be without destroying something?! As they are destroying the wires, the electricity starts to go out and all the people's technology begins to shut off. Without being obsessed with technology, the people notice the power plant and are pulled towards it, at the same time the cops are racing to it. What the people arrive to is an epic performance from Krewella, champagne showers and all.
The video ends with a To Be Continued message. The video includes great shots of Jahan and Yasmine singing, and a crowd raging with Rain Man behind the decks. Maybe Krewella is trying to make a point about too much useless technology in people's lives? Whatever it means, Krewella put out a fun video, and "I'ma rage 'till the dawn, all nighter"!