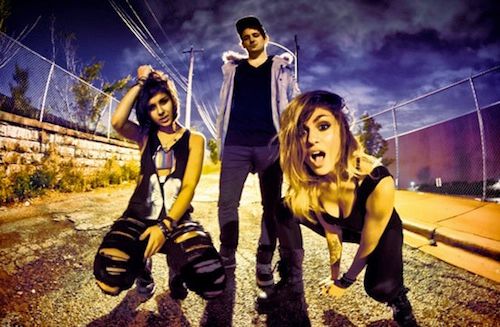 Krewella, the trio from Chicago, appeared on national television on MTV's Nikki and Sara Live on Monday. Krewella, composed of sisters Jahan and Yasmine Yousaf, and Kris Trindl aka Rain Man, are set to embark on their first full bus tour and drop their full length album, "Get Wet" on September 24th. Nikki and Sara start off by asking the trio a few questions, like what life is like on the road, what their music makes people do and information about the new album. Jahan says "Get Wet" will include songs for every emotion, including: raging, clubbing, sadness and love.

Jahan, Yasmine and Rain Man showed off their hybrid DJ set, which includes Jahan and Yasmine's live vocals. Krewella opened up their short set with their newest single, "Live for the Night". Then the trio transitioned into their well known hit, "Alive", ending with Pegboard Nerd's remix of "Alive".  The crowd is raging along to Krewella's every word and every beat.
What did you think of Krewella's hybrid set? Watch below starting at 14:48 and get a little taste of what Krewella's live show is like, and some information about the new album!