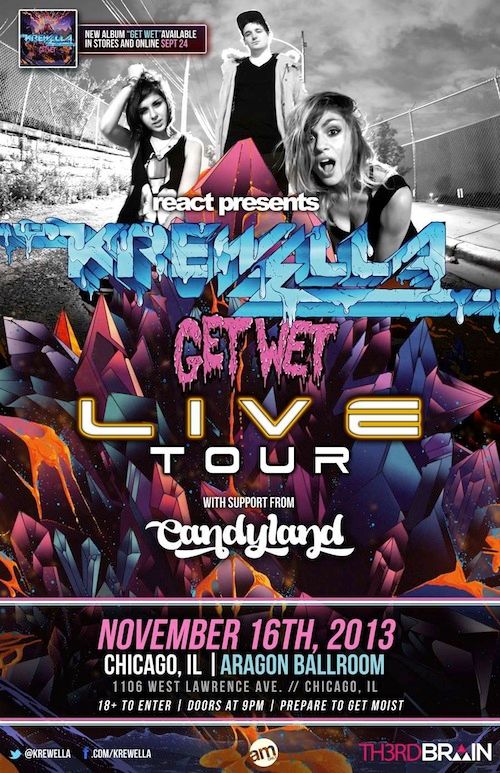 Tickets
Jahan Yousaf, Yasmine Yousaf and Kris Trindl, aka Rain Man, are the three talented components of the Electronic Dance Music trio hailing from Chicago. Krewella stands out with their roots in different genres, their usage of Jahan and Yasmine's vocals and Rain Main's production. In 2011, Krewella vividly appeared on people's radars with their tracks "One Minute", "Strobelights" and "Life of the Party". June 18th. 2012 saw the release of the Krew's Play Hard EP, which reached the number one spot on Beatport. Perhaps the most popular Krewella track, "Alive", has received much deserved praise and radio airplay, and reached number one on Billboard's Dance Radio Airplay. Play Harder included numerous remixes of "Alive" and the premiere release of "Come & Get It".

So far, 2013 may be the biggest year for Krewella yet, and it might get even bigger by the end of the year if that's even possible. Krewella is heading out on their full Get Wet Live tour, which will lead into the release of their Get Wet album through Columbia Records on September 24th, 2013. The tour embarks on September 5th in Texas. The tour goes straight through September and October and ends up in Krewella's hometown of Chicago on November 16th, for a show at the Aragon Ballroom presented by React. Tickets for the Chicago show can be purchased here, and check out the Krew performing at Spring Awakening if you want to see why you can't miss their Chicago show. The Get Wet tour will have Seven Lions and Candyland as supporting acts.
Accompanying Krewella on their Get Wet tour is Santa Barbara's own Electronic group, Candyland, made up of Ethan Davis and Josie Martin.  Coming onto the scene with original tracks in April 2011, the duo also snagged back-to-back wins of Beatport remix contents, and over 4 million Soundcloud plays. Candyland's album, Bring the Rain, dropped January 21st, 2013 through Spinnin Records and saw the number three spot on the Beatport Overall Releases Top 100.
Seven Lions is another act heading out with Krewella on the Get Wet tour. Seven Lions, aka Jeff Montalvo, hails from Santa Barbara and is definitely a great act to have on the tour. Seven Lions's Days To Come EP took the number one spot on Beatport.  Seven Lions combines bass and trance to create a sound that is all his. Seven Lions has been busy this year with festivals, and is known for his productions and live sets.
This is a tour you definitely don't want to miss with three incredible, talented names on the lineup. Make sure to grab your tickets as soon as possible so you do not miss this!