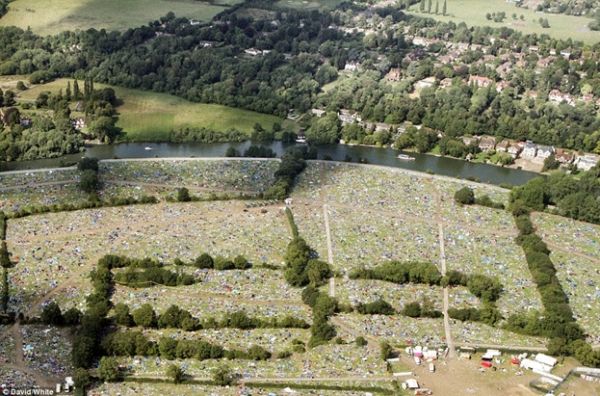 Last weekend, 90,000 rowdy festival-goers attended the UK's annual Reading Festival, and they left behind the rubbish to prove it. The Monday morning after the post-festival exodus, event organizers and the volunteer clean-up crew had a landfill's worth of garbage and abandoned tents to deal with.
The festival featured artists from many genres, and included the likes of Major Lazer, Skrillex, and Knife Party, among other rock headliners like Green Day, and Fall Out Boy. With such a beloved historical presence in the festival season and that stacked line-up, it's no wonder so many fans attended the event. But the remains leave behind more than just pollution – it's also a sign that audiences and event planners need to start cleaning up their act.

"'Camping gear is so cheap these days that people seem to make it part of their festival package budget, and don't bother to take it with them when they leave," a festival insider told the UK's Daily Mail. The trash and camping equipment is expected to take around two weeks to fully clear, but a lot of the reusable equipment gets collected and donated to charities. Last year they collected more than 20 tons of it.
Many festivals now allow volunteers to go to the event for a free or discounted ticket price if they agree to walk around collecting trash and recyclables throughout the weekend. Perhaps this system is effective, but also, more garbage and recycling bins need to be readily available throughout the grounds, otherwise it's too easy to just toss one's trash on the ground. As for the camping gear? Encouraging campers to throw it into salvage bins placed around the campgrounds could do the trick.

Photos from dailymail.co.uk