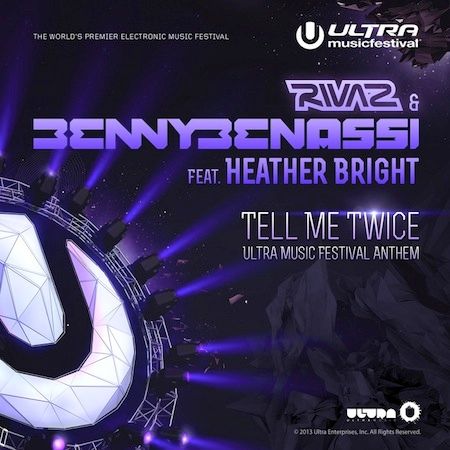 Rivaz & Benny Benassi feat. Heather Bright – Tell Me Twice (Ultra Music Festival Anthem) (Adrian Lux Remix)
Genre: Electro House / Label: Ultra Records /Released Date: August 6
Download on Beatport
Benny Benassi, Italian DJ/Producer born in Milan, teamed up with fellow Italian DJ/Producer Rivaz for this massive track. The two DJ/Producers enlisted the help of Heather Bright, aka Bright Lights for vocals. The track is pegged as the Ultra Music Festival Anthem. As if the track couldn't get any better, mastermind Adrian Lux transformed the track into his own vision.  Stockholm based Adrian Lux always has a great sound, and this remix is no exception. Lux adds piano chords to the beginning with some percussion and funky synths that are sure to get you moving in your seat. Heather Bright is always a favorite for vocals, and she gets the job done on this track. Lux moves around the vocals and adds an echo feel to them. The chords throughout the track are definitely a nice touch.
The Tell Me Twice (Ultra Music Festival Anthem) Remixes package was released today through Ultra Records. You can pick up Adrian Lux's remix and others on Beatport or iTunes! What do you think of Adrian Lux's spin on the track? Let us know!