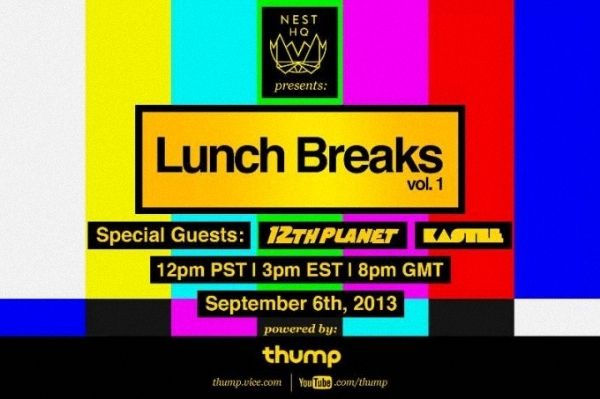 Continuing his chain of projects, most recently being Dog Blood's new EP,  OWSLA boss Sonny Moore has decided to wade into the live stream river.  THUMP, VICE's EDM and culture channel, has teamed up with Skrillex's NEST HQ to present us with an all new web series, Lunch Breaks. The episodes will air on the first Friday of every month starting September 6, at 12 PM PST/3PM EST.
Lunch Breaks will feature artists performing in Skrillex's real Nest HQ in Los Angeles, while family and friends will apparently be cooking up custom culinary dishes in the kitchen (if only we could somehow get a taste of that through the internet, perhaps at some point in the future when technology will make it possible to transport food over the interwebz). We're curious to see as what they have cooked up for us.
The first episode will be hosted by SMOG boss man, 12th Planet, and Kastle. Lunch Break will be streamed on Thump's YouTube channel, providing fans and viewers with a unique daytime experience accessible anywhere Internet is available. It's time to get fed, and I hope you're hungry for bass.