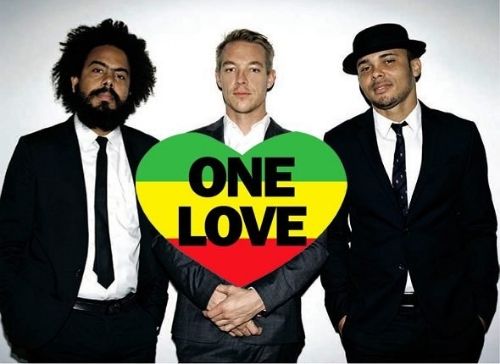 Major Lazer, comprised of Diplo, Jillionaire, and Walshy Fire, had the most peculiar interview with I Heart Radio at the Lollapalooza Music Festival this past weekend. The interview was doomed from the get-go. Clocking the interview in just under 7 minutes, Major Lazer sat down with Lisa Kennedy to only be attack with jam packed sucker punches and flopped jokes at the "EMD" industry. Within the first minute and a half she manages to call Diplo a "mothertrucker," and then mocks him by saying, "I'm a DJ, cuttin' and scratchin', what what?! That's what I do!" Really, Lisa Kennedy? Really?
The interview goes downhill as soon as Kennedy pretends that she doesn't know the 'rest of the Major Lazer,' which seem to set Jillionaire right off the bat. It was evident that she had no idea that Diplo is Major Lazer (and the sole executive producer of the project), while Jillionaire and Walshy Fire are simply the co-stars of the group that aid with production and live performances. The trio appeared  to be rather unhappy towards the end of the interview, most likely over the fact that Kennedy got sassy and labels their music as 'motherfuckin' electronica EMD moombahton.' Kennedy clearly drove her assignment off a cliff, by showing that everything that could have gone wrong during that interview, did actually happen.
Kennedy asked such awkward questions such as, "Have you ever texted pictures of your privates?", "Where did you fly in from, a party in Kim Kardashian's vagina?" and "Who is the most annoying person you've worked with in the past two years?" to which Diplo responds on point, "Probably you". Which was accurate. Kennedy then cackled like a hyena and said, "I can have you smothered with a pillow in like 14 seconds." Which Diplo replied with "Come at me bro." I think the best part was when Kennedy asked the group, "Alright, so, what do you want to say? Last words." Diplo tersely responded, "bye," laughed, and then awkwardly leaving the interview in silence with Jillionaire and Walshy Fire.
In all honesty, the whole thing was so horrible. I was tempted to throw my keyboard out the window after watching that interview. It was difficult to say whether Kennedy is dumb and incompetent, or if she's brilliant for making us laugh so hard at her ignorant demeanor. Check out the video below and judge for yourself.