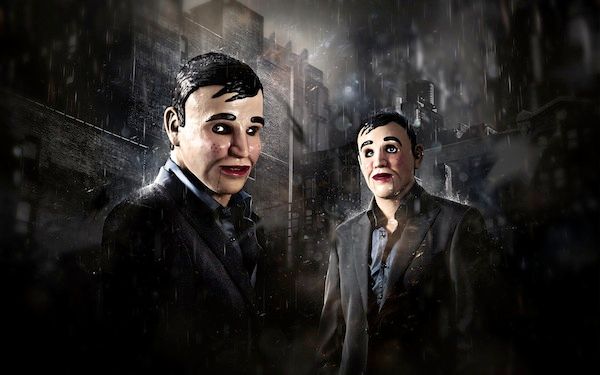 Since hadstyle's US takeover is in full effect, we thought that it would be helpful if we introduced the face of the genre to our fans who aren't quite familiar with the names, yet. First up are the masked duos: Gunz For Hire, consisting of Ran-D and Adaro. The two have caused quite a buzz when they first emerged on the scene with their secret identities and raw productions in what seemed like the shadows of the underground. Come to find out, Gunz For Hire was created as a side project by hardstyle heavyweights Ran-D and Adaro. The masked pair had already been producing together in 2008 and decided to make the collaboration an official duo in 2011. Since then, Gunz For Hire has been obliterating the dance scene with their high octane productions offering an even darker side of hardstyle.  Check out one of their biggest hits, "Kings of the Underground".


Based off of your music, outfits and gangster titles, you guys do a great job of selling yourselves to look like "murderers". Why and how did this come about? How does that translate to your style of music?
We both have a dark side and are equally addicted to the raw, dark and underground hardstyle sound. We wanted to create a unique experience for the fans and created an alter ego; Gunz For Hire. The name speaks for itself. When we do a show, we do not hold back and make sure we hit the club or festival hard. 30 minutes of madness.
The music we produce could be best described as 'the sound of Gunz For Hire, it's the more raw side of hardstyle. Powerfull kicks, raw sounds and vocals, and a lot of energy.
You guys were amidst some successful ventures in 2012, notably 'Kings of the Underground', which catapulted you guys to #114 on the Dj Mag Top 100. With stellar releases such as 'Boliva', 'The Massacre' and 'Sorrow' since then, there's no question that you guys will be breaking the top 100 this year. Aside from these releases being purchased worldwide, do you guys believe that the 'hardstyle' genre being more internationally recognized has helped your image and your exposure to the rest of the world?
Haha, we are not sure what will happen with the DJMAG Top 100 this year. We are really happy that people are voting for us, it means a lot to us. It shows that they love what we do, but if we'll make it to the top 100?! We'll see it in October…Fingers crossed.

It's all connected with each other. When a scene gets more attention and followers, more people get to hear your music. Online we see that our followers come from all over the world.They all want to hear and witness the Gunz For Hire experience. We can't wait what the future will bring, we are ready for it.
Although it's still fresh and hasn't had enough time to permeate itself here in the U.S., how do you think this style of music will resonate with the fans in the states compared to the already huge following in Europe?
Especially in Holland, the style has been around for over a decade, and it has become a genre that has a huge dedicated fan base. Also in countries like Italy, Belgium and Australia there's a scene that's taking form, with events that have thousands of visitors. Hardstyle is new to America, so it's hard to say what the future will bring. Hardstyle has an amazing energy level, and it's really great party music. It's easy to love. We truly believe that Hardstyle will be embraced by the dance-minded people in de States. We can't wait for it!
For our fans who doesn't have much knowledge about your movement in the electronic dance music scene, how would you describe your style of music?
We're a live act, not a DJ act. When we have a show, we bring 30 minutes of the Gunz For Hire sound to the people in the most energetic way possible. When we wear the mask and the suit, something inside of us changes, the beast inside is unleashed. We do our vocals live and send all this energy inside of us to the people. It's about creating a feeling of unity, for 30 minutes we want the venue to be one big bowl of energy, where every single person can experience the true power of raw hardstyle.

Our sound can be best described as raw and energetic. We love powerfull kicks and evil sounds. We spend a lot of time on our sound design to create sounds that make our tracks unique. Besides this we record a lot of the vocals ourselves, so to fans this is probably an important element that defines the Gunz For Hire sound.
When you first decided to make electronic music, why did you choose to take the "hardstyle" route compared to the other genres that are a bit more common amongst the artists. Did you see something in the genre that you didn't see elsewhere?
When you go to a hardstyle party you will understand what hardstyle is all about. The energy, the dedicated fans, the uplifting music and of course the crazy stages. We are one big family and we are in it together. It's something special! Hardstyle is a way of life.