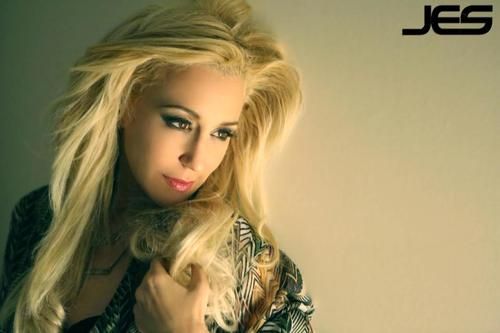 Recently EDMTunes had the opportunity to sit down with JES  at her show in Los Angeles at Exchange LA. JES boasts quite the illustrious vocal career. Aside from being a solo EDM artist, JES has done many collaborations with various members of the Trance Family since the early 2000's.  Sitting down with JES was like sitting down with an old friend. We sat in a retro booth in the green room of the old stock exchange building and began the interview. Right off the bat we began conversing and laughing as I pointed out the DIY wedged sneakers that she had spray painted gold to match her outfit, simply because she didn't feel like wearing tricky heels. Good call. JES' bright and bubbly personality was an absolute pleasure to be around. We probably could have kept talking long after the interview was over, but it was time for her to take the stage. JES' performance was on point as she sang, danced and manned the turn tables. JES' angelic voice filled the room and had the crowd going nuts. She finished the performance with the iconic hit "As The Rush Comes", there is no way to describe it, other than, EPIC.

You are an artist of many talents, from singing, writing, producing to DJing, do you have a favorite aspect of your career?
Well definitely the singing, I mean the singing and the performing thing go together. I recently was trying to do a lot of recording, because last year I was so busy  that I didn't get anything done. You really have to have a lot of things coming out all the time. So I was like "ok I am going to record a lot" and I went crazy kind of, because you really need to be out there all the time reaching your fans and playing music.
With that said where do you draw your inspiration from?
Mostly from life and people, watching people and traveling. Traveling has been a big one. It's hard, it goes in waves you know. I get a lot of inspiration by watching other artists. Every time I go out to see an artist perform, I come back like "oh I can do this" and different things. Even reading, films, love, and heartache….. the good ones.
How did you decide  to become a Trance vocal artist?
It's funny, I always think that trance picked me! I was very much into clubbing and dancing when I was growing up in N.Y.C but it was really because. I loved dancing and the expression of it all rather than a love of any particular style of dance music. I relocated to LA and began working in a studio as an assistant engineer. One of the other engineers there was deeply into the trance and rave scene. I had never been to a rave so it was all very interesting and new to me. I loved the way that vocal trance centers on bringing the supportive melodies around the vocal and it just makes you melt when you hear it. I was so overwhelmed with the music that I had to get involved and we began working together at the studio late at night when after the clients had left. One of the first songs we recorded was "Starchildren" which was picked up by Paul Van Dyk for his "Politics Of Dancing" mix compilation series. The song was really my introduction to the scene and led to many other collaborations and eventually, releasing my own albums.
You've been in the electronic music industry since the early 2000's and since then watched it flourish in America and across the globe. What is your perspective on the popularization of dance music or rather the current state of EDM?
It's crazy. I started around….let's see… 2003, getting out there and it is so different now. I was thinking about that to myself the other day, I think it's kind of cool how much you can do yourself…if you're smart. But you know I think it was a matter of time.  It was such a niche market before and I remember being in meetings in stuff and they would hear that you were in dance music and it was like "ugh", nobody liked it and no one wanted to be a part of it. I remember turning on the radio and never hearing a dance beat, now everybody has a dance beat.  I definitely think it was a matter of time, you know it goes in cycles, it'll probably be on the back burner again at some point. Now it's like everything is melding together, pop, electronica, different types of things, acoustic and getting back to the "bands" with the rocktronica. I mean I think it's amazing, I'm happy I'm still part of it and I get to see it. It's been quite a ride.
Many people may not realize that you were 1/3 of Motorcycle along with the guys that are now Gabriel & Dresden, is there any chance for a Motorcycle redux in the near future?
You know we are friends; every one's lives have changed so much. For so long I was known as that "Motorcycle girl", they didn't even know my name and it took a really long time for me to get people to even know that my name was JES. I would never burn any bridges at all, they are my good friends. We are all tauruses so we all get along very very well. I actually did a show with them a year or two ago in Vegas, but I know our lives are all over the place right now. But I mean definitely, I think we all would.
Your fans would love it.
I know I know, they are always asking. Actually it's our ten year anniversary….god I can't believe I say that…..next year and for "As the Rush Comes".
Perfect timing. Redux.
We have talked about it.  Actually there is a new Dash Berlin version of the song. They haven't released it yet. But that was cool.
You have worked with so many stellar producers from Tiesto to Cosmic Gate, but if you could work with any DJ/producer, who would it be and why?
They always ask me that question…it's such a hard question. It's interesting, because there are so many up and coming people…..um…..it's really the people that bring out that great thing in you. It's hard when you meet people like a great produce or collaborator, because you don't always capture that thing and you think  you are going to get it from "oh I can't wait to work with someone". So it's really anybody who can bring that magic out on the table. I love songwriters like Ryan Tedder, they write a lot of songs and for me as a singer, even more than a producer, I'm looking for that songwriter to combine with me. This is a really hard question, I always ask myself because I know they are going to ask me that and I still don't know. I mean I love Calvin Harris. I played with him at Ultra when he wasn't just Calvin Harris. He was in an electro punk band and was singing and he had long hair. Every song that he sang was great, and I was like "who is this band? They are so good." So he caught my eye and of course he is very famous now.
What has been the most memorable moment of your substantial career? Craziest?
The most amazing was playing in the Bejing Olympics, for Coca Cola I wrote this song called "Be It All" and I got to travel there representing the West East artists and sing that song on CCTV and it was crazy getting to be there so that was really memorable. There have been so many. The craziest was probably being on the Tiesto tour. I was traveling with a lot of people and that's the most fun when you are traveling as a family as a group everyday is some craziness. We've raided hotels, cartwheels and calisthenics in the hall way, strip skype poker with loved ones across the way…you know, it's fun, things that bring you really close.
So you know Tijs (Tiesto) very well then?
 Yes Yes. Actually he was very disciplined, I mean we would hang out some of the times, but his schedule while we were touring was intensive, so he would be like "good night" and we would be the ones tearing it up.
Your most recent tracks are collaborations with BT for his new album, A Song Across Wires, what was the process for coming up with those tracks together?
We've known each other, we met on tour and we've been working together for a while. We had "Every Other Way" which was a big big song of ours and after that really big track, I visited him at his studio many times and things would just come about. We have really great chemistry together. He's a real musician and has a lot of great ideas, so he's definitely someone that brings out the best in me. I like it when there are no rules, we actually started with guitars and drums and things that were very edgy, not dance-y at all for the tracks. So even "Every Other Way" started as just a little guitar riff.
For the future can we expect anymore solo endeavors, such as tracks or albums from you in the future?
Definitely. I actually just released a mix album Unleash the Beat Volume 2 that just came out.  I have my Unleash the Beat radio show that keeps me very busy. I have been working on a lot of collaborations, I was trying to catch up with a lot of things I didn't do last year, but I have written the album….I've actually written two albums, one is more a down tempo acoustic album and the other is a dance album. In between writing for all these people that I've been working with, I'm always writing little pieces of things. It's funny, so my manager is like "you have these 10 songs and you can not change them!" so I've been trying to finish those up, I have a new space out here in Los Angeles and we will be finishing them there.  
Check out JES' most recent episode of her radio show, Unleash the Beat #44
01. Omnia Immersion [Original Mix] 02. BT, TyDi & JES vs. Audien Ciao Tonight [Taxigirl Mashup] 03. Jeremy Olander vs. Kent Petroleum [Original Mix] 04. 16bit Lolitas vs. Motorcycle Deep Breath Love [Dave Dresden Mashup] 05. Bass King vs. X-Vertigo Dusk ft. MMX [Original Mix] 06. JES It's Too Late [Muzikjunki Remix] 07. Dave 202 The Edge ft. Robbie Hazen [Original Mix] 08. Cosmic Gate & JES Flying Blind [Norin & Rad Remix] 09. Calvin Harris Thinking About You [Laid Back Luke Remix] 10. JES Be It All [Original Mix] 11. Blasterjaxx Koala [Jonathon Pitch Remix] 12. Christian Burns, Paul Oakenfold & JES As We Collide [Andy Caldwell Remix] 13. Seven Lions, Myon & Shane 54 Stranger ft. Tove Lo [Original Mix]
Plus grab this free download of:  C. Burns, JES & P. Oakenfold Vs. Tiesto & Dyro "As We Collide With Paradise" (Taxigirl Mashup)