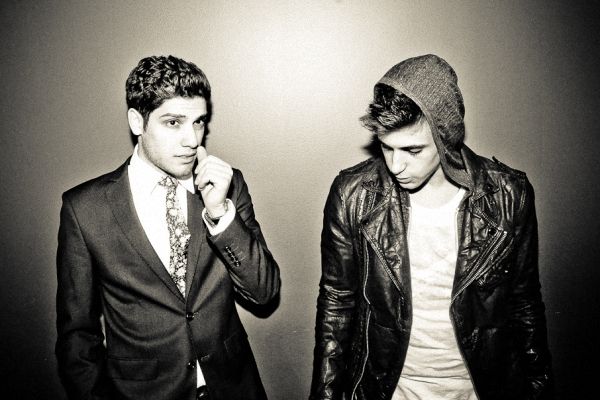 If you haven't heard of these two in the past couple of months, then you're not doing your musical taste buds justice. Having won the inaugural Discovery Project by Insomniac back in 2012, Paris FZ and Simone Teti blasted off and have yet to look back. The barely legal dynamic duo out of Montreal, Canada have been garnished by some of the hottest names in dance music as of late, including: W&W, Dash Berlin, Tiesto and Hardwell to name a few. Paris & Simo's recent releases of Escape, Tundra and Chaa have all found their way onto Beatport's progressive top 100 all while they have been busy touring North America throughout the summer. We were blessed to be able to throw some questions at the boys to learn some interesting facts about them. Check it out:

Mind telling our followers about yourselves?
We're from the North Pole! (It's not cold in Canada). Normal guys who love good music!
How did Paris and Simo formed in the first place?
If it weren't for that one night a few years back we wouldn't be here today! Before being international DJs we were just learning how to make music and we'd play sweet 16 parties…It was the cool thing to do five years ago.
What got you into making music?
We have so many musical influences, both of us come from European backgrounds… music is a big part of our culture. Paris played drums and Simo plays a bit of piano. We both grew up liking a lot of the same music, one of the main reasons why we linked up to collaborate on a project.
Who was your musical inspiration growing up?
Daft Punk, Axwell, U2 anything with a powerful melody and a good groove!
Who's one artist you love to rage out to on a Friday night (inside and outside of EDM)?
Inside: Eric Prydz, Out: Lil B
When you're not on tour or in the studio, what's a day in the life of Paris & Simo?
I think for both of us we're surrounded by amazing people, sometimes we need that break from music. Hanging with close friends and family is definitely important to us. Who doesn't enjoy a night out in Montreal's old port during the summer.. It's good to go out and clear your mind, a lot of the time it re-inspires us to get back in the studio!
What has been your favorite track to make thus far?
So hard to say, every track has an amazing story to it! The turn out to 'Escape' has been phenomenal, Justin is a close friend of ours because of the whole experience of making the track. He flew to Montreal for a few days and we had good times in the studio. It took us a few weeks after to wrap the instrumental and close to a year later to get the right vocal! Overall we're happy with the turnout.
What was it like to have Tiesto choose your remix of 'Work Hard Play Hard' to be released as an official remix?
We were working on an unofficial remix for 'Moves Like Jagger' to give out for free, completely clueless about the Tiesto remix competition. One of our close friends suggested we enter it and surely enough the remix we had been working on was the same key as 'Work Hard Play Hard', with a few minor fixes we pumped out the remix quickly not thinking much from it. It was an amazing feeling to know that Tiesto picked ours as the best. 3lau and Dyro we're in the top 3 with us and it's funny because we're good friends today all pursing great careers. We also had a chance to meet Tiesto when he was in town, told us to send him some new tracks and to keep at our career, it was incredible to hear him hum the bassline of our remix the night we met!
More recently, you guys have been getting support on 'Escape' from many more top tier artists, describe how it feels like when these top dogs are dropping your single in their sets.
The goal for Escape was to reach a larger audience with Heather's vocals, it's very important to have that track that people could sing along to. It's also reassuring to know artists like Tiesto, Hardwell, W & W, Dash Berlin etc are heavily supporting the track on their radio shows and livesets! It gives you that motivation to keep making new tracks.
What was it like working with 3Lau and Bright Lights on Escape? Did you guys know from the get-go that the track was going to be this big of a hit?
As we mentioned before our relationship with Justin is great, we became best friends because of this. We knew we had something really solid with the 'Escape' instrumental but we produced it envisioning a big vocal on it. Any artist will tell you one of the hardest parts of making music is getting the right vocal for your track, it took us nearly a year. We went back and forth with a lot of singers but Justin hit up Heather (Bright Lights) about working together on the track, she loved it and instantly delivered amazing work. She is truly talented when it comes to writing and singing!
If you got the opportunity to play at ANY festival in the world, which one would it be and why?
That's a hard one…

Paris: I don't know if it counts as a festival, but the Sensation parties would definitely be first on my list, they look MAGICAL!!! And I have been following them since I was younger.

Simo: This might be very generic but we haven't played in Europe yet so I'd be excited to see how the crowd responds to our set at Tomorrowland!
With Escape, Tundra, and Chaa now on Beatport's progressive top 100 (congrats by the way), should we be expecting more chart toppers in the near future?
Thanks! We've been playing a lot of amazing shows across the US, it's been a nice summer for us. We're heading to Italy in a few weeks so we're really happy to be playing our music to great crowds. It's important to be active not only in the studio but on the road! We're currently wrapping up two remixes and a few originals as well as some collaborations. We can't wait to share, stay tuned!!