EDM Tunes had the pleasure of sitting down with the brilliant Canadian duo Project 46 at their second stop on the Morgan Page Presents tour. I had trekked from Los Angeles to the eastern valley of San Diego to arrive at the beach club, Dive, nestled inside Harrah's Casino. Thinking I was running late, I booked it into the casino and found my way poolside at Dive. The swim suit clad beach club goers were sparse and there was no one manning the decks on stage. Apparently I was early for this beach club's standards. Little did I know that the club was about to be packed with San Diego's university and military crowd. I kept an eye out for Ryan and Thomas who had not arrived yet, so I settled in near the island bar. Soon I spotted the boys from Project 46 walking across the pool deck to the artist cabana. We exchanged introductions and got down to business. There was laughter throughout the interview. Ryan's bubble personality shone through as he talked about Pancake Fridays and Thomas shared his passion with insightful answers regarding the process of making music and future direction. Ryan and Thomas are the perfect duo, it was apparent that they worked well together as they took turns answering questions and supporting each other where the other missed something. It was a pleasure to chat and to get to know Project 46, their genuine passion and overall commitment to their craft is infectious. These guys are the masters of big room energy and they certainly have a big year ahead of them. Catch them if you can!
Last night was the first stop on Morgan Page's massive 3D bus tour, where are your excitement levels regarding the opportunity to hop on a bus with Morgan and perform in sold out arenas? Have you had experience with this type of massive production before and does it have any impact on the musicality of your sets?
Thomas: Well it's cool having your own tailored set up for every show, you get really familiar with it, but we've never really played on the exact same CDDJ's for a month straight or anything Iike that. But I mean…I don't know, it was really cool, I'm really excited to see what happens, I thought it was a really good first show.

Ryan: I don't know about the experience yet, because it's only been one day you know? For the most part it was a lot of fun though.
Well you guys were awesome, you guys had a lot of energy up there, it really showed.
Ryan & Thomas: Thank you!
Let's talk about Pancake Fridays. Why Pancakes?
Thomas: Ryan wanted to do a give away every Friday and wanted to call it Freebie Fridays. I said, well if you want to call it something stupid you might as well call it Pancake Fridays. So we did.

Ryan: It was literally a big troll. We put it online as a troll, because I wanted to call it something stupid, but then people reacted to it…..

Thomas: So we stuck with it.

Ryan: We were starting our own label and the podcast was coming out and our manager was like, "no you got to keep calling it Pancake Radio." We were like, "ok guess we're going with pancakes!"
What's the main reason behind giving your music away for free instead of having fans buy it?
Ryan: I think we would rather have our music out there. We aren't naïve to the fact that it's going to be free anyways. We rather have the higher quality links get out there directly from us. If people want to buy the track….

Thomas: It helps us.

Ryan: To be honest with you, the money that comes in for the tracks, we spend back in giveaways and marketing to get our music out. We never keep or take any of that money. If you buy a ticket to our show, that's supporting us too. I don't really care if people steal our music, I mean labels don't like that.

Thomas: I'd rather have people enjoy it.

Ryan: Yea! And share it. Show their friends our stuff. That's how we've kind of grown to this level, by just saying here, this is our network, and this is our music.
Your new track, Motionless has an upcoming release date of September 16th, can you tell us a little bit about the inspiration and production for this track?
Ryan: We've had the actual instrumental for the track done for a while now. It's been about 5 or 6 months. We've been trying to get a vocal for it for a while. We were going to release it as an instrumental and then we decided we were going to try and get a vocal. We went through at least a dozen vocals before we found one that we really liked.

Thomas: We made some changes to the track to fit the vocal better.

Ryan: Yea, and we have the instrumental going out to the big DJs in case they want to mash it up with something else or whatever, but I'm excited for the song. It's more of a trance-y big room feel. We are trying to make sure all of our tracks are still melodic and lyric based, but a little bit different from each other.
Having collaborated with many giants of the industry such as, Kaskade, Avicii and Paul Oakenfold, who would you most like to work with next?
Ryan: Well first we didn't collaborate with Avicii, what happened with that song was he had an open collaboration with his fans, it was the You and Me remix. So we took all the stems he was using and made our own version and had our own vocal done for it. So it wasn't an actual collaboration with Avicii. It's more like a versus. When it comes to Oakenfold, we worked with Paul and we worked with Kaskade and we have another big collaboration coming out in January. We can't talk about who it's with, but um they have a weird marketing plan for us, so we can't tell who it's with. I personally would like to work with someone like Alesso or Calvin Harris. Those guys are inspirational for me. Or Axwell.

Thomas: I am a big fan of all 3 of those guys. And maybe working with some vocalists, like bigger female vocalists. I think it would be cool to get in the studio with those kinds of guys.

Ryan: That's a good point. I'd like to work with some songwriters and vocalists. The songwriting is where we try to get involved in the lyrical stuff, it'd be nice to work with some people who are obviously better at it than us and could help us.

Thomas: Grab a couple guitars and go jam with Sum 41 or something. That would be sick.
You guys are well known for and great at mash ups and remixes, what kind of approach/mindset do you take when collaborating with other artists on tracks? Do you take a "mash up/remix" approach or a more "from the ground up" production approach when it comes to making new music with select others?
Thomas: Ground up. Always. For originals and even for remixes we do a ground up approach. When we get asked to do remixes, we basically look at just the vocal, usually, or one aspect of the track and take it and build everything else around it…like how we would do it. So for a remix we will get a vocal and literally build it as if it was our own original. We just have a vocal sent to us and we just go from that. We sit down and just do it, there is no real planning.

Ryan: The mash ups weren't meant to be what we were big for; it was just a way to give back to the fans. It forced us to stay current with the music too and keep our sets fresh. It just turned into this giveaway, but the drawback to that is that we have a mash up every Friday and then they forget that we have so much original material and they think oh they are just a mash up artist…but no we have 20 originals out there. It's just a way to keep interacting with fans. But now it's Pancake Radio, so we will do our mash ups in the radio show and it'll be cool.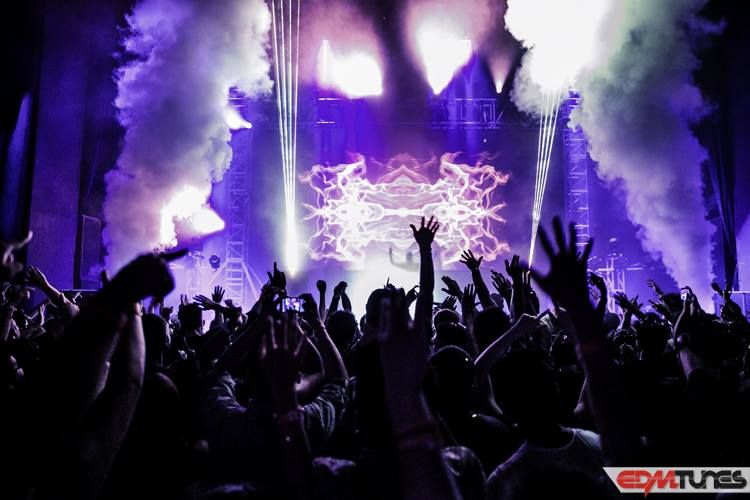 Your collaboration track with Kaskade, Last Chance, just came out and it has been a hit ever since it was heard at Ultra Music Festival. What was it like to work with Kaskade to produce the second biggest single on the album?
Thomas: It was great. He was so down to earth and such a nice guy. It was weird, we ended up doing a lot of the work in hotel rooms in different random cities around the world, but yea it was amazing. He is super talented. It was just a great process.

Ryan: Yea I mean…it's Kaskade. If you told us when we started we were going to have a track with Kaskade…we've had the track done for almost a year….If you had told us within our first year of doing this we'd be working with Kaskade, we would have laughed at you. Kaskade's one of the biggest artists in the world, so it was pretty awesome.
Must have been nice to be Project 86 for a while. How do you feel about Ultra revoking your 40 bonus points?
Ryan: A photographer friend of ours was the one that said "oh I guess you got 40 bonus points". I guess they made a mistake. It was really weird because they (Ultra) know us very well…we talk to Ultra a lot.

Thomas: They were probably just trolling us back for all the stuff we've done to them.

Ryan: They did sort it out really fast and were really good about it. What was funny about it is there is actually a Christian band from LA that's called Project 86, so it kind of sounded like oh, maybe Kaskade did a track with a Christian band.
You guys were able to nab the 100th spot on the 2012 DJ Mag Poll, what do you foresee for yourselves in the future regarding upcoming releases, production and direction?
Thomas: Well for production, I have a really strong alternative background and rock and stuff, so you'll probably see more guitar sampling and live style piano and more stereotypical instruments than you'd see in more electronic stuff. As for releases and stuff, we are obviously going to be leaning toward getting our own label going and we have this other large collaboration coming out. We are almost done with a couple singles, they are about 95% ready to go and will be released leading up to the big collaboration. We basically have a filled schedule of releases for the next six months at least. Long term we want to do an album, that's our goal. On that we want to try to bring out a little more….I mean right now we are going for the big room progressive but we actually have a lot more chill groovy stuff that we want to kind of demonstrate that we can do as well. So you might see a little of that on the album.

Ryan: Yea, I really like Kaskade's fire and ice idea. I don't know if we will do that but it does show both sides of the production. We got some cool ideas for an album and that's something we are going to do next year.

Thomas: It's a lot of work and a long process, but we have a really cool thing planned. It's just about organizing it, finding the right time, and taking the time off.
I'd like to read you a quote by Thomas Edison, "I have not failed. I've just found 10,000 ways that won't work." Does this make you guys 217.391 times smarter than Edison for having found success with Project #46?
Thomas: I mean you might have to check the math.
Higher or lower?
Thomas: We've probably failed a lot more than that. I mean since day one all you hear is no every day, right? Then eventually you hear a couple yeses and that's when you keep pushing, so that's just how it works. I mean, we sent out one of our now biggest tracks to everyone on Beatport and got declined by everyone.

Ryan: I mean a lot of our music before and a lot of songs we've done that are releasing now were declined. "It's not a good song." It's no good." "The production quality isn't even close to being there." We just get better. As long as we are happy with a track, we'll put it out there. I mean a lot of our earlier stuff on Youtube, like 2 years ago, may not be the best production quality, but it was the best work we had at the time. We grew from there. It's kind of cool that you can see us develop. We didn't wait until we had this massive track and say let's do this.

Thomas: It really doesn't matter how it's produced or what it sounds like. I heard a really good quote that said when you are making music; you want to make it so you are proud of it and you give it to someone and say if you don't like it then too bad. It's my song and I love it.

Ryan: It's cool that people like it now and we have an audience to share it with, but at the end of the day we are still making it for ourselves. I mean our critics made us who we are today. When producers send me stuff I am really mean and blunt with them. The nicest thing someone can do is tell you the truth. That's what people did to us, tell us the truth, and at first it's hard to accept that but then you realize that these guys are doing you a favor. I remember sending a track to a trance producer named Arnej and he just ripped it apart. It was a good thing for us. Sebastien Ingrosso heard one of our songs early on and he was like your sound sucks and I was like cool we gotta work on that. It's how you learn.