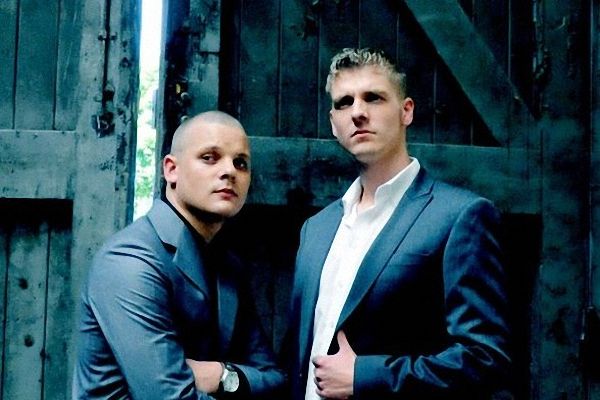 Hardstyle is not a genre of casual listening or to be played as background music.  It's a sound that permeates down to the very core with its breakneck BPM's and screeching kicks and commands attention in the foreground.  It's become a lifestyle for millions abroad, and Q-dance is finally going to show America what she's been missing with their world renowned stage productions and artist lineups. We had the great honor of interviewing the Psyko Punkz boys before they set out to conquer America. No, they're not psycho punks, they're basically gods in the hardstyle genre and have been making waves all throughout Europe and is hoping to do the same in America this month. Peep what Sven and Wietse had to say about their music, culture and experience below!

I understand that you guys first met at a party and hit it off on talking about electronic dance music, which ultimately ended up in you guys building a studio together in the outskirts of Holland. Which one of you guys originally had the "harder" taste and which one of you guys had the "darker" taste? Initially, was 'hardstyle' the taste you guys were going after or did it just come about sporadically? 
It actually did come a bit sporadically, as in our way of thinking and creativity. We started off as two guys sharing the same hobby and passion when we were 18. We were separately making the same style of music. We were partying a lot ourselves at that time.  We enjoyed visiting festivals and clubs every weekend, and enjoyed creating  our own music. It's pretty crazy when you think about it.

Before we met, we were making music and building up knowledge for a few years, not knowing of what would happen.In 2005 we were at a club partying somewhere in Holland where we met for the first time. As we were talking about music, we discovered we shared the same interests and humor,  which is the base formula of being good buddies.

This is  actually when Psyko Punkz where born, but it was still nothing at that time. We started building a studio in the attic in one of our homes. A lot of our first releases were made there. But after a few years, we decided to bring it to a next level studio, which gave us more freedom and a better way of working. Along the way our way of thinking and producing melted together even better as we proceeded, and now I don't really think there is a big difference in what we like.

The definition between hard and dark is never really the question, it's about making the creation understandable for a big crowd and making sure it's catchy. Then the audience can decide whether it is hard,dark,raw,mainstream or in between. Styles are changing every time by what the audience thinks of it, and creates a name for it. It's our job to make it work properly, and try out new things.
We've seen you guys progressively climb higher and higher every year on the DJ Mag Top 100. Do you think that this is because of your growing number of fans or is it due to the fact that 'hardstyle' is becoming more recognized globally? Combination of both?
This is definitely a combination of both. If it was not for hardstyle going worldwide, this would never happen of course. Dj/Producers within the hardstyle scene, including ourselves, had to work really hard to earn a place in the the Dj Mag Top 100.

Also thanks to a lot of fans, growing worldwide, voting for us, we accomplished a reasonably good spot in the list. This is really important for our reputation worldwide. To be honest, it's really great to see ourselves climb above other artists we really admire ourselves.

That's where you start thinking it's maybe about hardstyle getting mixed in the scene. But then again, we think its a combination of both.
Having already performed at TomorrowLand earlier this summer where there was a main stage and a Q-Dance stage, did you notice any difference in energy? How do the crowds compare?
Between the two stages and styles, there's just a bit of a difference in how they dance and react to the music that is playing. Though the energy is the same and we all feel like one big happy family because in the end we all came out for the same thing. The crowd of Tomorrowland main stage, as we've already seen in Europe, is a huge valley packed with people from all over the world going crazy! This is where most of the mainstream DJ Mag top 10 djs are playing house at the moment. We noticed the crowd was really relaxed while dancing until they noticed a recognizable drop. This is when it all goes down. They all jump up at the same time, and doing that with 30.000 people looks pretty amazing.

Hardstyle basically works the same way, but has little bit more power to it. Besides that, hardstyle gives the the crowd a little less room to stand still,  and keeps the party going, which is really fun! Except for the breaks (the part in music without a kick-drum), we recharge them for the next build-up and create a max power moment. People are a bit more dedicated to the music itself and act like they're partying like there is no tomorrow. People will never fully understand what's it like until they experience it live and realize how amazing it is.

We don't really think there is a big priority in the way we move or behave. We think it's more important that different crowds continue to combine and try out new things, that's the best combination for an enjoyable festival.
Compare Defqon to any other festivals that you have performed at around the world…what makes the Defqon gathering stand head and shoulders above the rest? Is it the production? The sounds? The artists? Crowd?
Defqon1 is the biggest and most popular hard dance festival in the world especially for Hardstyle which is the main music genre at this event. Because of it's natural outdoor styling and huge stages as art worked build out of scrap parts, it makes you feel a bit connected with nature. The production of Defqon.1 is one of the best events Q-dance has done thus far. This is all very obvious to all hardstyle lovers around the world. That is why the Hardstyle crowd is super attracted to this festival.
Although it's still fresh and hasn't had enough time to permeate itself here in the U.S., how do you think this style of music will resonate with the fans in the states compared to the already huge following in Europe?
We are not trying to rush in to this, although we're very positive in the progression so far. We played in the States before, and the crowd knows exactly how to handle this. The reaction we get from the US fans is great and the crowd is getting bigger and bigger.

We hope to see hardstyle grow even bigger in a few years and we do think that's what's going to happen. It's up to the crowd how long it takes, but we're ready!
We've seen American DJs come to Europe to play the "american" kind of sound. Some have succeeded and some have failed to find a niche for themselves overseas. What do you see in the Q-Dance team that will help make this specific genre popular in the states in the coming years?
We like working with other artists in the States to help make the music more recognizable and for people who are not familiar with it.On top of that, we've noticed some help from above as well.

As we see other house dj's such as Tiesto playing hardstyle at Tomorrowland, we're very happy to see that they are working to get hardstyle to a bigger crowd. It's really important that a familiar voice sets the right example for for hardstyle in the USA.

In the meantime, Q-dance will show their best skills in what they're good at. They are the best show experience you can get. We as artist will keep making the best banging tunes and enjoy the American crowd .