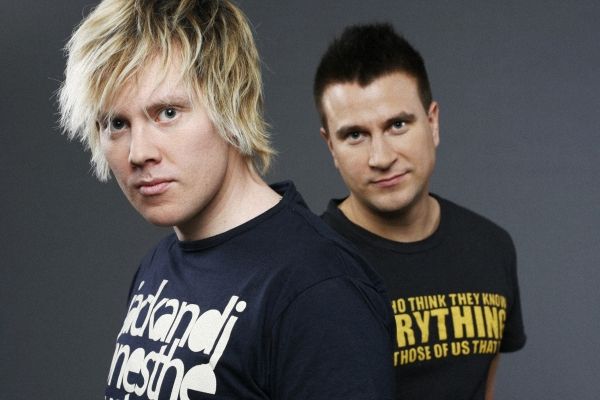 Super8 (Miika Eloranta) & Tab (Janne Mansnerus) decided to leave their solo careers behind them back in 2005 and teamed up to form the dynamic trance duo Super8 & Tab. Needless to say, Super8 & Tab are highly reputable and regarded as one of the most prominent and well known trance artists that the scene has to offer. Although they started their careers during a time where electronic dance music was less exposed to the masses, they have since evolved their style of music while still being able to stay true to their essence and inner strengths. Hot off their most recent release of the original single, 'The Way You Want', the boys will be kicking off their short September North American tour in Los Angeles at Exchange this Friday. Super8 & Tab were kind enough to put some time aside out of their busy schedule to talk to us about their recent remix, the casualties that occurred this weekend in New York, DJ Magazine Top 100 and more:

What do you guys think of trance's move towards the 128 BPM range? Does it matter at all as long as the music is still of high quality?
Good music is always good music. Some people like to have their trance still at 138 BPM, but at the moment it seems that slower tracks are more capable to offer surprises and new ways for artists to express themselves.
You guys have been an integral part of Anjunabeats over the years, and the label has seen tremendous growth as of late. Any particularly fond moments of your time with the label? With Tony, Paavo and Jono?
 I think the best memories are from the times when everything was still small and guys were actually sending promos to artist themselves. It was cool to hang around at their studio / office and sense the feeling that something big was about to happen there.
What are your thoughts on the DJ Mag top 100 DJ list? Is it something you guys strive for at all, or simply let your Djing and amazing production do the talking?
 Unfortunately, that list has mostly lost it's meaning over the last couple years. These days it's just full of surprises that put huge question marks in the opinions of fans as to whether they can trust it or not. Instead of wasting our  time, money and energy on huge marketing campaigns we are using it to make our music and shows better.
Your latest tune, "The Way You Want", has been making waves all over the industry, having been featured on Group Therapy, Internation Departures, and ASOT, just to name a few. What was your inspiration for the track?
 We wanted to write a track with classic Super8 & Tab melody and combine it with some dirty modern grooves. That's the way we wanted 🙂
You guys have also remixed BT's "Surrounded" recently. What do you think of his album as a whole?
 BT is one of our heroes and we have been listening to his productions since the last century. He has never disappointed us and he didn't this time either. Brilliant album.
What can the fans expect from you guys for the rest of 2013 in terms of new material?
 We are constantly working on new material at our HelsinkiVibe studios and there's a collaboration in the works with one of our all time favourite producer. Release is scheduled for the last part of the year but that's all we can say now.
What are your thoughts on the EDM scene as a whole these days? Could you also reflect on any thoughts or opinions you may have regarding the tragedy that occurred at Electric Zoo this past weekend?
 We like the fact  EDM scene has been growing exponentially, but these tragedies are something that no one would want to happen. We really hope this is a wake up call for more responsible behaviour.