After attending past massive festivals like EDC, Ultra, E-Zoo and Nocturnal (to name a few) I often find words tend to fall short of the mark when attempting to describe the all-encompassing experience; so for my preview of the upcoming and purely epic Groove Cruise: LA I have decided to adopt a photo/video guidebook angle with past excursions as  reference points. This approach will allow you, the readers, to almost fully immerse yourself in the entire expansive scene that is "the World's largest floating dance music festival": The Groove Cruise Experience.

The Ship: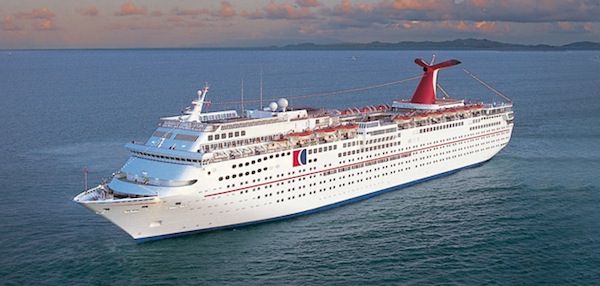 2013's Los Angeles leg (there is also a separate Miami leg) of The Groove Cruise will be taking place on board the Carnival Inspiration cruise ship from Sept 27th-3oth. As named, the décor among the ship brings fantasy to life accompanied by ancient legends and fitting décor throughout the entire length of the almost 3-football field sized length and 14 story height of the vessel. Complete with such on-board entertainment (aside from the 24/7 pumping electronic music, that is) as stocked bars, chilled out lounges, relaxing pool-sides, banging clubs, bustling casinos to top-notch restaurants and personal cabins and even some friendly miniature golf. Dining options range from a quick-bite buffets to multi-course lavish meals with friends to specialty restaurant options to full-serve room service. Speaking of the Staterooms…the majority of them have balconies overlooking the sea! But let's be serious, the reasons everyone is there for are the music, the company, and the overall experience.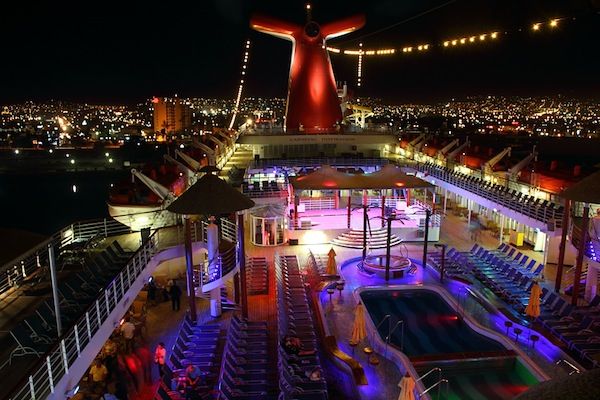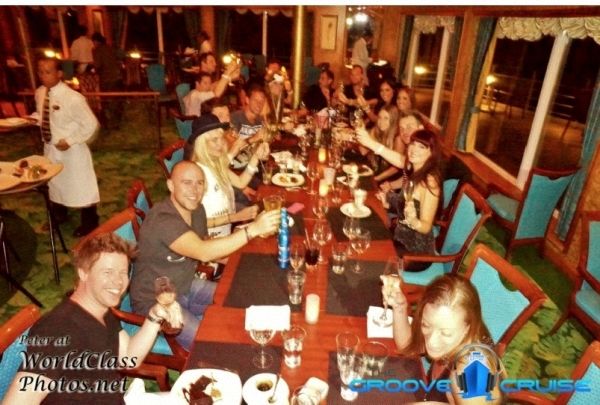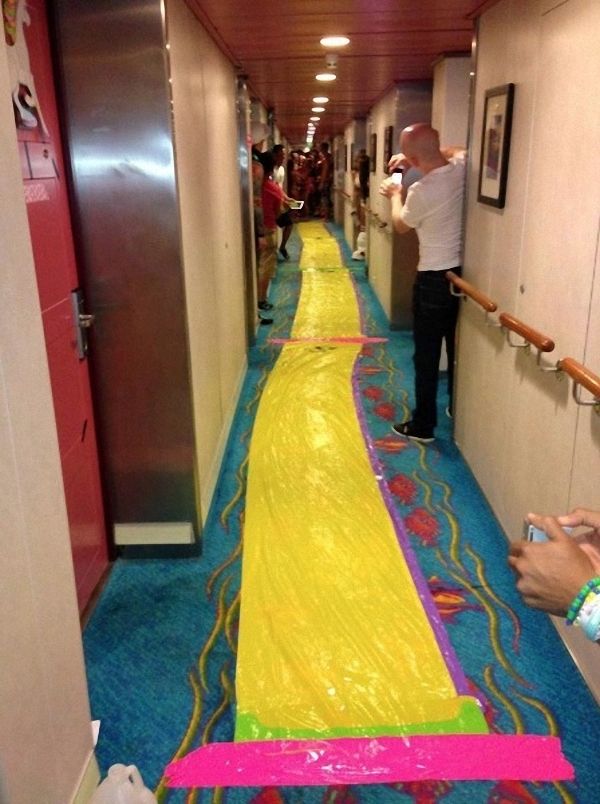 The Music:


As mentioned in our prior Groove Cruise article, the roster of talent attending this (and past) Groove Cruise's has been impressive to say the least! With having 72 consecutive hours of non-stop music, there is sure to be something for everyone throughout the voyage. The expedition features on-the-ship performances as well as on-the-beach stages at both disembarkation points of Catalina Island off the coast of Southern California and in the Mexican port town of Ensenada. While soaking in the beauty of Catalina Island, the floating ravers will be allowed to get their land legs back while dancing out of control in the ocean surf while listening to Dirty Dutch, Chuckie, Betatraxx and Mitchell Niemayer tear up the beach stage for everyone's daytime enjoyment. Featuring overnight excursions over the open sea while dancing under the non-light polluted ridiculously clear starry-skies to the deep roster of electronic music acts, days and nights are sure to be equally as memorable. Lastly featuring a stop at Papa's and Beer in Ensenada, Morgan Page will be hosting another on-the-beach daytime rager at Pap's and Beer which is surely to be one for the record books.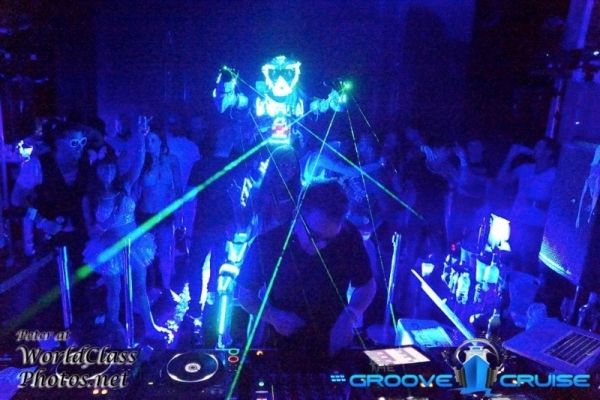 The Company:


Boasting a 97% customer satisfaction rating, it's no wonder why The Groove Cruise attendees (and artists) testimonials exhibit such resounding praise for the all encompassing overall experience. Here are some of the most descriptive testimonials I have come across accompanied by some killer party pics to whet your appetite even more:
Jess Vanderputten – "PLEASE READ IF YOU ARE THINKING ABOUT ATTENDING A GROOVE CRUISE: This was the most epic festival I have ever been to!! (Just to give everyone an idea I have been to every type of show from Roger Waters (Pink Floyd) Dark Side of the Moon Tour, The Roots Picnic, over 15 DMB shows/caravans, EDC, UMF, Kaskade's FON tour, 311, Sublime, Weezer, TBS, Coheed & Cambria, Warped Tour, Sensation White, and the list goes on and on from anything there and in between… ) HOWEVER everything about the GC was AMAZING, EPIC, FUN!!

My thoughts, very organized, staff was extremely friendly, all theme parties we're wonderful and i loved how EVERYONE got involved (also enjoyed how everyone embraced how beautiful everyone was and girls weren't called sluts for dressing the way they did, as they often get labeled at other festivals if they are half naked), great line-up, loved how really intimate the experience was because there are less than 2,500 people on the boat. Thought it was awesome if you wanted to you could meet DJ's, party with them, chat with them etc.  You get to know a lot of people!! The FB groups to get you involved pre cruise to meet people, discuss themes, etc. we're wonderful. I met people that were GC virgins (like me) that will continue to go every year now, and met people that have gone 3, 4, 5+ years and they said it just gets better and better. I have friends from many different travel experiences, but LOVE the people I met on this cruise!! I love how it was non-stop, I slept for only 4 hours the whole weekend. I highly recommend this event!! I already put my deposit down for 2014 Miami GC!!! I might join the West Coast cruise last minute, we'll see"

Patrick Salsbury – "It exceeded all of my reasonable expectations and kept surprising me with things that I hadn't even imagined.  I've been telling people that I think it qualifies as the best party I have ever attended in my life (and I've been raving since 1992, and been to Burning Man for three years, for comparison.) Although it's on a totally different scale than Burning Man, when you don't have that whole "Mad Max"/desert survival/"battling the elements for your very life" aspect, it lets you just focus on just having a good party, and that really, really makes a difference.

I went alone for my first time, because even though I had extra cabin space, none of my friends managed to get it together for this cruise. Everybody aboard was awesome and welcoming, and made me feel like part of the family. For several weeks before, and during my flights over and back, and now in the week following, I've been mainlining the groove cruise radio podcast, and highly recommend it! It got me in the mood, got me through long sections of the trip, motivated me to get moving after sleeping on board (even when i was sore & stiff from dancing my ass off), and has helped me coast down to normal life with no post-cruise depression.

I liked it so much, that I've signed up for the next TWO, and intend to continue after that. I'm hooked, and making the hard-sell to friends now, and hope to be bringing some with me when I come back.  If you're thinking about it, stop thinking and just DO EET!!"

DEADMAU5 (one of electronic music's toughest critics): "Great music, great people, great DJs."

DIRTY SOUTH: "WOW, It was F*CKING INSANE!!

BENNY BENASSI: "It's a F*CKING good party on The Groove Cruise!!

DIMITRI VEGAS & LIKE MIKE (big statement from the TomorrowLand masters): "Groove Cruise might have been the CRAZIEST 72 hrs EVER!"
The Experience: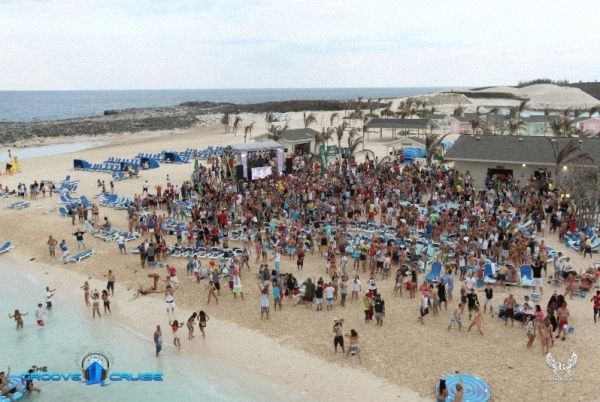 To begin with: it's a 3 day floating + traveling beach party festival! That is an insane experience in and of itself, let's be serious. When else are you going to have the opportunity of losing your mind to hard-hitting beats while out in the ocean underneath the visible Milky Way and all those stars? Not only that, but also having a dance party legit on the beach, not once…but twice. I had similar aspirations for the Winter Music Conference parties during Miami Music Week, but was disappointed to learn that the beach parties weren't actually on the beach, but slightly removed. Not the case with the Groove Cruise! Each day's awakening will be upon a new destination with new and exciting sights to explore while that ear candy pumps in the background (or foreground, whichever you prefer).
On the off chance if you were still under any misled delusions that this is your normal cruise complete with required itinerary, let me quell your concerns: it's NOT! Your time is yours to do as you please, meet who you want, and catch who you want to see perform. The event is your smorgasbord, choose your own liking at your own pace. Beyond safety guidelines, there are 
no rules
 on the Groove Cruise, as the philosophy of "no one should tell you what to do on your vacation" is adopted and lived by (including a lack of specific dress codes for all situations – within the boundaries of good taste and appropriateness, of course).
All in all, get ready and come prepared for not 
one
 massive party…but 
dozens 
of themed and different environed parties that are sure to blow your mind (repeatedly). Complete with top-notch production execution via talented lighting, sound, video and scene designers, the ships' outdoor decks are transformed into "jaw-dropping, fantastical extravaganzas." However, as an author I realize words are sometimes cheap…so scope the party people pics again, check out a couple choice vids and
grab your tickets here
before they run out (don't forget to use the "
EDMTunes
" promo code at checkout to receive your $50 off per passenger credit). Hope to see some of you on board at the end of the month!
Follow @mattEDMT