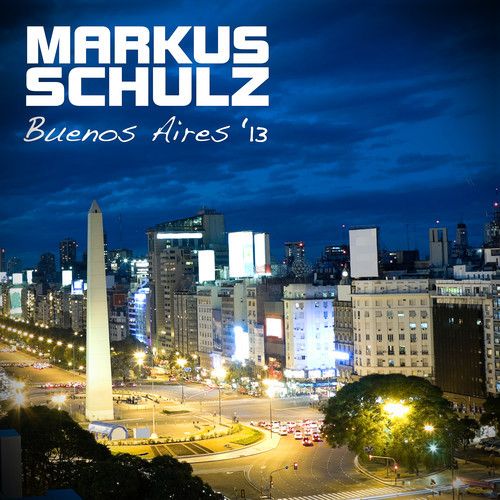 Markus Schulz – Buenos Aires 13′
Genre: Trance | Label: Armada Music | Released Date: Oct 4th, 2013
Download on iTunes
It's October, and that means it's time for us all to take a step back from exams and go on a vacation down to Buenos Aires.  Yes you heard me, it's time to take a vacation to your musical oasis with the 2-disc, 38 track album Buenos Aires 13′ released by none-other than Trance legend Markus Schulz. Markus is set to release his newest album on Friday, and it is not so much a journey as it is an experience. After listening to it, I fail to see why people say that old trance is dead; it's here, it's clear, open your hearts to it. Markus is joined by multiple artists from his label such as KhoMha, Ruffault, Digital X and Protoculture.

On the road to Argentina
We begin our journey by reaching the peak of the Andes mountains. Below us to the west we watch the sun set over the Pacific Ocean. To the east we see the object of our desire shining bright in the night. Before making our descent, let us sit a moment and breath in the air and enjoy this moment of glory. We are about to embark on a spiritual experience through the heart of Argentina, and what lies ahead will help forge us into greater people; Buenos Aires '13.  It is here that we will evolve to a higher existence; a state of trance. It won't be easy; our first stop at the base of the legendary behemoth is Sin City where we will have to confront an evil known only as Scarface. It is there that we will find out who will remain different, and who will follow this journey to an end.
Highlighted track: Rodg & Ruben de Ronde – Remain Different: R&R  take over the album with their spacey addition. The song features a synthesizer that puts out a powerful electric crescendo before leading into a drum kick sequence. This leads into an energetic burst of trance before breaking it down to build it all up again.
First stop: Sin City
Up until this point we have been on a trance cloud in the mystic air of the Andes which leaves us weightless and serene. The ambient energy is soothing, making the journey easy and enjoyable. This part of the experience is now over as we descend into Sin City. The dark aura of the cyclone envelops us with its masterful synth and takes us to our guide 'Aureolo'. Aureolo takes us on a spiritual experience that the cyclone began us on through the dark depths of Sin City and trance. Our progressive dreams have a spacey feel to them, much like Palermo. It's as if we are being awoken into a dark, empty space confined to the depths of our subconscious. We are uplifted again to a new point of view, one that has us envisioned in the depths of the utopia of Barracas. It's message of peace, love, unity and respect ring true throughout the song and give us the energy to persevere.
Highlighted track: KhoMha – Cyclone: How could I pass this track up? KhoMha opens up the track with a soft angelic voice and follows it up with dark, powerful synth beats. The melodic beat carries on through the song, raising you up on a wave of trance. The song builds up into another drop that is filled with adrenaline; fast paced, strumming beats that make you want to break it down. KhoMha chose a great song to stand out in this lineup of heavy hitters.
Nothing Without Us
We make it through the experience as new people; we are limitless in an endless world, with nothing but the music to fill our gluttonous soul. We awake to see those who survived the journey with us, and realize that there is only one left. We realize that through the whole experience they were there on some sort of spiritual level. Without that person you are nothing, and their angelic voice will be the guiding light for the trip to Buenos Aires. It is now a little before dawn and the sun is beginning to rise. The sound that comes from deep within the forest is a light, dreamlike symphony of synthesizers that will carry you to your dreams and beyond. Remember this feeling, because it does not get more blissful than this. 
Highlighted Track: Markus Schulz featuring Ana Diaz  – Nothing Without Me (Markus Schulz Shadows of Coldharbour Remix): This is the track that drew me into the album, and for good reason; Markus brings on the inspiring voice of Ana Diaz and pairs her with powerful lyrics to take this peaceful track to the next level. This is one of those encouraging songs, a break up song that you listen to that makes you sad, but at the same time empowered. Its peaceful, liberating feel paired with these lyrics will wake anyone up out of a funk.
The discovery of the Talisman
You can finally see the outskirts of suburbia.You feel a little backpain and falter as the mystical bass waves that carried you begin to fade. On the ground you stumble over a talisman which groans to life. It opens it's wooden eyes and looks toward the sun and begins to bring you high into the sky with power from another dimension. You soar high into the stratosphere where you are met by a chorus of angels at the pearly gates. There the saint of Praia Da Adraga takes you through the trance tunnel, a light phenomena. This cannot last forever and you reach the end, coming out into a world of freezing rain. But at this point you don't care anymore; battered, weary, you are driven by a higher power to see your experience to the end. You're an hour and 45 minutes in, you can't give up now.
Highlighted Track:  Purple Stories – Praia da Adraga: This is just a wonderful track, put in the right place at the right time. The signature of this song is the heavenly ambiance it gives off; much like Cyclone it's a heroic tune that you listen to before or after a tragic battle or moment in life, and like all trance it awakens the spirit inside you to push on. Unlike some of the previous songs, this song continues to build, adding more and more sounds to it to keep on pushing you forward. 

The Battle
You're back on Earth, ready to resume your trek. You push your way through Suburbia, lost in a sea of faces.You begin to run with a fair wind at your back and are stopped by an oracle. The oracle dons on you a galea, an ancient roman helmet symbolizing honor. He then tells you two tales, the Trickster and the Epic of Gilgamesh. Inspired, but without time on your side, you scramble on to Buenos Aires.
Highlighted Track: Basil O'Glue – Gilgamesh: Following the name of the mighty king, Gilgamesh is a masterful trance track that keeps the energy level on high throughout. It opens up with high energy, heavy hitting chords and keeps up the intensity throughout. It lives up to it's name by being a truly epic track.
Mardi Gras and the Royal Court
You are making your way through a small city before being stopped by a huge Mardi Gras celebration. You are taken back by the costumes, the culture and the people. Suddenly you are swept up in a mess of confusion by the Royal Guard who hurry you away. You are flushed and feel out of it, your head spinning, things occurring around you that are too heavy to comprehend. You drift through this state like a phantom from the other side; an out of body experience.
Highlighted Track: Harry Square – Royal Flush: This whole album has been an entire experience, and this track is perfectly placed; it's speed and feel puts a sense of accomplishment into the listener's heart, mind and soul. You feel triumphant as if you have completed an arduous task, and are just riding the roller coaster of emotions to it's peak. The energy this song puts out is one that can't be contained in a club or headphones, but one that needs to be played under the stars. It carries a sound that everyone may find familiar, but conveyed in such a way that it is simply the essence of beauty.
The Other Side: Viaje Completo!
You emerge from your elevated state of consciousness at the helm of a stadium's worth of people, all flowing towards the mystical energy that is Buenos Aires. You fade out of consciousness and feel yourself flying on a solarcoaster. The solarcoaster recaps your journey; it shows how far you've come, the places you've been, and rekindles the euphoric feelings you once felt.
Finally, after a long and torturous journey, you have arrived at Buenos Aires 13′. You have completed your journey and have had an experience unlike anything you've ever felt before. You have learned and grown and now, finally, viaje completo.
Highlighted Track: Solarstone – Solarcoaster (Markus Schulz Coldharbour Remix): This song brings the sense of accomplishment ringing home. Markus saved all of the great vocal tracks for himself; this song has an eerie feel, with a chilling harp playing behind the vocals. This song is best described by colors of  dark blues and purples surrounding you. It then breaks off into a song that just needs to be shared with the world; it's as if he put the energy of a festival on the level of TomorrowLand; the emotion, the music, the experience, all in one song.
This album is a magical experience. The only way to truly describe it is as a journey through a spectrum of colors. The entire album is beautifully mixed together so that it runs as one constant beat with different artists adding their own personal energy and spirit into it. It has its ups, it has its downs, but what it has is encouragement and enlightenment; that special feeling you get deep down that only trance can bring you. But my words do it no justice. I cannot describe to you the energy I felt, the emotion that was conveyed in every synth beat and electronic chord. I expressed my experience to you, and now it's your turn. Take the time to find your musical oasis and a meditative state and enter Buenos Aires 13′; I promise you will come out a changed person.
Disc 1
01. Marscela – Momento de Gloria
02. Sequ3l – We Evolve
03. Sensetive5 – Sin City
04. Crystal Design – Scarface
05. Rodg & Ruben de Ronde – Remain Different
06. Tucandeo – To an End
07. KhoMha – Cyclone
08. Rex Mundi – Aureolo
09. Ruffault – Progressive Dreams
10. Grube & Hovsepian – Palermo
11. Danilo Ercole – Point of View
12. Markus Schulz presents Dakota – Barracas
13. Wellenrausch & Basil O'Glue – Wickaninnish14. Markus Schulz featuring Ana Diaz – Nothing Without Me (Markus
Schulz Shadows of Coldharbour Remix)
15. M.I.K.E. – Before Dawn
16. Markus Schulz – Remember This
17. Mr. Pit – Catch Me
18. Aaron Camz – Suburbia
19. Rex Mundi – Backpain
Disc 2
01. Protoculture – Talisman
02. Markus Schulz & Rex Mundi – Towards the Sun
03. KhoMha – Dimensional
04. Digital X – Stratosphere
05. Purple Stories – Praia da Adraga
06. Danilo Ercole – Freezing Rain
07. Fisherman & Hawkins vs. Nifra – The Battle
08. Elevation vs. Grube & Hovsepian – Fair Winds
09. Vassilakis & Tarr – Galea
10. Grube & Hovsepian – Trickster
11. Basil O'Glue – Gilgamesh
12. Solid Stone – Scrambled
13. Markus Schulz – Mardi Gras
14. Harry Square – Royal Flush
15. Digital X – Phantom
16. Skytech – The Other Side
17. Elevation – Stadium Control
18. Solarstone – Solarcoaster (Markus Schulz Coldharbour Remix)
19. Marscela – Viaje Completo
Markus Schulz Fall North American Tour Dates
October
4- Gainesville, FL – Forum
5- Tampa, FL – Amphitheatre
11 – Cleveland, OH – Liquid
13 – Montreal, CAN – Stereo
19 – Miami, FL – Mansion
November
1 – Pontiac, MI – Elektricity
2 – Chicago, IL – Castle