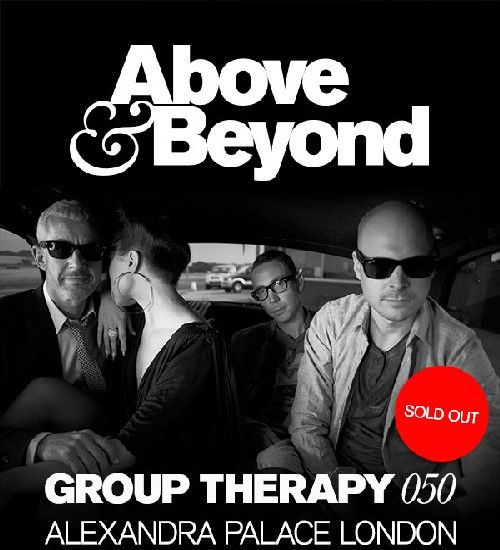 "Life is made of small moments like these." Any Above & Beyond fan knows this signature line from its song and its overwhelmingly magic feeling during one of their live events. But the next moment happening in the A&B kingdom isn't exactly small – it's massive. Group Therapy 050, the 50th installment of their Group Therapy radio show, is being broadcast live from the trance trio's hometown of London, UK. Featuring a live performance from the group, as well as a plethora of other amazing artists from their Anjunabeats label, "ABGT050" is set to be legendary.

Not only does the show denote the 50th episode of Group Therapy, it also commends Above & Beyond's 500th career radio show, their original one being Trance Around the World, dating back nearly a decade. Group Therapy is unique in that it celebrates the special. therapeutic connection music creates between the artists and the fans. With a lineup including Jody Wisternoff, Boom Jinx, Guy J, Andrew Bayer, and Arty, any fan of A&B's Anjunabeats/Anjunadeep labels will definitely find their happy place in this therapy session.
10,000 trance fans have sold out the event's beautiful, historic venue, the Alexandra Palace in North London. With an extra hour to kill thanks to this weekend's daylight savings set-back, attendees can expect a solid 8 hours of dancing to this unforgettable experience. Couldn't travel across the pond for this one? Not to worry. You can tune in live, just as you always would for their weekly Group Therapy radio show. This Saturday (instead of the usual Friday) evening, watch all the action from home at http://www.aboveandbeyond.nu/abgt050″ and enjoy some of the other exclusive content they're broadcasting, including messages from fans around the world. Beginning at 9pm in London, you can check it on the east coast at 5pm on Saturday, and on the west coast, 1pm. Check their website for other world times. Don't forget to participate in the conversation online using the hashtag "#ABGT050".
Above & Beyond Group Therapy 050 is going to be a globally immense event. Two of us from EDMTunes will be in attendance and excited to report back the experience. Until then, enjoy the live broadcast, trance family.