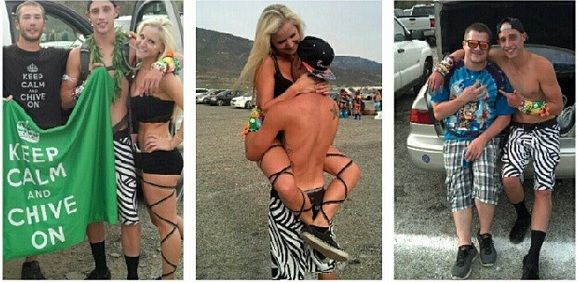 Going to shows, festivals, and events is a way to escape reality for many of us. But this is an escape that most take for granted. It allows us an evening to forget all the hustle and bustle of work, school, and all other of life's responsibilities. We laugh, love, dance, and take pictures, and at the end of the night we take little strings of beads home, kandi, as a way to encapsulate the nights fleeting memories.
Though it can be hard to truly comprehend everyone's individual struggles as you look over a sea of smiling faces the struggles remain nonetheless; they range across a spectrum broader than we often take the time to realize. Nothing makes this more evident than a recent and life-touching story to surface from the recent "Escape from Wonderland" event.


Shawn Sage has been attending similar events for years, and had accumulated an arm full of kandi bracelets that where top-full of life changing experiences. Though having shared so many experiences with so many people, Escape from Wonderland was set to be his last. See Shawn had recently been diagnosed with stage IV colorectal cancer, leaving him with a bleak outcome. Despite the uphill battle that Shawn faces, he still dared to attend a large scale event which had brought so much happiness to his life before.
Moreover, Shawn is an inspiration to all the EDM community as he shares his kandi with a totally unknown stranger. By showing total trust and love and confidence in a fellow attendee, sought out completely at random, shows how much connectivity rests within our community. It is a truly heart-touching moment to read how the person reacted when Shawn approached them.
Not only does it show how much power a single moment can have, but also the effect that this single moment can have on a complete stranger. In the end all we have is a string of moments, and the people that connect these moments together. What brings our own community together in a way no music has before is a passion for not only the music, but also for the community itself. While this particular story is as heart-touching as they come, all of us have the power to touch somebody within our community in a profound way.
At your next festival or show, I challenge you reach out to a complete stranger and touch their life in some way. While our community has received a bad wrap of late due to bad press and unfortunate events, it is stories like these that will always give hope to the world I have loved for so long.