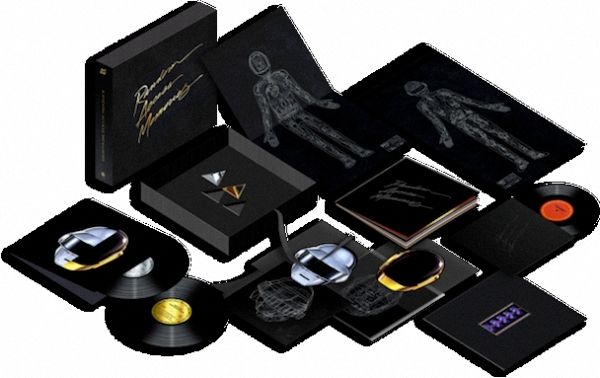 Few would argue against Daft Punk's fourth studio Album 'Random Access Memories' being called one of the biggest release of 2013. Topping the charts in more than 20 countries, the French duo has had a tremendous impact on the sound of modern EDM. It comes as no surprise that a deluxe edition of their latest effort has now been announced by Columbia records. The Deluxe Box Set Edition is packed in a cloth-bound box (333mm x 333mm / 13″ x 13″) stamped with the Random Access Memories logo in gold foil on the top and is filled with collectors items ranging from vinyl records to flash drives. The set contains the following: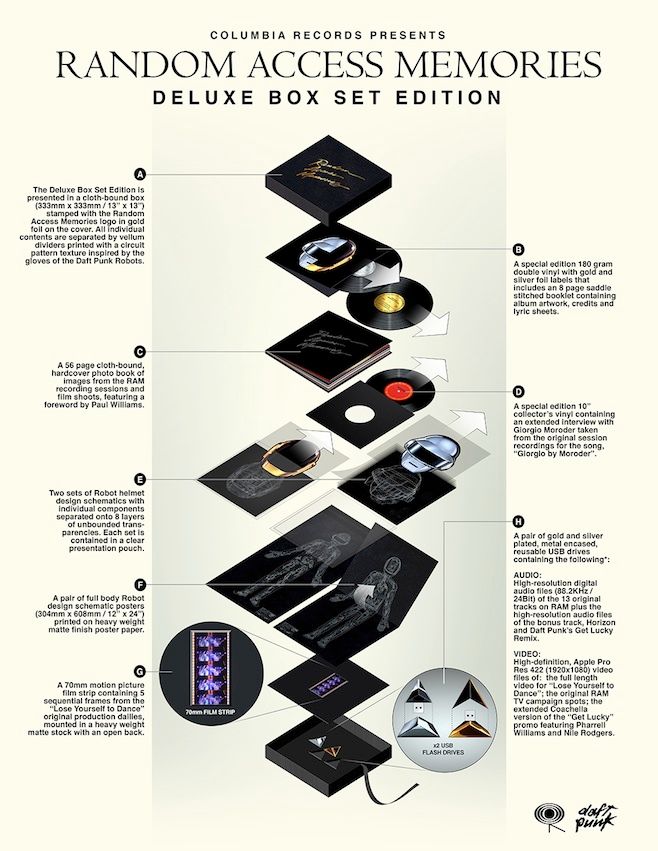 -High-resolution digital audio files (88.2KHz / 24Bit) of the 13 original tracks on RAM plus the high-resolution audio files of the bonus track, Horizon and Daft Punk's Get Lucky Remix. (Included on USB drive)

-A special edition 180-gram double vinyl with gold and silver foil labels. Includes an 8-page saddle stitched booklet containing album artwork, credits and lyric sheets.

– A special edition 10″ collector's vinyl containing an extended interview with Giorgio Moroder taken from the original session recordings for the song, "Giorgio by Moroder".

– High-definition, Apple Pro Res 422 (1920×1080) video files of: the full length video for "Lose Yourself to Dance"; the original RAM TV campaign spots; the extended Coachella version of the "Get Lucky" promo featuring Pharrell Williams and Nile Rodgers. (Included on USB drive)

– A 56 page cloth-bound, hardcover photo book of images from the RAM recording sessions and music video shoots. Foreword by Paul Williams.

– Two sets of Robot helmet design schematics with individual components separated onto 8 layers of unbounded transparencies.

– A pair of full body Robot design schematic posters (304mm x 608mm / 12″ x 24″).

– A 70mm motion picture filmstrip containing 5 sequential frames from the "Lose Yourself to Dance" original production dailies.

– A pair of gold and silver plated, metal encased, reusable USB drives.
The price of the set has been put at $275 and can be purchased HERE.