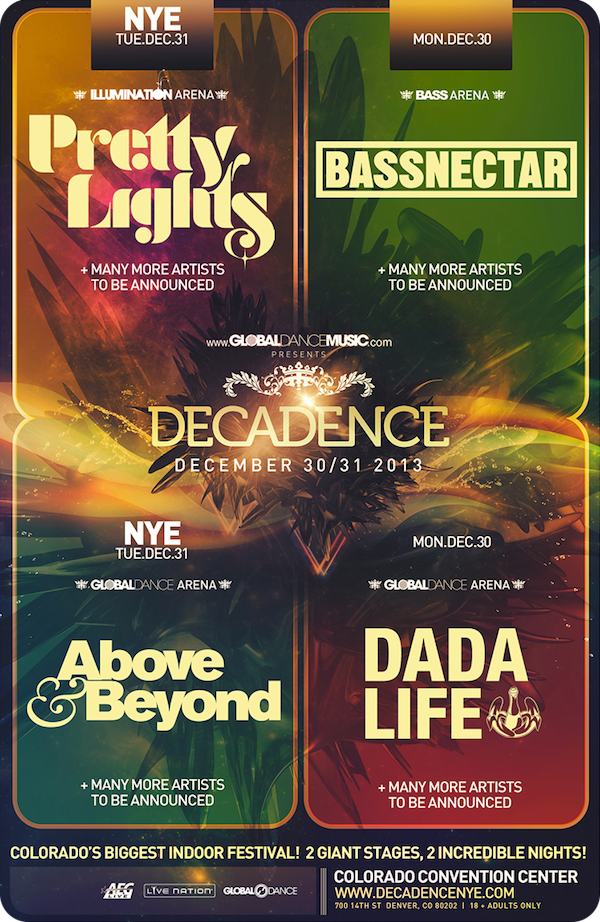 BUY TICKETS HERE
We are moving closer and closer to the end of 2013 and New Years concert plans are slowly beginning to take shape. Without a doubt the most impressive lineup in the country thus far has got to be Denver's Decadence New Year's Eve show.  Global Dance Music (Triad Dragons) have out-done themselves this year and their two night showcase has been the talk of blogs across the nation since they've unveiled the full lineup earlier this week. Bassnectar. Dada Life. Pretty Lights. The legendary Tiesto. And to cap it off, You read that correctly. One can ring in the new year with Tony, Paavo and Jono in Denver. Not New York, not  L.A, not somewhere in Europe, but Denver, Colorado.  One of the premier spots in the states for electronic music, it was only a matter of time before Colorado wrangled up a lineup of this nature. The acts mentioned above are only the headliners. Many more will be announced in the coming months, and if the main acts are this huge, we cannot wait to see who Global Dance will bring in for support.
Tickets go on sale on Friday, October 04, 2013 at 10:00 a.m mountain time(RIGHT NOW!! IF you're reading this on 10/04, what the hell are you waiting for??).
You can get them here: Decadence NYE.
EDMTunes will have feature articles discussing the best New Years options around the country in the coming months, and you will definitely be hearing about this event again. We doubt that anything will top this line up and for that reason we suggest you buy tickets ASAP, as they will not last long. If for some unknown reason you are unfamiliar with the artists on this line up, here are some tunes to help you out:
Above & Beyond – Alchemy feat. Zoë Johnston

Above & Beyond – Black Room Boy (Above & Beyond Club Mix)

Tiësto & MOTi – Back To The Acid

Dada Life – Boing Clash Boom

Pretty Lights – Around The Block feat. Talib Kweli

Bassnectar & ill.Gates – Expanded

Special shoutout to Triad Dragons. Not only do these guys put on the best shows in the Midwest, but they also make up their own music group. Here is their latest original mix, "Over The Rainbow":
Triad Dragons – Over The Rainbow (Original Mix)