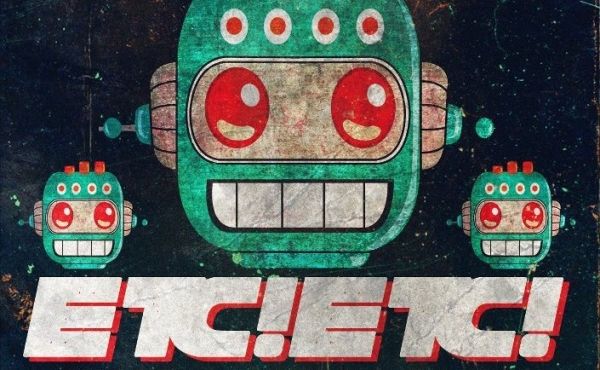 Hopefully by now, the name ETC!ETC! rings more than just a bell for most of you. He's been having one heck of a year thus far, touring alongside the likes of Dirtyphonics and the whole Mad Decent crew over the summer during their annual block party. The man with the robotic head offers a unique blend of style and flavor that is unlike any other producers or DJs on the market; his production and live performances vary from electro house and trap to dubstep and dnb. You'd think that's all he has in his arsenal, right? Wrong. Jose Guerrero, fresh out of Los Angeles, considers himself to be a moombahton artist and strictly that. He made his emergence onto the scene when moombahton was first taking off and neither of them has looked back since. The mid tempo bi-product of Dutch house and reggaeton created a new genre in the field of music-making where Jose saw as being too condensed with unpromising fads and trends. The early stage's of the Jose's career was like any other aspiring artists; he would submit his mixes to various labels and artists, only to never receive a response or any token of gratitude. But the moombahtonista had no intentions of waiting on an opportunity to come knocking, he went banging on the doors himself. After countless submissions, he finally caught the attention of Diplo and his Mad Decent team. They saw something in Jose's music that made him stand out from the other whoknowshowmany submissions. Was it his nifty combination of genres across the board? His interesting name? Or were they just sick and tired of seeing his name in their spam folder every morning. We might never know. But we know one thing's for sure, the man with the robotic head is kicking down doors and taking names. He kicks off his Animal House tour with Bro Safari tonight in Colorado. Peep the dates here and check out our interview with him below!
How'd you come up with this unusual name? Not many artists have punctuations in their name, I'll tell you that.
It was about 6 years back and I was about to DJ my first party and I didn't a name and I didn't want (jose), and I iddnt wanna go by DJ jose or some weird and common name like that. So I just thought about my genre of music, I could play dubstep, I could house, I could play drum and bass, and etceteria, etceteria. OH OKAY. I could do that. I went with it and didn't mean for it to catch on, but I'm glad it did.
How did you first get introduced to the EDM scene? I understand that you started out as a guitarist for a band, how the heck did you end up producing?
I started playing the guitar in high school, then I moved on to bass and drums. One of my friends already had a band but they kicked someone out, so I jumped in to fill the missing spot. I was in there for a few years before I called it quits.
Arguably your biggest track to date would be the remix of Cedric's remix of Lana Del Rey's Summertime Sadness, which has over 3 million plays on YouTube. What prompted you to make this remix?
I wanted to do something that people could sing along to, but with my own twists and variations. Brillz really inspired me with his official remix of Zedd's Clarity and I was like 'damn I gotta do something like that'. It wasn't necessarily to copy him, rather I was trying to put out something super simple and melodic to get the fists pumping. I was out with my wife driving one day and it came on Sirius and I instantly said to her, 'okay I'm going to remix this tune.' I worked on it for a few days and threw it on on Soundcloud before I went to bed at around 3 in the morning. When I woke up the next day and saw the feedback I got, I was overwhelmed. I had no idea that it was going to be such a huge hit.
When you're producing a track, what's the go-to element that gets you in the groove and get you going? Is it the hook? Drop? Vocal?
My main go-to is the vocal. I always strive to perfect the vocals. My production mindset would be to start at the beginning of the track and move foward; I work with the pre-build then slowly progress my way to the build and then the drop. So I follow the normal structure of making a track just like anybody else, but I always focus way more on the vocals since I see that as a very important and crucial element.
It's been one heck of a year for you in terms of traveling and touring, you wrapped up a few this year already with Dirtyphonics and Mad Decent. How difficult is it for you to produce on the road when you're in a different city every night?
It's not necessarily that difficult for me because I work directly off of my laptop; so I believe in building everything inside the box and that's how I've always done my production. Simply put, I could just sit down in this box on my couch in the living room and just work on music. That's what I've always done throughout my career, so traveling and such isn't as much of a burden as you'd think. It's actually easier for me to work on the plane or at the hotel because when I'm home, there's just so much distraction with whatever's going on; especially the kids. Production outside of the home is basically like a blessing in disguise for me now that I think about it.
Now you're booked and traveling for the next 2 months with the Animal House tour, how do you manage everything? Especially with your wife and kids at home.
It's really hard. Fortunately, my wife supports me every step of the way with all of my endeavors. Originally when I first met her, I was in a band so she knew that this was the lifestyle I wanted to pursue. Now that I have moderate success, she's even more supportive of what I have planned so I definitely gotta give it up to her for that.
You above all would understand that the music industry is all about trends and fads, do you think that since you're able to play such a universal set of sounds that you'll be able to stay "relevant" regardless of what happens to certain genres? Trap, for instance.
Despite trap and such being flooded on a day-to-day basis, I feel like it's definitely a genre that's not going anywhere anytime soon. It's so versatile in the sense that you could mix dubstep with it. You could mix hip-hop with it. Anything. It'll still work. At the end of the day, everything's a fad at the moment and there's always stuff that people are gonna love. I could play 'Better Off Alone' and it would still go off.
Of those genres, which one would you say would describe you best? Or do you not like to draw a line between your cross-genres?
Mumbahton. That's what got me to where I am today and I'm proud of it.
You've had one heck of a career thus far Jose, you're part of the Mad Decent clan, have had support from Wolfgang and Dillon Francis to 12th Planet and Diplo. Let's just say hypothetically this career you're leading is done when you wake up tomorrow morning, what would you say is your greatest milestone to date?
I dont know man… that's a tough one! I think being able to play for a bunch of people and have them know my music and sing along to it is such an indescribable feeling. For example, when I was playing EDC and dropped 'Swoop' , which by the way was my voice when it went 'SWOOOP'. When it dropped, the fans were screaming and chanting 'swoop'. It's absolutely the best feeling in the world when you hear someone singing along to a song that you made yourself. Ideally, I always want to play music that people could sing to, so often times I'd cut out the music and have people sing along to it, and to have that size of a crowd actually sing along to something that I produced was nothing short of breathtaking. And where would I be without the help of the Mad Decent team; I owe my whole career to Diplo and those guys.
How'd you get in touch with Diplo and Mad Decent in the first place?
I was just sending them a lot of music all the time and eventually it caught Diplo's attention. He was like, 'yo, I like this song, but fix this and that and make it right' So I fixed it and sent it back in and surely enough he recognized my talent and dedication and asked me to work on other projects he had lined up. I slowly started building this relationship with Diplo, Paul, Mike, the guys from Mad Decent. And that's what got me to where I am today. I love those guys to death and owe most, if not all, of my career to Mad Decent. To even be able to rep Mad Decent is so dope. Actually, after we're done with this interview here I'm going to drive home, sleep, and get up early tomorrow morning to go buy Diplo's son a gift for his birthday party on Sunday. I'm going to bring my daughter with me over there and have some quality time with the fam.