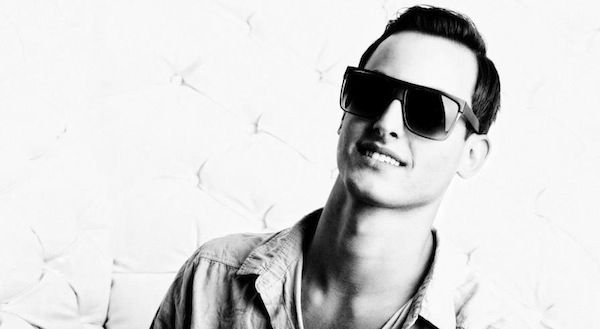 On his first tour, Mackenzie Johnson, aka MakJ, gets to play alongside the Bingo Players and Bassjackers. The first time I ever met him, in August in Los Angeles when he opened and closed for Hardwell, I knew he had something different. After countless hours of research and listening to his music, my musings were confirmed. One month later, he has a continuous number one song on Beatport with Hardwell. When we met again at TomorrowWorld, he had just finished playing the mainstage and was still speechless, he remarks that that moment was a highlight of his career. This time, when MakJ came to my college town to play in October on the tour, he's ready to sit down and tell me about his professional race car driving days in China, how awesome his XS residency was and his doppelganger, Tosh.0

First off, congratulations on the #1 with Hardwell on Beatport, tell me what that was like working with him and the process of creating "Countdown." How did that collaboration come about? Was there a strategy behind the daily countdowns on yours and Hardwell's social media pages?
It was at the point where everything I was doing I would send to Hardwell and he would critique me and to just get his advice and his professional ear is outstanding. To have a guy who's been in the scene, you know he's been producing since he was younger than 16, for him to critique my stuff and send me back exactly what I was going for…that's what a collab should be. He was the strength to my weakness. We made the song by sending clips through Dropbox, that site is my bitch. These days you have to use the Internet, it's too hard to collaborate in person. If I wanted to work with people like the Bingo Players, they could be in another part of the country. A majority of the EDM producers now use the same programs, so everyone is familiar with the work station they use and you know what you want to do, so it's very easy to work with each other. The social media strategy was all Revealed Records. Revealed is such a good label in regards for keeping the buzz up. Every single thing was timelined. It was very strategically planned which, is how is should be. A big shout out to Revealed for hyping the buzz up for this track.
You became a resident at XS in Las Vegas, one of the greatest clubs in the world, this summer, how's that been going?
It's awesome, every time I go to Vegas it's a vacation. I stay for 2 or 3 days, I Dj and just hit the pools. I mean girls come up and feed me grapes. [Laughs] XS has been life changing. We're planning on 2014 now, so definitely look out for that.
What was it like playing the main stage at TomorrowWorld?

Honestly it still hasn't hit me, it was one of the most influential moments of my life. It's an unreal stage. Once Hardwell played and gave me the "Countdown" shout out and brought me on up to play alongside him, that was life changing. Every day I look at the pictures and was like what am I doing there? Definitely a major point of my career.
Sometimes "fraternity bros" get a bad rep on the scene from ravers, as a fraternity member yourself, what's your take on the stereotype?
I really feel like they don't get a bad rep, they just put themselves in these bad situations. I mean they go to raves and try to be the "bro" of the situation. It's not the Greek life, it's the person part of the Greek life, it's all that person doing it to themselves. Fraternities and sororities have no part in that.
How often do you get mistaken for Tosh?
All the time. Yesterday, some dude at Chipotle came up to me and asked if I was related to him .
Ok, so you were 15, in China, and a professional race car driver…you gotta tell me about that. How did you get into racing? What car did you drive? Will you sample race car sounds?
It's crazy. My stepdad has been racing in America for a long time, he put me in a go-kart when I was 12. I moved my way up and I started winning events and setting track records. The most economical way for me to race was to move and I did, to China, and it changed my life. I didn't go to high school, which I'm glad I didn't. When I was in China, I got to live other people's lives and see the culture that a lot of Americans are deprived of seeing. Normal suburban kid goes to high school and doesn't know whats over the hill. To live in China as a foreigner, it was amazing, I never want to take that back. It made me realize and respect other cultures. I started with racing with go-karting, then a Formula BMW, Formula Renault and a GB2, I stopped after that. It was a period of 6 yeas. I will sample race car sounds in my next track.
This is your first tour and you get to open for none other than the Bingo Players on a bus, how excited are you for the rest of the stops?
This is my first event in Gainesville, and it's cool because I was walking up the main street and someone comes up and is 'Like dude, your MakJ.' I just get to really see the support I get from these college communities. They are the ones on your Facebook liking everything.
How was it opening for Hardwell on his tour?
Opening was good because not a lot of people play groovy tech house for an hour. So the audience got to see my DJ side and when I closed, a majority of people stayed and listened to my real set. I honestly didn't have one bad remark on any social media. People said I killed it both sets, and that was good for opening because you have to watch what you play when you don't want to burn the headliner, you want to be respectful.
Tell me about DJ Am and his influence on you?

He was a mentor and a life coach. He taught me how to DJ, like gave me tips and tricks and he was a big brother. I didn't have support and he put me under his wing and told me I had an ear, and he wanted to mentor me but he also wanted to figure me out first. My friends introduced me to him when I was 17 in California. Every weekend I would go to LA and see my friend who he was close with and one thing led to another. He was one of the fortunate ones I got to meet.