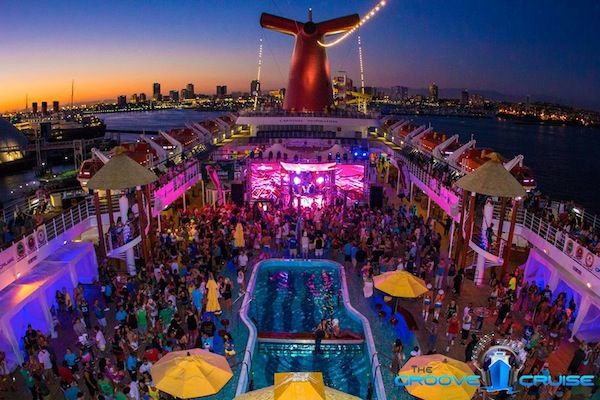 Truly "The World's Largest Floating Dance Music Festival"…and so much more!
An Electronic Dance Music cruise: what a novel and epic concept!
"If You've Never Been, You'll Never Know…"
With daydreams of the 10th Anniversary of The Groove Cruise: Miami in my head, I hold onto the hope that I will see some of my new-found friends there in January. Until then… let's relive the moments of the L.A. leg of the spectacular Groove Cruise, shall we?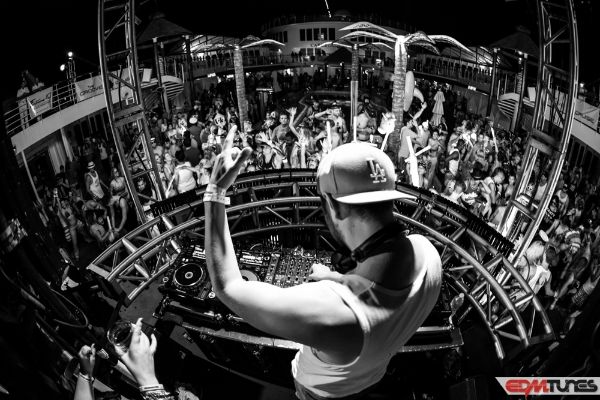 So when EDMTunes was invited by The Groove Cruise organizers to cover the event and an invitation was subsequently extended to me, I became beyond amped and flooded with feelings of excitement and anticipation of the sheer unknown.  You can watch all the videos or scope all the pictures you want, but nothing will prepare you for the incredible feels that emanate throughout (and beyond) the boughs of The Carnival Inspiration on The Groove Cruise L.A.!
Previously I've subscribed to the perspective that EDC Vegas was King Of The Vibes…but I was wrong. The Groove Cruise Crew, or maybe more aptly known as "Family", emanates PLUR vibes from every crevice, act, facial expression and dance move. Those vibes then permeate every nook and cranny of the massive floating venue, infecting attendees' entire beings and souls with some of the most intense feels I've experienced to this point in my life. Since the weekend is a completely immersive one (partying, eating, living, "napping" and "vacationing" (aka disembarking) with each other in such an intimate, closed-system), new acquaintances made quickly escalate to full-blown friendships that border on family-like connection statuses.
There are so many reasons why you must experience the spectacle that is The Groove Cruise, so I have broken down this event review into the individual aspects that make up the entire G.C. experience, and they are:
Logistics: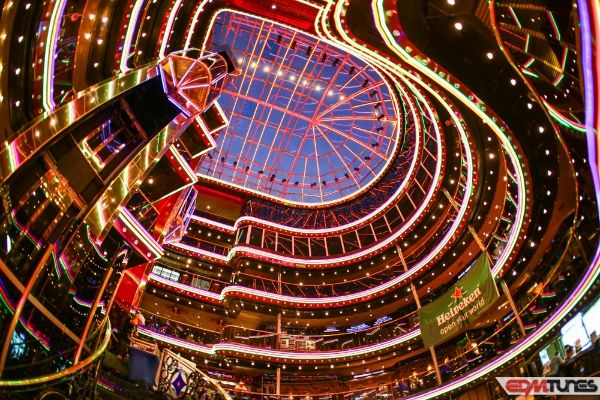 Key to the successful execution of any large scale event, logistics are often an under-appreciated aspect of well run events. All in all, the Groove Cruise was executed with minimal bumps in the road which allowed for a seamless journey throughout the entire experience. Embarkation (and debarkation too, but who wants to think about that) and check-in was a complete breeze (from a press perspective), and we were offered a ship-wide tour focusing on all of the stages and the ships amenities/offerings. It was a nice crash course to acclimate us "virgins" to what lie ahead. Operations were run extremely smoothly throughout the entire trip for the duration of the voyage. Attendees were informed of schedule changes and daily itineraries via room flyers and intercom updates from our cruise director Jason.
Entertainment Representation:
Line-up wise, the range of electronic music sub genres represented was quite impressive and expansive. The scheduling was on-point and well-thought out which in turn caused there to be very few schedule conflicts.  The production quality at each stage set up was top-notch, with killer light shows/LED walls and thumping sound systems present on all 9 stages. Additionally, both producer/DJs and straight-up DJs were represented on the Groove Cruise, which was a refreshing thing to experience – especially with voices like deadmau5 claiming that the new EDM-industry is causing specialized DJs to become "extinct".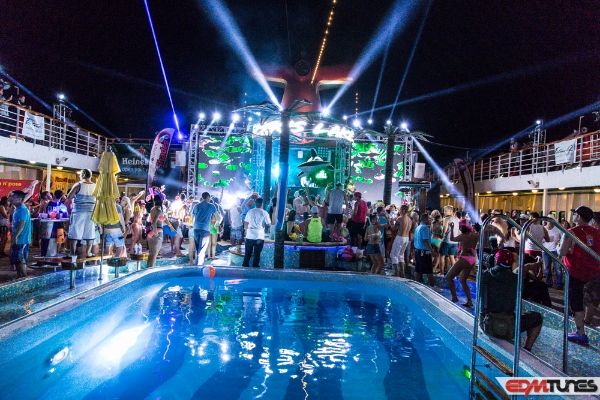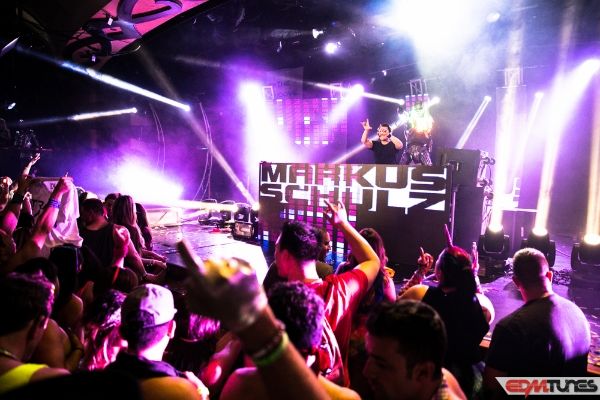 My personal blown-mind set of the weekend was Markus Schulz's first set of the weekend, closing out Friday in my favorite venue of all – The Paris Theatre. The overall crowd seemed to prefer his surprise sunset set at the Pool Deck on Sunday after returning from Ensenada (which is fair enough…I mean, an engaged couple actually tied the knot to their lifelong marriage together on the upper deck while Markus dropped Armin's "This Is What It Feels Like" – yes, things like this happen on The Groove Cruise.) But my penchant for trance in all its rabbit hole glory came shining through during Markus's extended set…which in turn ended up becoming the longest DJ set at sea. Rocking the party for over 4 hours, it almost seemed as if the Unicorn slayer was trying to slay US! Spinning an intensely deep set of a variety of trance styles, around the third hour Markus forayed into the upper BPM range (given this was at like 5am) seemingly daring the remaining dancing ravers to keep up with him, to push through dancing to the end of that first day. In true Groove Cruise fashion, my virginity was taken in an oxygen-sapping nature by the slayer. After giving me what I was craving all night: his track "Perception" as his second to last track, he then subsequently came down into the crowd after his set and met, chatted and took pics with all of us. He informed us that he would be staying on the ship all weekend and then suggested if we saw him around to say hi and invited us to hang out with him. Yeah, things like that happen on the Groove Cruise too. As we reached the end of Day 1, this helped to set the tone for the remainder of what ended up being the most epic trip of my life.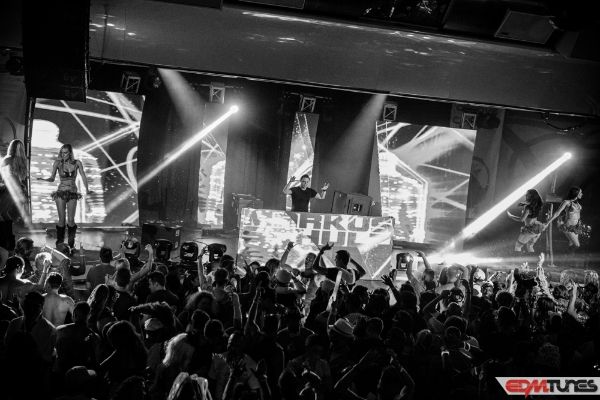 One of my favorite surprise sets of the weekend came via DJ Scotty Boy who presented a deftly-woven masterpiece of subgenre blurring, face-melting masterful mixing abilities which made for an epic party following up on the heels of TJR and Fedde Le Grand. Weaving trap with progressive house, trance with tribal builds, mashing "Wake Me Up" with "Levels" in one of the most cheeky moments of any set all weekend, to dropping the age old "Rockefeller Skank" (and subsequently causing a Carnival employee to lose his mind raving on stage), Dj Scotty Boy tore up the Paris Theatre. Not only that, but he spun until "the man" shut off the speakers off on him at 6:10am on the last day, as the last set before disembarking the ship for the final time on Monday morning. How fitting!
Kudos to the Groove Cruise organizers for booking their talent in the method that they do. In reading comments in the Facebook attendees group after the fact, my only suggestion in regards to future bookings would be to broaden the genre scope a bit to include some drum & bass, breaks and a wider selection of trance artists (such as psytrance [a'la Simon Patterson], Balearic [a'la Roger Shah] and uplifting [a'la Aly & Fila]). In relation to future production wishes: lasers in the Paris Theatre like the ones on the Pool Deck! …that would be incredible…
Pitstops:
Another of the Groove Cruise's feathers in its cap is its destination parties at 2 distinct disembarkation points on the trip: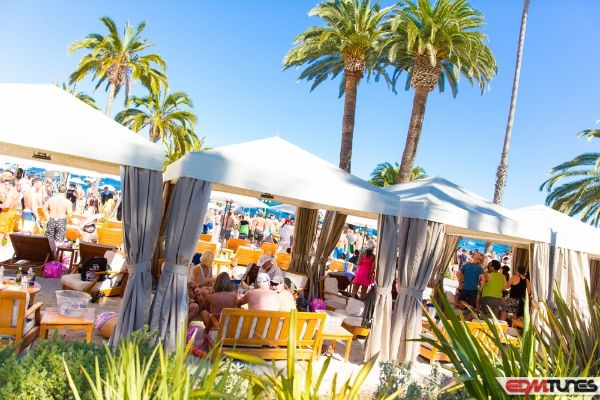 The second day marked the first off ship venture to our destination party. The (un)dressed-to-the-nines rave-clad crew of roughly 2,000 descended on the pristine, laid-back and (normally quiet) island of Catalina. Populated by families and tourists, it became quite obvious for the first time on the trip that our perception of reality was not like most people's…but because of the acceptance and kindred spirit nature of connection on the Groove Cruise, this was the first and only time I flashed to this type of realization about outside perceptions. Random stares and jaw-dropping aside, Catalina made for a banging party environ complete with a backdrop of breathtaking scenery situated on the beach next to the crystal clear waters of the Pacific at Descano Beach Club. Oh, and if the experience hadn't been out of control enough to that point; how about hearing Chuckie drop the original version of Tiesto's "Adagio For Strings" after having a couple up on stage so the guy could propose to his girlfriend in front of everyone? Congrats Dustin & Ruby! Yep, again…that's The Groove Cruise.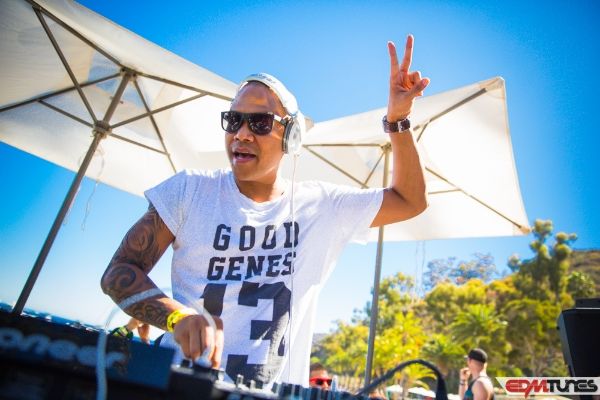 The second destination party was at the (in?)famous Papas & Beer in Ensenada, Mexico. Now, I've never been to Mexico before so I had no idea what to expect (seemed to be the theme of the trip for me) however upon traversing the streets of Ensenada and arriving at the newly constructed massive private space above the touristy section of Papas, I knew we were in for a total rager. The venue struck chords of warehouse raves back in the day and made for an awesome vibe to share such a throwback feel of an experience with the people you have come to know and love throughout your brief escape from the harshness of everyday life. Armed with huge sound capabilities and drinks abound, the party was absolutely ludicrous in every aspect, and made for a perfect kick-off to the final days' celebrations. It was a bit stuffy, and at one time an employee of Papas actually got on stage with a CO2 canister, turned it upside down and directly sprayed the crowd. My only wish of the day: that they would have done that more often! However Morgan Page legit blew the roof off that new venue, much to the owners 'dismay, I'd imagine…but to the delight of every Groove Cruiser present, without a doubt.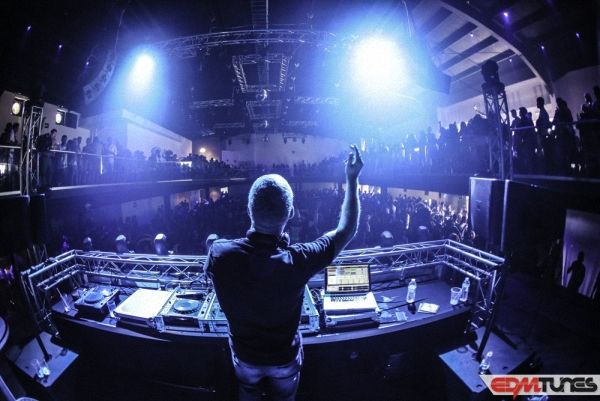 Groove Cruise Family:
Now I've mentioned the feels multiple times. The music: sick, the production: mind blowing…but the people and vibes: awe inspiring. The people are what made the whole trip for me. Groove Cruiser's are legit PLUR to the bone and take that life ethos to a whole new level, one that a couple fellow colleagues dubbed as PLURNT. It became abundantly apparent to us quite early on as to why there were proportionally so few "virgins" on the trip and so many experienced Groovers: once initiated into the family, you feel compelled to attend your "family reunion" at least once a year!
(Groove Cruise also has a Miami leg in January; next year will be its 10th anniversary.)
That is exactly how people treat one another on The Groove Cruise, like family. This notion is not a new one to rave culture; however it is simply taken to heights I hadn't even fathomed prior to this excursion. The intensity and close-knit nature of an EDM festival environment taking place within the closed-system proximity of a cruise ship helps to spur quick and intense formations of lasting bonds with fellow Groove Cruise family members. For example: don't worry if you didn't get your new friends' contact information that you were raving with last night because you were too out of your mind to remember getting their phone or room number…you will most likely run across them at the buffet the next morning by happenstance, or accidentally dance into them during one of the following afternoon's sets (yep, that happened…)
In regards to social interactions throughout the trip: the respect given, the fun shared and the soul bonding felt (all while giving no f*cks at all about any preconceived notions on how we are "supposed to be" in our lives) within such an intensive communal atmosphere emanated an extremely strong connective vibe that delved deep into your being and just…resonated. It is simply indescribable via the English language, and must be physically experienced – which I implore you to do at some point in your life.
At this time I feel compelled to say:
Thank you Groove Cruisers for sharing this incredibly spiritually evolving experience with me. When I meet awesome, enlightened people such as yourselves… my faith in humanity becomes rejuvenated, and my gratitude for that could not be any greater.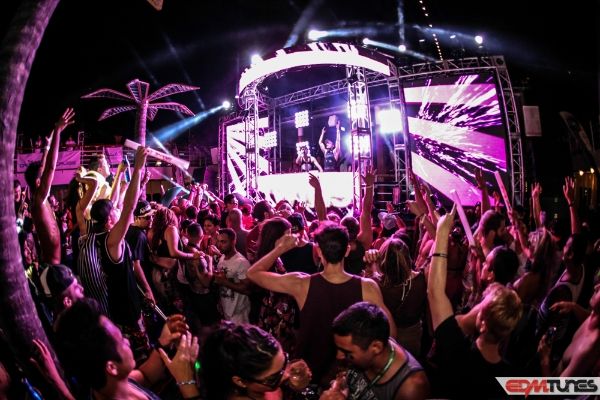 An All-Encompassing Immersive Event Stacked With Unique Experiences (A New Dimension):
If you haven't surmised this from my points above, you may still be recovering from your Groove Cruise crash-back-to-reality hangover:  The Groove Cruise is a (b)Rave New World chock full of unique and life affirming experiences.
First and foremost, as iterated multiple times above, the pure acceptance and love shared and spread throughout the consecutive 72-hour dance party among Groove Cruisers was the most refreshing, intensive and all-encompassing occurrence of unity vibes that I have felt to this point in my life. Speaking along constant proximity lines: The Groove Cruise consists of EDM festival feels within the confines of a cruise ship complete with escapes to 2 different countries to party in. Possibly the only other pseudo-similar experience would be to a camping festival (which I haven't had the opportunity to frequent yet, yet even those don't change locations…). Contributing to the overall transformative nature of the trip was a silky smooth logistical event structure, a roster jam-packed with incredible diverse talent sure to please anyone's' taste, and awesome production quality. Oh yeah, and don't forget about the opportunity to meet and chill with your favorite DJ's during their off time while they are hanging around the ship with you…
…because that's how they do it on: The Groove Cruise.